CHRISTUS Ochsner St. Patrick Hospital Celebrates over 115 Years of Healing in Southwest Louisiana
March 17, 2023
Lake Charles, Louisiana - CHRISTUS Ochsner St. Patrick Hospital marked its 115th anniversary Friday with the annual St. Patrick's Day Grace Gardens Brick Dedication and Blessing.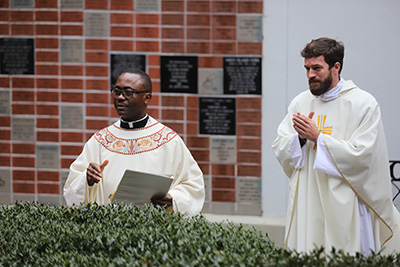 The event is held each year on the hospital's anniversary. This year, the dedication and blessing was given by His Excellency The Most Reverend Glen John Provost, M.A., D.D. Bishop of Lake Charles.
This milestone marks over 115 years of extending the healing ministry of Jesus Christ and living the CHRISUS values of dignity, integrity, excellence, compassion and stewardship.
It was the first hospital in Lake Charles and was dedicated on St. Patrick's Day in 1908 as St. Patrick Sanitarium. It had 50 beds, an operating room and a sterilizing room. The name was later changed to CHRISTUS St. Patrick Hospital before becoming CHRISTUS Ochsner St. Patrick Hospital.
The facility continues its tradition of dedication to providing quality medical care to Southwest Louisianans.