CHRISTUS' Louis and Peaches Owen Heart Hospital is First Facility in Texas, Second in Nation to Admit Patients for Atrial Fibrillation Clinical Trial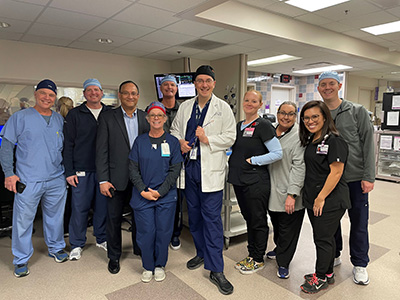 March 7, 2023
Tyler, Texas – CHRISTUS Trinity Mother Frances Louis and Peaches Heart Hospital has admitted the first patients in Texas in a new clinical trial for the treatment of atrial fibrillation (AF), an arrhythmia affecting millions of patients.
On Tuesday, Dr. Stanislav Weiner performed the first procedure in the state, as part of the ADVANTAGE AF clinical trial, using the Boston Scientific FARAPULSE™ Pulsed Field Ablation system.
The trial will enroll up to 417 patients with symptomatic, documented, and drug-resistant persistent AF at 53 sites in the U.S., Europe, and Canada.
Mount Sinai Hospital in New York was the first to admit patients to the clinical trial, with CHRISTUS becoming the second.
The study will evaluate the safety and effectiveness of the FARAPULSE Pulsed Field Ablation system, which uses pulsed electric energy to treat symptomatic persistent atrial fibrillation.
"We are excited to gain access to the newest technologies to treat our patients," Dr. Weiner said. "The heart rhythm management team at the Louis and Peaches Owen Heart Hospital has been a nationally recognized leader in clinical trials for 20 years. This is another great opportunity for us to continue to grow world-class heart care."
Traditionally, extreme heating or cooling is employed to achieve the desired effect of blocking abnormal heartbeats.
Research has shown that these thermal methods may carry risk to surrounding structures such as the esophagus and phrenic nerve.
Through a process called irreversible electroporation, FARAPULSE™ creates a therapeutic electric field by a purpose-built catheter inside the heart. Tissue targeted for ablation is rendered electrically inactive while collateral tissues are spared.
Boston Scientific approached CHRISTUS Mother Frances about participating in the clinical trial.
"Our research department at CHRISTUS Mother Frances aims to connect our diverse patients with cutting-edge, patient-centric and life-saving advanced clinical care options, right where they live," said Jamie-Crystal Wylie, regional research director, CHRISTUS Northeast Texas. "The patients with persistent atrial fibrillation who qualify for enrollment in the ADVANTAGE AF clinical trial at CHRISTUS may potentially benefit from the early access to the investigational FARAPULSE™ PFA system."
A positive outcome from this trial will support FDA approval, giving physicians added flexibility to treat cardiac arrhythmias and potentially expand the patient population that can benefit from PFA therapy.
"Participating in cardiac research and trials furthers our commitment to our community." said Deb Chelette, vice president, cardiovascular services. "This is another example of our continued pursuit of excellence in cardiovascular care."