The Children's Hospital of San Antonio hosts country super-star Garth Brooks for ribbon cutting of The Child Life Zone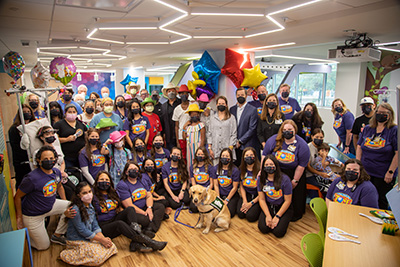 San Antonio, Texas – The Children's Hospital of San Antonio is excited to announce country superstar Garth Brooks attended the ribbon cutting for The Child Life Zone.
The Zone, one of only 15 in North America, is exclusively for patients and their families to utilize and was made possible by generous donors: Garth Brooks Teammates for Kids Foundation, The James B. & Louis R. Archer Charitable Foundation, The Reilly Family, Hope Hits Harder Foundation, and numerous other Zone angels.
Garth Brooks cut the ribbon, played with patients, and visited with families. The Child Life Zone is an amazing space within the hospital, providing plenty of activities for patients to participate in. The Zone includes a medical play area, sensory gym, open play space, arts and crafts area, recording studio, Microsoft video game wall, cafe and more.
"This is a vital area of the hospital, allowing children to be children," said Jessica Braner, Child Life Zone Coordinator for The Children's Hospital of San Antonio. "It allows our patients to forget why they're at the hospital for a moment and immerse themselves into just being a kid again."
The reason this area is so important is because it promotes peer interaction and socialization, it provides patients a break from their hospital routine, reduces stress and anxiety, assists in development and learning new skills, while also catering to individualized needs of patients, especially those with additional sensory needs.
"We are so thrilled to welcome Garth Brooks to The Children's Hospital of San Antonio to celebrate this state-of-the-art, therapeutic play and healing area made especially for our patients," said Cris Daskevich, CEO of the hospital. "We provide extraordinary care for our patients, in all aspects. We understand that hospitals can be scary and cause stress or anxiety. Anything we can do to minimize fears or stress benefits the patient, and their entire care team. The Zone is a fun-filled place for our patients and their families to remember to laugh, play and be as care-free as possible. We are so blessed and can't thank our donors enough, for allowing us to create this space. None of this would be possible without our donors. They are helping us live out our Mission of extending the healing ministry of Jesus Christ."