CHRISTUS Trinity Clinic Partners with Surgical Specialists of Shreveport
New partnership includes highly experienced laparoscopic surgeon, Dr. George Merriman

8/30/2023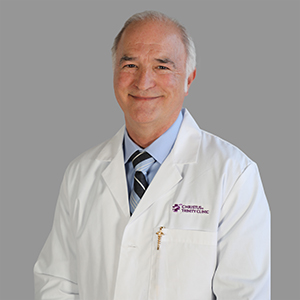 CHRISTUS Trinity Clinic (CTC) is proud to announce it has partnered with Surgical Specialists of Shreveport which includes trademarks, Freedom from Obesity Bariatric Clinic and Body Sculpt. The Freedom From Obesity Bariatric Clinic includes locally renowned surgeon George Merriman, MD, FACS, FASMBS and Kathryn Waldrop, PA-C.
The partnership allows CTC to expand its footprint with this new service offering in the Shreveport-Bossier region to help meet the growing health needs of the community. The clinic offers weight loss surgery, non-surgical weight loss treatment and general surgery. The practice also has a full-time dietician to assist.
Dr. Merriman is the first bariatric surgeon for CTC in the region- but he is no stranger to CHRISTUS Health. He performed one of the first robotic-assisted surgeries for weight loss at CHRISTUS Highland Medical Center. In total, Merriman has performed more than 3,000 bariatric surgeries.
"We are thrilled to have the skills and expertise of Dr. Merriman at the helm of our commitment to helping patients in the Shreveport-Bossier region," said Lisa Britt, Vice President of Physician Operations for CTC. "His compassionate approach to providing excellent care is unmatched and that gives patients the confidence and tools they need to be successful after surgery."
Merriman specializes in minimally invasive surgery for bariatrics, weight loss surgery, lap band surgeries, sleeve gastrectomy, foregut surgery, hernia repairs, gall bladder removal and appendectomy. He earned his Bachelor of Science in Chemistry from Southern Methodist University in Dallas, Texas and his Medical Degree from the University of Alabama School of Medicine in Birmingham, Alabama. He did a one-year surgery internship at the University of Alabama Hospitals, where he also completed his surgical residency. Merriman is board-certified by the American Board of Surgery and is a Fellow of the American College of Surgeons and the American Society of Metabolic and Bariatric Surgery.
"Dr. Merriman's commitment and dedication to remaining on the cutting edge of technology and innovation in his area of surgery is key in helping us live out our mission at CHRISTUS Health to extend the healing ministry of Jesus Christ," said Dr. Steen Trawick, CEO of CHRISTUS Shreveport-Bossier Health System. "We are grateful to him in helping us reach even further into the communities we serve, changing lives one patient at a time."
CHRISTUS Shreveport-Bossier Health System is proud be a Bariatric Center of Excellence. For more information or to make an appointment, visit www.christushealth.org