CHRISTUS Good Shepherd Health System Honors Longtime Volunteer
November 21, 2022
Longview, Texas – In recognition of her nearly 50 years of volunteer work, CHRISTUS Good Shepherd Health System honored Marilyn Johnson, 97, for her incredible passion and commitment during a gathering on Monday, November 21.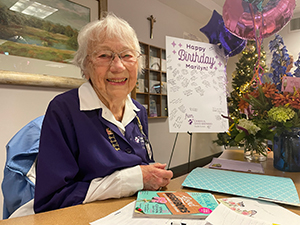 Johnson, who's 98th birthday is on November 23, started volunteering with the CHRISTUS Good Shepherd Auxiliary in 1975, and has covered areas of the hospital including the information desk, gift shop, ER, south entrance, and surgery waiting room.
"I have been here longer than some of the bricks in the building," said Johnson. "The people that I have met have become like a 2nd family to me."
The reception featured representatives from the hospital wishing Ms. Johnson a congratulations and happy birthday. Balloons, flowers, and cookies were on display, and a giant card presented, with signers sending their best wishes to Marilyn.
"The volunteers play such a vital role in the operation of the hospital, and Marilyn being in there the days she has been there, it is just great," said Casey Robertson, chief operating officer, CHRISTUS Good Shepherd. "I know our staff love her and love to see her in there and the presence that she offers."
As part of the auxiliary, Marilyn has helped the organization contribute more than $2 million to projects and renovations and the volunteer hours equal upwards of 20 full-time employees.
Her dedication no more evident than during the Covid-19 pandemic.
"She was the last volunteer to leave for Covid and the first to return as soon as they were allowed to," said Alana Smalley, Manager of Volunteer Services. "She has been a cornerstone of the auxiliary in general and it meant a lot to her. She is such a sweet spirit and we love to see her and to watch what she does is amazing."
After 47 years of service, Marilyn says, she wouldn't change a thing.
"I met some wonderful people here," she said. "I love being able to meet and talk with the patients and the families. It really has been wonderful over all these years."