CHRISTUS St. Vincent CEO Lillian Montoya Named New Mexico Hospital Association Chair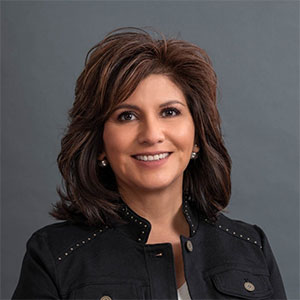 Santa Fe, New Mexico
Sept. 30, 2022 – CHRISTUS St. Vincent President and CEO Lillian Montoya has been named Chair of the New Mexico Hospital Association Board of Directors. She succeeds Jamie Silva-Steele, President and CEO of Sandoval Regional Medical Center.
"I am pleased to serve as Chair of the NMHA and to work alongside my esteemed colleagues in serving the interests of hospitals and patients throughout New Mexico," said Montoya. "Together, New Mexico hospitals have emerged from the grip of the COVID-19 pandemic having demonstrated our incredible capacity to support one another in a time of great challenge. Moving forward, we have the opportunity to build on the networks and systems we have created to cultivate the next generation of health care workers and to support continued clinical excellence and innovation statewide."
Established in 1945, the New Mexico Hospital Association (NMHA) links members to a vital network of local, state and national policy makers, New Mexico's health care business leaders, and influential consumer groups. NMHA also provides a forum for addressing today's most critical health care issues. Through relationships created by NMHA, health care leaders from every corner of New Mexico exchange ideas and shape the most effective policies for the health care field statewide. Molding public policy, building valuable coalitions, communicating health care trends, gathering and interpreting data, monitoring the financial health of the field and providing continuing education for members are but a few of NMHA's activities.
As CEO of CHRISTUS St. Vincent, Montoya has led her hospital to greater heights of associate engagement and quality of care. Today, CHRISTUS St. Vincent is the only New Mexico hospital to be a member of the prestigious Mayo Clinic Care Network and has been voted by its own associates as one of New Mexico's best places to work for five consecutive years.
"Lillian is a demonstrated leader within her own community and throughout the state," said NMHA President Troy Clark. "Her success in leading her hospital and her ability to advocate to our state legislature and her local officials on behalf of her hospital, as well as all hospitals throughout the state, has evidenced her commitment to improve the health care of all New Mexicans. We are excited have Lillian lead the New Mexico Hospital Association for the upcoming year."