CHRISTUS St. Vincent Regional Wound & Hyperbaric Center Earns Re-accreditation from the Undersea and Hyperbaric Medical Society
November 8, 2022
Santa Fe, New Mexico – CHRISTUS St. Vincent Regional Wound & Hyperbaric Center is pleased to announce it has received a three-year re-accreditation from the Undersea and Hyperbaric Medical Society (UHMS).
The clinic is the only UHMS-accredited Hyperbaric Center in the State of New Mexico, and one of 164 centers in the United States to achieve accreditation. This accreditation, from the leading authority in hyperbaric medicine, is awarded to centers for meeting or exceeding highest industry standards of care and patient safety through rigorous evaluation of our operations, including equipment, staff and training to ensure that the utmost quality is maintained within the specialty of Undersea and Hyperbaric Medicine.
"This accreditation is a testament to the hard work and dedication of our staff," said Dr. Craig Lindsey, Medical Director of the Wound and HBO Center. "Treating wounds can be a long and complex process that requires a variety of treatment options and coordination of care from other specialties and providers to guide patients through the healing process." Hyperbaric oxygen treatments are one of the many tools we use to help heal complex wounds.
Hyperbaric oxygen therapy involves the use of medical oxygen administered in a pressure chamber at levels higher than 1.4 atmospheric pressure. Hyperbaric oxygen treatments have been successfully used to treat complex wounds for more than 60 years. HBO treatments work through a variety of different mechanisms, including stimulating the release of stem cells from the bone marrow. HBO treatments also allow the diffusion of oxygen to tissues that are under perfused. HBO is also used to treat other illnesses such as carbon monoxide poisoning, gas embolism, and certain infections.
This approach to the healing process usually requires multiple visits over several weeks or months as certain chronic wounds tend to heal slowly. Patients should expect to commit to the healing process as sustained treatment is necessary to ensure wounds are completely healed. Not following the prescribed treatment could prevent the wound from healing and possibly lead to a loss of a limb.
"It's also important to select an accredited provider to avoid ineffective or even dangerous treatments that can further exacerbate wounds or cause other injuries" said Dr. Lindsey. "This accreditation ensures you are seeing a group of providers who are experienced, trained and are using the technology for healing wounds in the safest way possible."
UHMS Accreditation For Hyperbaric Medicine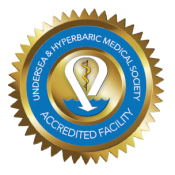 Promoting High Standards of Patient Care and Operational Safety
UHMS Accreditation means that your facility has met the highest standards of care and patient safety through our rigorous evaluation of the adequacy of your facility, equipment, staff and training to ensure that the utmost quality is maintained within our specialty. UHMS is committed to providing, promoting, developing and raising quality of care across the spectrum inn scientific communication, life sciences and clinical practices of hyperbaric medicine by promoting high standards of patient care and operation safety. If you facility is part of this elite group, congratulations! If no, let us help you get started.
Learn More About UHMS Accreditation