CHRISTUS Santa Rosa Health System Expands Footprint to Meet Needs of Growing West San Antonio Community
Construction on New Tower Expanding Pediatric and Adult Services is Underway, with Plans to Break Ground on Additional Medical Plaza

11/16/2023
CHRISTUS Santa Rosa Health System announced plans today to expand its CHRISTUS Santa Rosa Hospital – Westover Hills campus to meet the needs of the fast-growing community.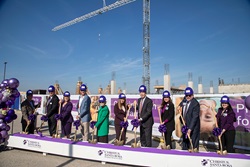 Construction is nearly complete on a newly expanded emergency department. The entire project will be done in January 2024 and consists of 16 additional private treatment rooms, seven fast track bays to treat less emergent cases more effectively, as well as CT, X-ray, and lab services within the department. The expansion allows expertly trained clinical teams to care for the increased number of patients presenting with emergent health care needs.
"With the ever-growing population of San Antonio's west side, our patient base continues to expand," said Patricia Burns, president of CHRISTUS Santa Rosa Hospital – Westover Hills. "In fact, we are also seeing patients travel from surrounding communities, including Castroville, Helotes, and Hondo. This newly expanded emergency department will ensure we are supporting the needs of our growing neighboring communities."
Additionally, construction is underway for a new four-story tower that will sit adjacent to CHRISTUS Santa Rosa Hospital – Westover Hills. It will significantly expand the footprint and services the hospital will offer the rapidly growing far west side of Bexar County. The hospital opened in 2009 as the area's first and only full-service acute care hospital. The tower addition will expand obstetric, neonatal and adult intensive care services creating over 100 new private patient beds.
In total, the tower will have four floors and a basement featuring the most modern hospital designs that are conducive to patient comfort and healing with spacious rooms, floor-to-ceiling windows and the latest technology for the best levels of patient care. The 164,000 square-foot tower will accommodate 30 new private post-partum rooms, a newborn nursery, a new obstetrics emergency room unit equipped with private rooms, 44 new adult intensive care beds, 20 neo-natal intensive care beds and an expanded pharmacy.
Also, labor and delivery services will expand to add four new rooms to serve the growing families in the community with the highest level of care for mothers, as established by the hospital's Level IV Maternal Designation. The new NICU will be equipped to care for a majority of newborn needs, with the most critical neonatal care readily available nearby at CHRISTUS Children's with a Level IV NICU.
One of San Antonio's most notable families known for their culinary and hospitality services, the Kowalski family, demonstrated their support for the maternal fetal care program expansion by making a $1 million pledge.
Greg Kowalski, president and CEO of The RK Group, serves on the Friends of CHRISTUS Santa Rosa Foundation Board and recognized a need for the expansion of the maternal and fetal care programs across CHRISTUS Santa Rosa Health System. Together with his wife, Bekki, they made this leadership gift, to support expectant mothers who require subspecialty care.
"The work CHRISTUS Santa Rosa Health System is doing to bring a better quality of life to south Texas is exceptional," said Greg Kowalski. "We're honored and excited that our family's donation will directly support a unique maternal center of excellence for mothers and their newborns in our city and south Texas."
Plans are also in place for construction to start on a fourth medical plaza in 2024. This building will include an ambulatory surgical center in response to the increasing need for outpatient surgical services in a setting that is convenient and accessible to patients. It will also add additional physician offices and other outpatient services to the area and will sit just across from the main entrance of the CHRISTUS Santa Rosa Hospital – Westover Hills.
"We are excited for these incredible new additions to our hospital campus," Burns said. "The west side of San Antonio has experienced tremendous growth over the past several years. As new families move here and families grow, we want CHRISTUS to be their preferred health partner from birthing services to pediatric and adult care. This expansion will allow us to better meet the health care needs of an entire family and keep care close to where our patients live."
The new tower is expected to be completed in early 2025. Additionally, CHRISTUS Children's will add specialty pediatric clinics to the hospital campus next year.
"This investment exemplifies the commitment we have to expand access to innovative, high quality health care for the families we are privileged to serve," said Grant Wicklund, chief executive officer for CHRISTUS Santa Rosa Health System. "Growing to meet the needs of our community remains our top priority and this expansion creates capacity for us to continue to provide exceptional health care as we fulfill our mission of extending the healing ministry of Jesus Christ."