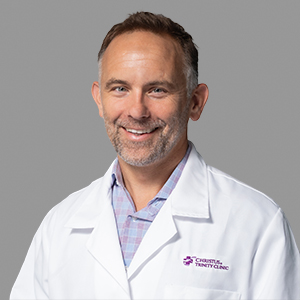 Brannon Hyde, MD, FACS
Cardiovascular Surgery
About
Dr. Brannon R. Hyde, MD, FACS, is a cardiac surgeon at CHRISTUS Trinity Clinic. With extensive experience and a commitment to providing exceptional patient care, Dr. Hyde specializes in advanced surgical treatments for the heart and thoracic aorta. He is board certified in Thoracic Surgery by the American Board of Thoracic Surgery, showcasing his expertise and dedication to excellence.
Dr. Hyde completed his medical education at The University of Texas Medical Branch, Galveston, and further honed his skills through specialized training in cardiothoracic surgery at The University of Kentucky. He has a strong passion for delivering compassionate care and ensuring optimal outcomes for his patients.
Dr. Hyde has made significant contributions to the field through his research and publications. He has authored articles on acute lung injury and ECMO, as well as, book chapters on pediatric heart and lung transplantation and postoperative care for elderly thoracic surgery patients. Over the last 10 years of his career, he has been at the forefront of minimally invasive and transcatheter valve repair and replacement. Dr. Hyde has been an investigator on Tendyne and Apollo trials, both of which replace the mitral valve without a sternotomy, as well as Edward's continued access to transcatheter aortic valve replacement in low-risk populations and Boston Scientific Acurate Neo2 transcatheter aortic valve replacement trial. He also has been at the front line of surgical treatment of atrial fibrillation, publishing five year follow up data on hybrid (convergent) ablation and teaching the technique more than 90 times around the country over the last seven years.
Dr. Hyde views heart valve treatment from a holistic standpoint. Open heart surgery is not always the best option. Dr. Hyde strives to treat each patient individually; medical, transcatheter, and open yet minimally invasive techniques are considered for everyone. Dr. Hyde has performed well over 100 transcatheter mitral valve repairs with MitraClip, leading the way for surgeons in the state of Texas.
Education & Certifications
Education

The University of Texas Medical Branch, Galveston, Texas - Doctor of Medicine Abilene Christian University, Abilene, Texas - Master of Arts, Religion The University of Texas, Austin, Texas - Bachelor of Science, Biochemistry

Residency

The University of Kentucky, Lexington, Kentucky - Residency, General Surgery The University of Texas Medical Branch, Galveston, Texas - Residency, General Surgery

Fellowships

The University of Kentucky, Lexington, Kentucky - Fellowship, Cardiothoracic Surgery

Board Certifications

American Board of Surgery - Surgery American Board of Thoracic Surgery - Thoracic Surgery

Professional Memberships

Society of Thoracic Surgeons American College of Surgeons