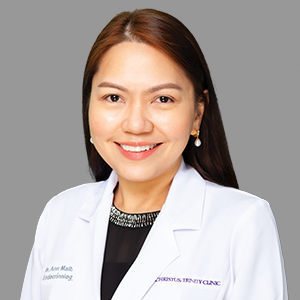 Marjorie Ann Malbas, MD
Endocrinology
About
Your health is not only important to you, it's important to us at CHRISTUS Trinity Clinic, where Marjorie Ann Malbas, MD, treats adult patients with endocrine conditions in Corpus Christi, Texas.
Dr. Malbas specializes in osteoporosis, hyperparathyroidism, hypoparathyroidism, calcium disorders, diabetes and insulin pump management, thyroid disorders, adrenal disease, pituitary disease, and cholesterol disorders.
A native of the Philippines, Dr. Malbas received her bachelor of science degree (cum laude) from the University of the Philippines and her medical degree from the same institution with numerous awards and honors, including Outstanding Clinical Clerk in Internal Medicine. She graduated from the top of her class in 2008. Dr. Malbas completed her internship and residency in Internal Medicine at Texas Health Presbyterian Hospital of Dallas where she served as chief resident. In 2013, she was presented with the Jose Garcia Most Outstanding Resident Award for Excellence. In 2017, she then completed a fellowship in Endocrinology, Diabetes, and Lipid Metabolism at Washington University of St. Louis, where her research involved elucidating the relationship between lipid metabolism and insulin resistance.
Dr. Malbas has a special interest and training in metabolic bone diseases, in particular in the field of osteoporosis and fracture prevention. She completed a preceptorship in Metabolic Bone Diseases at Columbia University Medical Center in New York in 2017. She received certification in Fracture Liaison Service. She also participated in the Forum on Metabolic Bone Diseases sponsored by the Endocrine Fellows Foundation and the American Society of Bone and Mineral Research (ASBMR). Her written works include chapters on Osteoporosis and Hypocalcemia in the 4th edition of The Washington Manual Subspecialty Consult. In addition, she is a contributing author to a book chapter on "Genetic Syndromes Associated with Diabetes."
Dr. Malbas is board certified in Internal Medicine and Endocrinology by the American Board of Internal Medicine. She is an active member of several professional societies including the Texas Medical Association, American Medical Association, Endocrine Society, American Association of Clinical Endocrinologists, and American Society of Bone and Mineral Research. In addition, Dr. Malbas has been recognized by her peers and voted D Magazine's Best Endocrinologist in 2019, 2020, 2021, and 2022.
In her free time, you can find Dr. Malbas watching football (NFL) and Formula 1 racing. She enjoys the outdoors, biking with her husband, spending time with her family over barbeque, and discovering new food and dishes.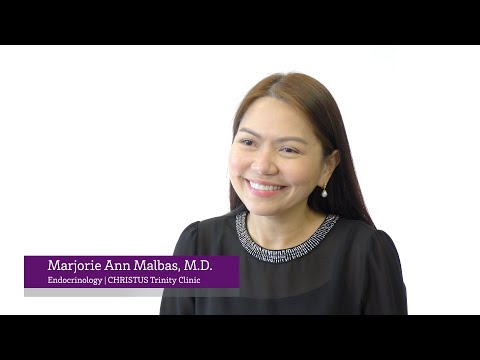 Education & Certifications
Education

University of the Philippines, Manila, Philippines - Doctor of Medicine University of the Philippines, Quezon City, Philippines - Bachelor of Science, Psychology

Residency

Presbyterian Hospital of Dallas, Dallas, Texas - Internal Medicine Residency

Internship

Presbyterian Hospital of Dallas, Dallas, Texas - Internal Medicine Internship

Fellowships

Barnes-Jewish Hospital Washington University in St. Louis, St. Louis, Missouri - Endocrinology, Diabetes and Metabolism, Fellowship

Board Certifications

American Board of Internal Medicine

Professional Memberships

American Medical Association Dallas County Medical Society Texas Medical Association The Endocrine Society American Association of Clinical Endocrinologists American Society of Bone and Mineral Research International Society of Clinical Densitometry National Osteoporosis Foundation