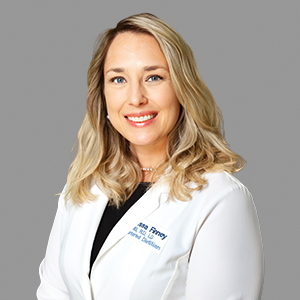 Vanessa Finney, RD, LD
Endocrinology
About
Your health is not only important to you, it's important to us at CHRISTUS Trinity Clinic, where Vanessa Finney, RD, specializes in food and nutrition in Corpus Christi, Texas.
From managing chronic illnesses such as autoimmune diseases, obesity and diabetes with nutritional programs, counseling and education, Vanessa is ready to help her patients lead healthy lives.
With more than a decade of experience, Vanessa has counseled adult and pediatric patients, their families and caregivers across the Coastal Bend region.
Vanessa received her master's in human sciences and Bachelor of Science (Cum Laude) in Food, Nutrition and Dietetics from Stephen F. Austin State University in Nacogdoches, Texas.
Education & Certifications
Education

Stephen F. Austin State University, Nacogdoches, Texas - Master of Science, Human Sciences Stephen F. Austin State University, Nacogdoches, Texas - Bachelor of Science, Food Nutrition & Dietetics

Internship

Accredited Dietetic Internship at Stephen F. Austin State University