Internal Medicine Residency
Welcome to the CHRISTUS Health/Texas A&M School of Medicine Internal Medicine Residency Program located in Longview, Texas, approximately two hours east of Dallas and less than one hour from Shreveport, Louisiana.
Our residents train at CHRISTUS Good Shepherd Medical Center – Longview, a large referral center for many surrounding communities. Seeing the need for primary care in east Texas, our program began recruiting internal medicine candidates in 2011. Our graduates have secured jobs in primary care and hospital medicine, as well as matched in various subspecialties including cardiology, pulmonary-critical care medicine, infectious disease, rheumatology, endocrinology, geriatrics, GI/hepatology, and hematology/oncology.
Our mission is to train future physician leaders who deliver excellent patient care to the people of East Texas and beyond. We do this by giving our residents a strong foundation in patient safety and quality improvement, palliative care, evidence-based medicine, high-value care, and healthcare inequities. We also provide protected educational conference time, including board review, rigorous and diverse inpatient and outpatient clinical experiences, and ample opportunities for scholarly activities. We offer additional didactics in chest X-ray reading, EKG interpretation, procedures, and patient simulation. As a result, our residents have presented and won awards at major conferences at the local, regional, and national level across the United States since the program's inception.
We take tremendous pride in our residents and their accomplishments, particularly in how they deliver patient care to the Longview community. Many of our residents have volunteered at local indigent care clinics, delivered health talks at local churches and non-profit events, served meals to the needy, performed health screenings, and traveled internationally to deliver medical care to underserved populations. Additionally, many have come certified members of local non-profits organizations, such as East Texas CASA and Refuge International.
Our program cultivates a supportive relationship among residents, faculty, and administrators. We promote wellbeing through various wellness activities, a generous benefits package, which includes wellness days, and an integrated outpatient behavioral health resident clinic. We use resident feedback to improve the educational curricula and learning environment of the program. In fact, some of our most innovative changes have been inspired by residents' ideas. At the end of each resident's three years of training, we hope to have created an environment that residents and medical students can always refer to as their learning home and family.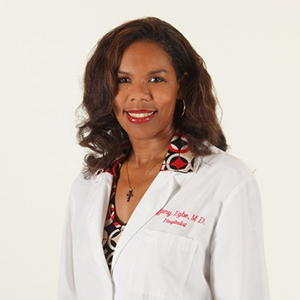 To learn more about living and working in Longview, please visit Longview, TX.
Thank you for taking the time to learn more about our program.
Sincerely,
Tiffany Egbe, MD, FACP, SFHM
Program Director, Internal Medicine Residency
CHRISTUS Good Shepherd Medical Center – Longview