PGY1 Pharmacy Residency Program
Overview & Purpose
The PGY1 Pharmacy Residency at CHRISTUS St. Vincent Regional Medical Center (CSV) is currently accredited by ASHP. The PGY1 pharmacy residency program will build on the Doctor of Pharmacy (PharmD) education and outcomes to contribute to the development of clinical pharmacists responsible for medication-related care of patients with a wide range of conditions, eligible for board certification, and eligible for postgraduate year two (PGY2) pharmacy residency training. Click here to view the Post Graduate Pharmacy Residency Brochure.
PGY1 CONTACTS
Christine Atwell, PharmD
Residency Program Director, PGY1 Pharmacy Residency Program
---
Jasmina Demirovic, PharmD, BCIDP
Residency Program Coordinator, PGY1 Pharmacy Residency Program
---
Melinda Montoya, PharmD
Residency Program Coordinator, PGY1 Pharmacy Residency Program
---
Recruiting for the 2022-2023 PGY1 Pharmacy Residency Class
CHRISTUS St. Vincent will be participating in the ASHPs Midyear 2021 Residency Showcase. Please check the Midyear website for more details on date/time of the Residency Showcase.
Program Requirements, Application Process & Benefits
Residents are required to complete learning experiences in: Pharmacy Operations/Orientation, Internal Medicine, Critical Care, Medication Safety, Antimicrobial Stewardship, Pharmacy Management and Emergency Medicine.
Elective learning experiences are available in Oncology, Acute Pain Service, Infectious Diseases and Transitions of Care/Anticoagulation Stewardship.
Longitudinal Rotations include:
Ambulatory Care Continuity Clinic
Residency Research Project
Inpatient Pharmacy Staffing
Additional Residency Experiences Include:
Basic or Advanced Cardiac Life Support certification
Completion of the Teaching Certificate Program through the UNM College of Pharmacy (optional)
Code team participation
Optional participation in the Physical Assessment Certificate program
Upon successful completion of the program, the resident should be prepared to provide advanced levels of pharmaceutical care in a variety of health care settings and/or enter into advanced training programs, such as a Post-Graduate Year 2 residency or fellowship.
Apply online through the PhORCAS system at http://www.ashp.org/phorcas
Applicants must provide:

A letter of intent stating interests and goals.
Curriculum vitae.
College/School of Pharmacy transcripts
Three letters of recommendations from health care professionals who can attest to your practice abilities.

An on-site interview is required
Application Deadline: First Friday of January
Salary: approximately $ 50,000
Approximately 18 days paid time off is accrued over the residency year
Health benefits including medical, dental, vision and life insurance
401k long term savings plan
Travel and registration for the ASHP Midyear Clinical Meeting and the Western States Residency Conference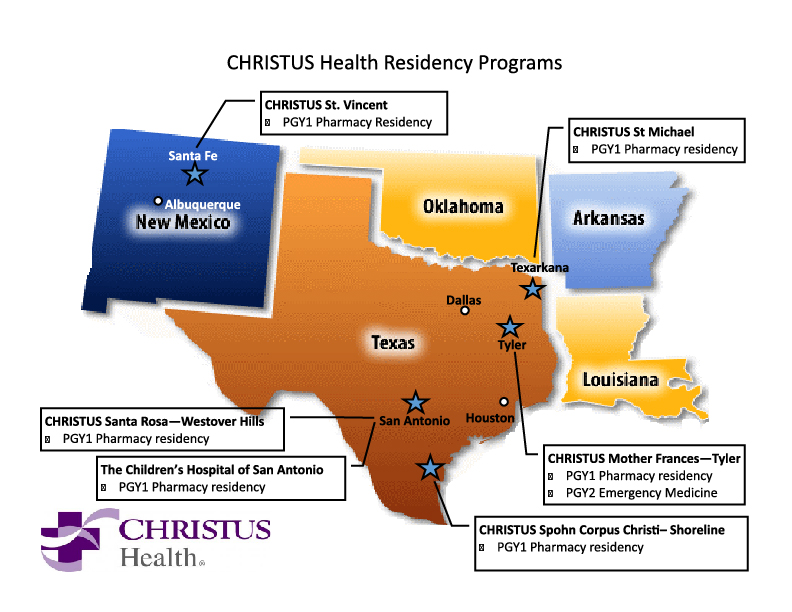 Pharmacy Residency Class Listing