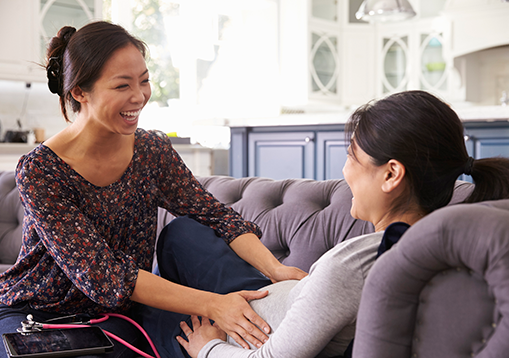 Experienced Midwives
A nurse-midwife (CNM) is an advanced nurse practitioner who provides professional health and wellness care to mothers and newborns around childbirth. Their education and training include an advanced degree. Midwives work under the supervision of and provide similar services as an OBGYN. As your provider, your CNM plays an instrumental role in ensuring that you and your baby receive a continuum of skilled care during pregnancy, childbirth and in the important days and weeks after birth. Our midwifery program allows CHRISTUS Health to expand patient access to important prenatal and post-natal care. We are the only program of its kind in the area.
Our philosophy of care falls in line with the Midwives Model of Care, which includes:
Monitoring the physical, psychological and social well-being of the mother throughout the childbearing cycle
Providing the mother with individualized education, counseling and prenatal care, continuous hands-on assistance during labor and delivery, and postpartum support
Minimizing technological interventions
Identifying and referring women who require obstetrical attention
Before, during and after pregnancy, mothers often have lots of questions as they make important decisions that will affect their baby's health – from lactation support to advice in caring for a newborn. CNMs provide this unique support to new mothers and newborns.
Whether you need guidance as you start breastfeeding or have questions about choosing a pediatric care provider for your baby, the midwives at CHRISTUS Health are professionals who know you and your family and are with you through your first weeks of new motherhood.