CHRISTUS Santa Rosa Hospital – Westover Hills Unveils its Brand-New Mobile Mammography Unit
Making mammograms more accessible to the community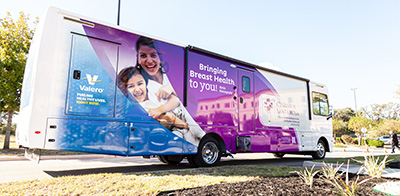 San Antonio, TX
October 20, 2022 – CHRISTUS Santa Rosa Hospital – Westover Hills is making it easier for more women in this region to receive life-saving mammogram screenings.
This brand-new state-of-the-art Mobile Mammography Unit has been a vision for the CHRISTUS Santa Rosa Health System for many years, so it is exciting to finally have it available, making mammograms more accessible for both women and men in all areas of the community.
This unit was made possible by the Friends of CHRISTUS Santa Rosa Foundation in partnership with Valero and leadership donors: The RK Group, The Nancy Smith Hurd Foundation, and Baptist Health Foundation of San Antonio.
"Through philanthropic support, the CHRISTUS Santa Rosa Mobile Mammography Unit brings mammograms to under-served areas of our community," said Rene Escobedo, Friends of CHRISTUS Santa Rosa Foundation board chair. "We are grateful to our generous donors for this gift that will bring live-saving care to women all over South-Central Texas."
Studies show one in eight women in the United States will develop breast cancer in her lifetime, which equates to a diagnosis, on average, every two minutes. CHRISTUS Santa Rosa Health System recognizes early detection is key and that there is an overwhelming need for more women to be screened, regularly for breast cancer.
The Mobile Mammography Unit will provide screening services, using innovative and top-notch technology, along with access to CHRISTUS Santa Rosa Health System's integrated care if further diagnostics or treatment are needed.
"We are so excited to be able to offer more healthcare options to the community, who may not otherwise be able to access these services," said Patricia Burns, president of CHRISTUS Santa Rosa Hospital - Westover Hills. "We always strive to provide compassionate and innovative healthcare to those we are blessed to serve. We're bringing the same great care you would receive at our hospital, right to your own neighborhood. This initiative serves to enhance the health and wellness of our community and the surrounding region."
To learn more about breast cancer, visit our website and to learn more about when the Mobile Mammography Unit will be in your neighborhood, call 210-704-4100.