CHRISTUS Mother Frances Hospital – Tyler Receives National Recognition for Stroke Care

8/23/2023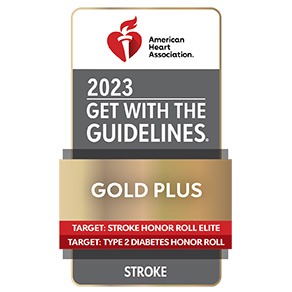 CHRISTUS Mother Frances Hospital - Tyler has received three American Heart Association/American Stroke Association "Get with the Guidelines" achievement awards for demonstrating a commitment to research-based guidelines for stroke treatment, leading to more lives saved, shorter recovery times and fewer hospital readmissions. For the first time, CHRISTUS Mother Frances Hospital – Tyler was recognized with Stroke Gold Plus Award, the highest level given by the American Stroke Association. To qualify, the hospital demonstrated documented compliance with 13 Get with the Guidelines measures for a minimum of 24 consecutive months.
"To earn the award for the first time, we were ecstatic," said Jennifer Burwell, comprehensive stroke program coordinator at CHRISTUS Mother Frances Hospital – Tyler. "We earned the silver level last year, so this is a testimony to everyone who does incredible work with our patients."
CHRISTUS Mother Frances Hospital – Tyler also earned for the first time, Stroke Elite Honor Roll, which recognizes proficiency in door-to-needle time, and for the first time earned recognition with Type 2 Diabetes Honor Roll, which judges programs on ten standards over a 12-month period.
"I hope the community feels a sense of pride to have such a high level of stroke care available to them locally," Burwell said. Our goal is to provide top level stroke care close to home, and this recognition signifies that you can get the best care without leaving East Texas."
Every 40 seconds, someone in the U.S. has a stroke or heart attack, and heart disease and stroke are the No. 1 and No. 5 causes of death in the United States, respectively.
vStudies show patients can recover better when providers consistently follow treatment guidelines. "This is not an endpoint for our program," Burwell said. "Rather, this is a step closer to our ultimate goal of being a nationally ranked stroke center."