CHRISTUS Trinity Mother Frances Foundation
Welcome to the CHRISTUS Trinity Mother Frances Foundation! Every day we are blessed to feel firsthand the collective passion of our donors, partners, board members and Associates. As a nonprofit organization, we cannot exist, cannot reach our dreams or come close to fulfilling our mission without you.
Northeast Texas Cancer & Research Institute Campaign
One Team. One Dream. End Cancer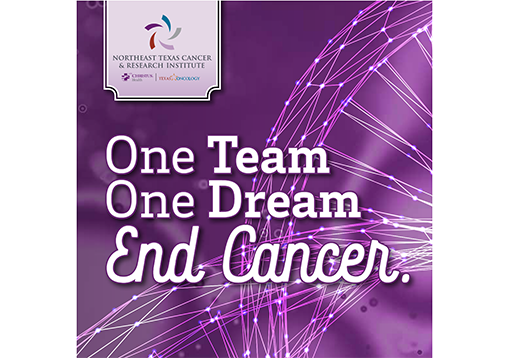 CHRISTUS Health and Texas Oncology have combined efforts, bringing advanced detection, prevention, treatment and clinical research to the Northeast Texas region. Our goal is to create a world-class cancer care experience close to home. Join with us to realize the vision – one team with one dream – to end cancer.
Did You Know?
In the United States, half of all men and one third of all women will develop cancer in their lifetime. The oncologists of Texas Oncology and the surgical oncologists of CHRISTUS Trinity Clinic know that progress in this area takes a team, dedicated to combining their efforts to diagnose disease at the earliest stage, educating our region about cancer prevention, treating cancer with the most advanced equipment, therapies and procedures available, and devoted to conducting extensive research that leads to better outcomes.
This ambitious plan unites multiple cancer services under one roof from:
medical and radiation oncologists
chemotherapy and immunotherapy treatments
surgical oncologists treating a full range of cancer specialties
leading-edge treatments & care offered in major metropolitan areas
The need is great – your support is crucial!
For more information contact Robin Rowan, 903-606-4725 | robin.rowan@christushealth.org
Explore Trinity Mother Frances Foundation