Become a volunteer at Christus St. Vincent!
When you become a volunteer at CSV, you join our community.
As a volunteer, in addition to a regular weekly shift, you will take annual education classes, receive gifts and other benefits from the hospital, and connect meaningfully with associates, patients, and visitors. You will also be invited to holiday parties and other events, dress up for Halloween, participate in our annual flu shot clinic, help with our gift shop sidewalk sales and make new friends.
View Onboarding Process Information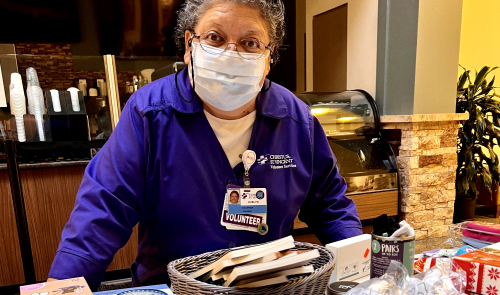 Learn more about the steps and forms which need to be completed in order to become a Volunteer at CHRISTUS St. Vincent. Volunteers have been an integral part of the hospital since 1951 and we would be delighted to have you join us.
Volunteer Onboarding Process
We invite you to join us.
We invite you to join us.
Volunteer Opportunities
Service Areas

There are many areas within the hospital where volunteers work, based on the needs of CHRISTUS St. Vincent and the interests of the Volunteer. Current areas, mostly with set schedules, include:
Clothing Closet - Helping manage a closet which provides clothing to patients who lack appropriate clothing at time of discharge. Flexible schedule.
CoCare- Requires additional training and volunteers work directly with patients, providing companionship, cognitive exercises and support to those who will be in the hospital for a longer period. A four hour shift per week for at least six months is needed for this position.
Coffee Cart – Traveling throughout the hospital, offering coffee, tea and newspapers to patients and visitors. Flexible morning shifts Monday-Sunday about 1 ½ hour per shift.
Craft Services – Making baby hats and blankets, tray favors, Christmas baby stockings, etc.
Emergency Department – Supporting staff, patients and visitors by visiting with families/friends waiting in the lobby, bringing warm blankets to patients and coffee and snacks to family in the treatment area, and providing a calm, helpful presence. Flexible 2-4 hour shifts.
Information Desks - Answering phone calls coming into the hospital, accessing the hospital's computer system to provide information to patients and visitors, escorting visitors to various hospital locations. M-F 8 a.m. – noon or noon to 4 p.m. Saturday 10 a.m. – 2 p.m.
Library Cart – Traveling throughout the hospital, offering a selection of donated reading materials to patients and associates. This is a 1-2 hour activity with a flexible schedule Monday-Sunday.
Musicians - Performing (quietly) for patients in their rooms to comfort, entertain and distract them from their discomfort and anxieties. Flexible schedule Monday - Sunday.
Pet Therapy- Spending an hour or two once a week with your dog, visiting patient rooms, waiting lobbies and with staff to help relieve the stress of the hospital environment. Dogs must be well-behaved and friendly, current on shots and must pass the SF Animal Shelter training. Flexible schedule Monday - Sunday.
Registration - Escorting patients from the Registration area to clinical departments throughout the hospital. M-F mornings, with a particular need for volunteers willing to work early mornings.
Special Events – Assisting with immunization clinics or occasional projects and events.
Spiritual Care – Making patient visits, in collaboration with Spiritual Care staff (Chaplains), bringing God's love to those in need. Monday- Sunday, flexible schedule.
Surgery Waiting Room - Providing information and comfort to families and friends of patients undergoing surgery. M-F 7:30 a.m. - 11:30 a.m. or 11:30 a.m. – 3:30 p.m.


Volunteer Benefits
As a Christus St. Vincent Volunteer, you will be rewarded with the opportunity to touch lives every day, make friends and expand your horizons. Other benefits include:
Free flu shots and free COVID-19 vaccines
Free use of the hospital gym (50 hours required prior to usage) and the Associate Serenity Room
A free cafeteria meal for every shift you work
A luncheon banquet every spring to celebrate your service
Annual education on topics relevant to your volunteerism
RSVP volunteer program enrollment (if you are 55+) for mileage reimbursement
Once again, we thank you for your interest in joining us. Please feel free to contact Kristin with any questions or concerns. We look forward to meeting you!