Become a volunteer at Christus St. Vincent!
When you become a volunteer at CSV, you join our community. As we strive to provide the highest quality healthcare services to our neighbors in northern New Mexico, we thank you for your interest.
Volunteers are an integral component of the CSV team. They staff the hospital's information desks, surgical waiting room, hospitality coffee cart, and library cart. They provide support services in the emergency department and manage the clothes closet for patients in need. They escort patients and visitors throughout the hospital and, through the pet therapy program, (dogs only), visit with patients, visitors and staff. They create baby blankets, holiday tray favors and other crafts. They sing and play music in patients' rooms and waiting rooms and offer spiritual care to patients.
In order to provide proficient and compassionate care to those we serve, volunteers receive screening, orientation, training and support. Community volunteering has many rewards and offers individuals opportunities to learn new skills, meet new friends, and give back so much to others. We invite you to join us and make a lasting impact.
Volunteers must be 18 years of age, or older.
View Onboarding Process Information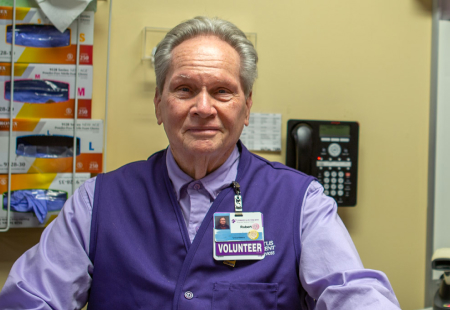 Learn more about the steps and forms which need to be completed in order to become a Volunteer at CHRISTUS St. Vincent. Volunteers have been an integral part of the hospital since 1951 and we would be delighted to have you join us.
Volunteer Onboarding Process
We invite you to join us.
We invite you to join us.
Volunteer Opportunities
Service Areas
There are many services volunteers perform, based on the needs of CSV and the interests of the volunteer. We are currently recruiting for the highlighted areas:
Behavioral Health Unit - Offering a class, project/activity weekly, or assist by answering phones. Shifts are mornings, Monday-Sunday.
Clothing Closet - Helping manage a closet which provides clothing to patients who lack appropriate clothing at time of discharge. Flexible schedule.
CoCare- Requires additional training and volunteers work directly with patients, providing companionship, cognitive exercises and support to those who will be in the hospital for a longer period. A four hour shift per week for at least six months is needed for this position.
Coffee Cart – Traveling throughout the hospital, offering coffee, tea and newspapers to patients and visitors. Flexible morning shifts Monday-Sunday about 1 ½ hour per shift.
Craft Services – Making baby hats and blankets, tray favors, Christmas baby stockings, etc.
Emergency Department – Supporting patients, visitors and staff in the ED lobby. Volunteers welcome people as they enter, check patient names in the computer, walk visitors back to rooms, keep the area tidy, and provide a feeling a calm warmth to this potentially stressful environment. Shifts are 11:00 a.m. – 3:00 p.m. or 3:00 – 7:00 p.m. daily.
ICU Front Desk – Calmly and kindly escort visitors to rooms within the Intensive Care Unit, assisting with PPE if necessary. Spanish is a plus. Mon-Fri 9:00 – 1:00
In Patient Rehab Unit – Attend the front desk, guiding visitors to rooms and assisting with various tasks, morning hours. Or, offer an activity once a week- art, music, writing, etc. anytime.
Information Desks - Answering phone calls coming into the hospital, accessing the hospital's computer system to provide information to patients and visitors, escorting visitors to various hospital locations. M-F 8 a.m. – noon or noon to 4 p.m. Saturday 10 a.m. – 2 p.m.
Library Cart – Traveling throughout the hospital, offering a selection of donated reading materials to patients and associates. This is a 1-2 hour activity with a flexible schedule Monday-Sunday.
Medical Professional Building Front Door – Greet and direct/escort patients to the appropriate clinic, sometimes with a wheelchair. Be the welcoming face of the facility. M-F three-hour shifts.
Musicians - Performing (quietly) for patients in their rooms to comfort, entertain and distract them from their discomfort and anxieties. Flexible schedule Monday - Sunday.
Pet Therapy- Spending an hour or two a week with your dog, visiting patient rooms, waiting lobbies and with staff to help relive the potential stress of the hospital environment. Dogs must be well-behaved, friendly, current on shots and must pass the Canine Good Citizen test. (There are several places in town that administer the test). Then they must be approved by the Pet Outreach team at the Santa Fe Animal Shelter. Set your own schedule. Non-shedding dogs may also visit the Cancer Center.
Registration - Escorting patients from the Registration area to clinical departments throughout the hospital. M-F mornings, with a particular need for volunteers willing to work early mornings.
Special Events – Assisting with immunization clinics or occasional projects and events.
Spiritual Care – Making patient visits, in collaboration with Spiritual Care staff (Chaplains), bringing God's love to those in need. Monday- Sunday, flexible schedule.
Surgery Waiting Room - Providing information and comfort to families and friends of patients undergoing surgery. M-F 7:30 a.m. - 11:30 a.m. or 11:30 a.m. – 3:30 p.m.


Volunteer Benefits
As a Christus St. Vincent Volunteer, you will be rewarded with the opportunity to touch lives every day, make friends and expand your horizons. Other benefits include:
Free flu shots and free COVID-19 vaccines
Free use of the hospital gym (50 hours required prior to usage) and the Associate Serenity Room
A free cafeteria meal for every shift you work
A luncheon banquet every spring to celebrate your service
Label pins to recognize years and hours of service
Annual education on topics relevant to your volunteerism
RSVP volunteer program enrollment (if you are 55+) for mileage reimbursement
Once again, we thank you for your interest in joining us. Please feel free to contact Kristin with any questions or concerns. We look forward to meeting you!