Clinical Learning Education
CHRISTUS Health promotes Clinical Education at our many clinical sites across the States of Texas, Louisiana and New Mexico for diverse students pursuing education in various clinical disciplines from academic institutions scattered throughout the United States. While earning academic course credit(s) toward their degree requirements. Students may expect to gain highly enriched experiential clinical learning and practicums during their approved clinical placements or rotations under the direct preceptorship of integrated care team of experts at CHRISTUS Health. Essentially, these learning opportunities allow practical application of learned theory in the field environment. While we cannot guarantee a rotation placement for all interested students, we hope you will reach out to learn more what CHRISTUS Health can offer your academic institutions and students.
Affiliation Agreements
Purpose
Our model Clinical Education Affiliation Agreement template allows for expedited processing and is designed to:
Provide a consistent and efficient framework for managing an increasing number of students participating in clinical training at CHRISTUS Health away from their home institutions
Comply with applicable accreditation and education standards
Help students secure access to premier clinical training site at CHRISTUS Health
Spell out roles and responsibilities between our training site, academic institution, and the rotating student(s)
Ensure an appropriate learning environment, including scope of supervision, towards a meaningful and rewarding educational experience
Scope
Among others, we offer clinical rotations and practicums in the following major clinical disciplines:
Medical Residents
Medical Students
Nurses
Advanced Practice Practitioners
Emergency Medical Technicians
Physical Therapists
Social Workers
Pharmacists
Phlebotomists
Medical Assistants
Sonographers
Process
All clinical education affiliations between CHRISTUS Health and another Academic Institution require a written and signed Clinical Education Affiliation Agreement (CEAA). A CEAA must be completed prior to the beginning term of the clinical placement or rotation. If your Academic Institution has an interest in exploring a clinical education affiliation opportunity at CHRISTUS Health, please follow the detailed workflow document to learn more about our centralized and systematic review process. If you are a current student, please have your faculty advisor identify a training site at CHRISTUS Health and contact our Office regarding processing a CEAA. Our Office is responsible to review the legality of the CEAA documents, but individual departments, preceptors, and rotating students at CHRISTUS Health's training sites are responsible to abide by the requirements set forth in the CEAA.
Resources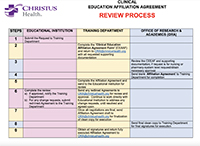 Contact Us
Inquiries can be directed to ORA@christushealth.org.
CHRISTUS St. Michael Rotation Request
With our vision on education and community service, our goal at CHRISTUS St. Michael Health System continues to be assisting with the education process of future health care professionals. Submit a rotation request to CHRISTUS St. Michael.
Learn More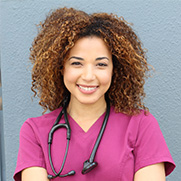 CHRISTUS Santa Rosa Health System
This page is designed for allied health professional students or students who wish to apply for observation privileges or research assistant opportunities at CHRISTUS Santa Rosa Health System and The Children's Hospital of San Antonio to access application and registration requirements.
Learn More