CHRISTUS Santa Rosa Health System
Continuing Medical Education Program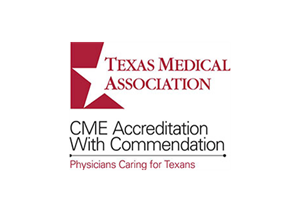 The purpose of CHRISTUS Santa Rosa Health System's Continuing Medical Education (CME) program is to improve patient care by providing educational activities for physicians. By designing effective interventions that address physician practice gaps, we intend to facilitate change in our learners' competence and performance resulting in an improvement in patient care. CHRISTUS Santa Rosa Health System is Accredited with Commendation by Texas Medical Association to provide continuing medical education for physicians.
Contact Us
Pamela Voorhies, RN, MS, Continuing Medical Education Coordinator, 210-704-2701
Jann Harrison, RN, MSN, Regional Director of Medical Education, 210-704-3785
View and register for CME activities on our CME Portal by clicking here.
Track your CME credits and download certificates by logging into MyPortal.
Videos & Additional Information