A Parent's Guide to Understanding Autism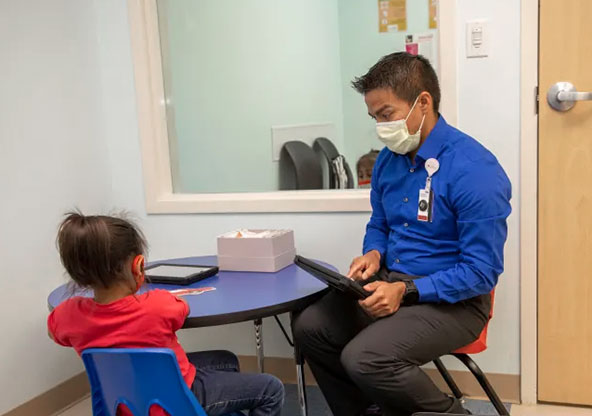 By Andrew Martinez, PhD, Clinical Director, Autism Program, Psychology Department
What is Autism Spectrum Disorder (ASD)?
ASD is a lifelong neurodevelopmental disorder where individuals have social and behavior difficulties. The first (and main) symptom is trouble with social skills. Social skills do not come as natural to individuals with ASD as they do for those without ASD. Social difficulties are different in everyone, but these are some common symptoms:
Poor/avoidant eye contact
Limited or unusual gestures
Trouble using nonverbal language (e.g., eye contact, gestures) to communicate
Trouble reading emotions, feelings, and/or facial expressions
Trouble making and keeping friends
Not understanding social relationships (e.g., marriage, friendships, etc.)
Not interested in socializing with others
Trouble having a shared conversation
Also, individuals with ASD frequently have restricted and repetitive behaviors. These behaviors are different for everyone, but these are some common symptoms:
Hand flapping
Full body rocking
Other unusual repetitive motor movements
Repeating someone else's speech (called echolalia)
Repeating scripts or specific statements they have heard (called delayed echolalia)
Trouble adjusting to changes with routine
Having specific routines or habits that must always be done a certain way
Lining up or organizing things
Obsessed with specific topics or interests where they know "everything" about it
Interested in unusual topics or interests compared to others their age
Sensory sensitivities – loud noises, clothing, food textures, specific textures, grooming, etc.
It is important to note that just because someone has social problems and repetitive behavior, they do not necessarily have an ASD. Many other disorders have similar or overlapping behaviors (e.g., ADHD, intellectual disability, anxiety, mood disorder, schizophrenia spectrum disorders, etc.).
What are some early behaviors/risk factors I should look out for?
Risk factors vary depending on age, but here are some risk factors for infants and toddlers:
Does not smile back at you when you smile at them (called social smiling)
Does not respond to their name
Has trouble making requests
Avoidant or poor eye contact
Seems to be "in their own world" most of the time
Is not interested in interacting with you or in social games (e.g., peek a boo)
Does not share their interests with you
Unusual motor, verbal, or sensory behavior
Unusual or repetitive play
In addition, two other risk factors are having a sibling or another immediate family member with ASD and having a specific medical condition associated with ASD.
If my child is showing symptoms of ASD, what should I do?
The first thing you should do is talk to your pediatrician. It is very important to be open with them and share your concerns. They are very good at knowing what is typical development versus delays or concerns. They may have you fill out some questionnaires to help them see if there are enough symptoms to warrant further workup. If they notice concerns or are unsure, they will refer you to a specialist. Referrals will more than likely be sent to one of the following specialists: psychologist, neuropsychologist, developmental pediatrician, neurologist, or neurodevelopmental pediatrician. At CHRISTUS Children's, these referrals will be sent to either Dr. Andrew Martinez, Dr. Melissa Svoboda, or Dr. Veronica Villarreal.
In addition, your pediatrician might also refer for therapies while you wait for a specialists' appointment (if it is needed). These therapies often include speech therapy (ST), occupational therapy (OT), or physical therapy (PT). They may also refer to Early Childhood Intervention (ECI) if they are under 3 years old. If your child is older than 3 years old, they may encourage you to request an evaluation through your local school district.
What does an ASD evaluation look like?
Evaluations vary depending on who is completing it, but most ASD evaluations include a detailed parent interview and standardized testing. Interviews are used to gather details about the current ASD-like symptoms, when they started, and how frequent or severe they are. The interview is also used to gather information about the family, the gestational history, the child's development, any other medical or psychiatric problems, and what services or therapies they have received. Standardized testing is used to see how well a child functions compared to other children their age. Testing often includes intelligence (i.e., IQ), language, motor, sensory, and autism specific tests. It is very important to note that tests are used to gather data. There is not one specific test used or that can diagnose ASD alone.
At CHRISTUS Children's, an autism evaluation begins with a clinician interviewing a caregiver and then observing and interacting with the child. The next steps will be determined by results from the initial appointment. For some children where the doctor can tell during that appointment they have an ASD, they will be diagnosed with ASD and referred for treatment. If the doctor is not sure, they will be recommended for further testing.
Testing might be with only the same doctor or might be with our multidisciplinary autism team. If the doctor is sure the child does not have an ASD, they will speak with you about treatment (if it is warranted).
Regardless of the diagnosis, we will make sure to discuss your child's strengths and weaknesses and come up with a plan to help them.
What happens after an ASD diagnosis is made?
This varies depending on where and who is evaluating your child. At CHRISTUS Children's, we will discuss the results and treatment plan with you. Treatment options will depend on the child's specific difficulties, but Applied Behavior Analysis (ABA) therapy is often recommended. ABA is a therapy that focuses on increasing positive or helpful behaviors and decreasing negative or unhelpful behaviors. ABA therapy can be used to work on social skills, language, inappropriate and harmful behaviors, and many other skills. In addition, ST and OT are often recommended, as many children with ASD have trouble with speech, language, motor, sensory, and adaptive skills.
In addition, we will also discuss what medical work up is needed to find the cause of ASD (also called etiology). This often includes a genetic evaluation and possibly a neurological work up. Also, there are currently no medications or other medical treatments approved for ASD. There is no cure for ASD. Some children with ASD take medication or have other medical treatments, but these are due to other factors and NOT ASD alone. There are several alternative therapies that are available; however, there is very little or no data to prove these work or help. Most of these therapies are expensive (cash pay only as insurance will not cover them) or can be dangerous for children. For this reason, we strongly recommend you speak with your pediatrician or autism specialist about any alternative treatments you are considering. Just like you, we want to keep your child safe.
Lastly, ASD is a lifelong disorder. Individuals with ASD symptoms will fluctuate over the years. Thus, it is important to connect you with community resources and develop a strong support system. CHRISTUS Children's, we will connect you with local and statewide resources. We will follow up with you as needed, and we will always be here to answer any questions or concerns that may come up.