Navigating Your Care with a Family Doctor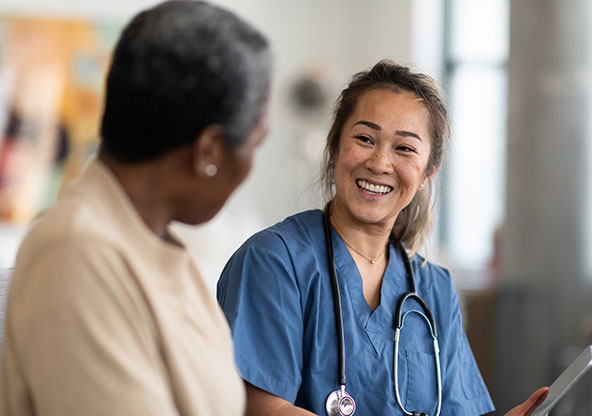 Taking charge of your health means understanding the healthcare system's different ways to access care for you or your loved one.
Your primary care provider acts as your long-term healthcare advocate and provides comprehensive, personalized care.
However, knowing where to go when you are sick or in need of care can be confusing because you have many options.
For care, you can go to:
An emergency room
An urgent care clinic
A virtual care appointment
A specialist
A primary care provider
But where does your primary care provider fit into managing your care?
---
Each Care Option Fills a Specific Need
Each access point in the health care system serves a specific purpose. For example, ERs vs. urgent care clinics offer different levels of care.
You can go to urgent care for treatment for an allergic reaction or pink eye. But you want to go to the emergency room with chest pain, a seizure or pneumonia.
When to See Your Primary Care Provider?
Your primary care provider is integral to your overall health. Your primary care doctor provides long-term health management, such as helping you manage chronic conditions, providing preventive care and screenings, and connecting you to specialists when needed.
Your primary care provider can advise when to go to urgent care or the ER. They can also be an excellent resource for follow-up appointments to ensure you're getting better, and your treatment plan is working.
So, having an established relationship with a trustworthy primary care provider is crucial. They will fully understand your health and any pre-existing conditions that need to be considered when receiving care.
By understanding the specific needs of each access point in the healthcare system, you can make informed decisions about where to go for care and get the help you need. And by having a primary care provider as your health advocate, you can ensure you're getting the right care at the right place, and promptly.
Primary Care Providers Navigate Your Overall Health
1. Early Detection and Prevention: Your primary care doctor is the first line of defense for many illnesses, providing regular checkups to detect potential issues before they become bigger problems. They can also provide preventive care, such as immunizations and screenings, that may help you avoid illness in the future.
2. Comprehensive Care: Primary care doctors provide various services, such as diagnosing illnesses and prescribing treatments. They can also coordinate care with specialists if you need more complex treatment or testing.
3. Personalized Care: A primary care doctor is knowledgeable about your medical history and can create a personalized treatment plan that considers your lifestyle and goals.
4. Stress Relief: Primary care doctors can help you manage stress by providing advice on healthy lifestyle choices and helping to identify any underlying mental or physical disorders that may be causing stress.
5. More Thorough Care: They can do more tests than urgent care clinics. Primary care doctors have more in-depth knowledge of diseases and can manage most medical issues within their scope.
Make an Appointment Today
Schedule a checkup with a primary care provider to help you prioritize your health and catch unforeseen issues before they develop. Find a CHRISTUS primary care physician near you.
Find a Doctor