Parents: Schedule Testing for Flu, Strep, COVID with Virtual Care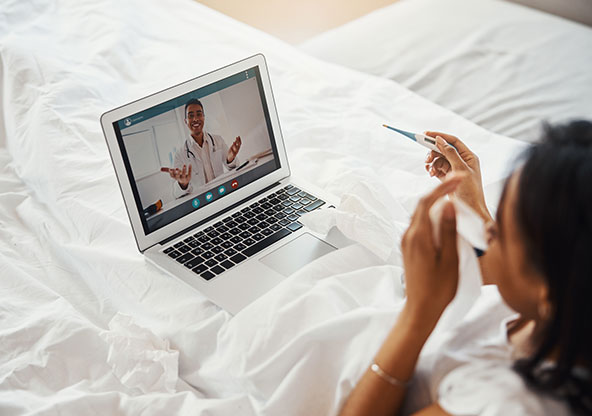 As a parent, you are constantly juggling numerous responsibilities. When your child gets sick, these responsibilities suddenly become more difficult.

That is one reason we created On Demand Care, a service that makes caring for your child convenient and easier for you. We can see children ages 5 years old and up and help you get a proper diagnosis.
On Demand Care can also schedule your child's tests at a nearby CHRISTUS urgent care or doctor's office. You can go in and take your tests and leave. A clinician from On Demand Care will call you back with next steps.
Why Choose On Demand Care?
Getting the Testing Your Child Needs
An On Demand Care provider ensures the right tests are ordered based on your child's symptoms. Whether it's flu, COVID, or strep, your child will be scheduled for a test at your local CHRISTUS doctor's office or urgent care.

Further guidance from a clinician is available based on symptoms.

Tip: Many parents even utilize home COVID tests to enhance their consultations with On Demand Care.
Time-Saving Approach
Time is of the essence, especially when your child is unwell. With On Demand Care, you can see the next available clinician on a device like a smartphone or computer.

When an On Demand Care clinician understands your child's symptoms, they will give your child a treatment plan. However, if testing is needed for your child, the On Demand Care clinician can schedule your child for testing at a nearby clinic.
Once you arrive, you can go in for testing. When the test is finished, results are promptly uploaded to our system. You can leave the facility before the results are received.
On Demand Care will call you and inform you of the next steps. Plus, with extended hours from 7 a.m. to 11 p.m., the service fits seamlessly into parents' busy schedules.
Tip: On Demand Care experiences peak usage in the mornings and then again after school and work hours. If you can call during non-peak hours, you will have a faster experience.
Comfort and Convenience
With On Demand Care, virtual consultations can happen in the comfort of your home.

This is especially beneficial for teenagers who might prefer phone consultations over in-person visits.
On Demand Care is another way to help busy parents care for their children. On Demand Care helps parents face and offers a precise, time-saving, and comfortable solution. The next time your child shows signs of illness, remember there's a convenient way to get testing, treatment and care.
On Demand Virtual Care
See an urgent care clinician in under 30 minutes without the need to schedule a visit.