Making a Comeback After Shoulder Surgery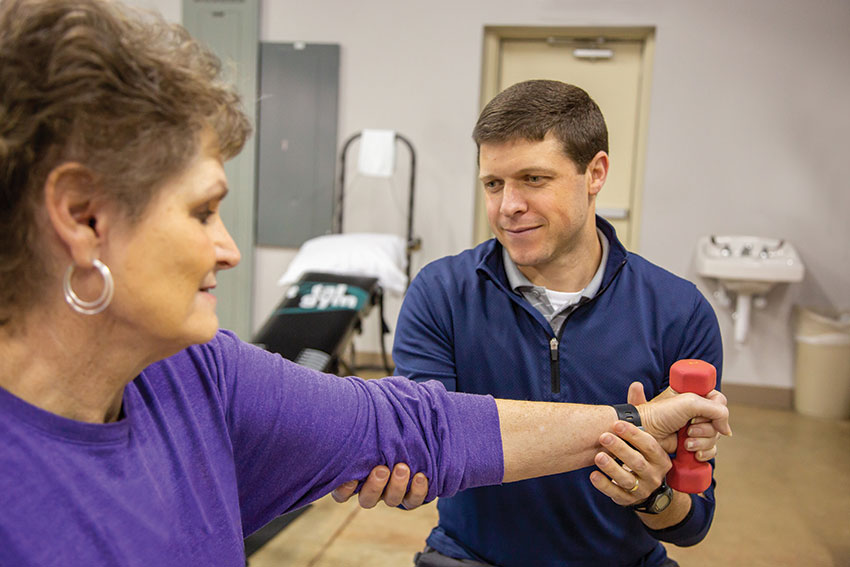 One of Charlotte Knoll's favorite pastimes is traveling the country in a motor home with her husband. Last year, Charlotte, a 66-year-old retired chief nursing officer from Bossier City, fell during a visit to San Francisco and injured her left shoulder. After a few months, the pain in her arm started affecting her daily activities.

"I had a hard time getting dressed," Charlotte says. "And I wasn't sleeping well, so I knew something was going on." Charlotte turned to Matt Barcelona, DPT, physical therapist and clinical director at CHRISTUS Bossier Outpatient Therapy for outpatient physical therapy, but the discomfort persisted.
Matt referred Charlotte for evaluation by an orthopedic surgeon, who found a torn rotator cuff and other structural problems. Charlotte underwent surgery at CHRISTUS Highland Medical Center in April.

About two weeks later, she began seeing Matt again. "Charlotte wanted to regain full use of her arm for all overhead daily activities," Matt says. "We implemented a plan of manual therapy, range-of-motion exercises, strengthening and stabilization techniques, and functional movement patterns to reach her goals."
Charlotte's therapy is ongoing, and it's had a major effect on her quality of life. Her arm is stronger and more flexible, and she can dress on her own and sleep in a bed rather than a recliner.
"The therapists pushed me in a caring and compassionate way," Charlotte says. "That's what makes a difference."