A Chilly Solution to a Heart in Trouble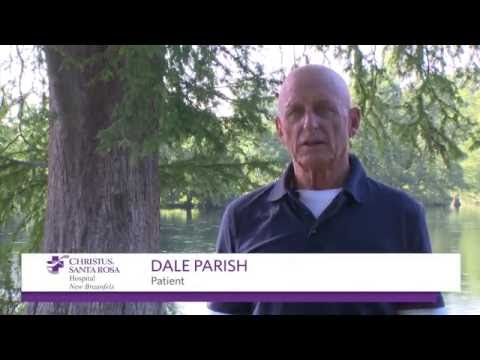 When a sudden cardiac arrest left Dale Parish unconscious and fighting for his life, an innovative cooling therapy was his best chance at getting back to his children, grandchildren and students.
January 2 was a typical day for Dale. The active 66-year-old got up, took a 10-mile run at Landa Park and came home to spend time with his daughter, Amy, and his three granddaughters. As a teacher and cross-country running coach at Church Hill Middle School, Dale knew the importance of staying active. But he had no idea that a blockage had slowly been accumulating in his left anterior descending artery (LAD). While at home with his granddaughters, he collapsed. "Most people will tell you I'm the last person they thought would ever have a heart attack," Dale says. "I'm very active, and I never had chest pain. My blood pressure might have gone up every now and again, but it always came back down. Now, I know that I should have cared more. There's a history of heart disease on both sides of my family. I should have had my heart checked."
KEEPING HIS COOL
When Dale collapsed, his daughter called 911 while a family friend began performing cardiopulmonary resuscitation (CPR) on him. Emergency medical personnel from New Braunfels Fire Department Station Six rushed to the scene and began working to stabilize Dale's heart while they transported him to the emergency department at CHRISTUS Santa Rosa Hospital – New Braunfels.
"Emergency responders and our ED staff had to shock Dale's heart to get it back into rhythm," says Bryan Fisk, M.D., an intensivist with CHRISTUS Santa Rosa Hospital – New Braunfels. "He was given a breathing tube and rushed to our cardiac catheterization lab so we could find out what was wrong."
In the catheterization lab, interventional cardiologist Jason Yoho, M.D., used special imaging technology to find the blockage and began the process of clearing the LAD. An intra-aortic balloon pump was inserted to help support Dale's heart. Dale was then transferred to the Intensive Care Unit (ICU) where he was started on therapeutic hypothermia. This complex therapy helps save lives of people like Dale who have heart attacks outside of the hospital setting.
"When someone goes into cardiac arrest, blood stops flowing to the brain," Dr. Fisk says. "Restoring blood flow to the brain is important to stop the damage, but the sudden restoration of blood flow can actually lead to oxygen toxicity and risk further injuring the brain tissue. Cardiac arrest will cause chemical changes to brain cells. If oxygen is reintroduced too quickly, it can actually cause those cells to die. Hypothermia slows down the damage, gives the brain time to heal and prevents this."
Tucked between two cooling blankets that kept his temperature a chilly 91 degrees Fahrenheit, Dale's body entered a semi-dormant state. His organs and blood flow slowed, giving his brain and heart time to heal. After 24 hours of cooling, Dale was gradually warmed back up to his normal temperature. This is a very slow process, with the temperature coming up by a few degrees each hour. Doctors closely monitored Dale's progress, and a few days later he was able to come off his ventilator and begin the process of recovering and getting back to an active lifestyle.
FAST TRACK TO RECOVERY
After two weeks, Dale transferred to an inpatient rehabilitation center in New Braunfels. He spent five days there before returning home. Dale continued to do outpatient rehabilitation at CHRISTUS Santa Rosa Rehabilitation Center – New Braunfels. Dale has made a point of getting back to living the life he loves. In March, he went back to work coaching and teaching, much to the delight of his colleagues and students. Today, Dale runs five or six miles a day and spends a lot of time with his children and grandchildren. He even got married this summer. "I feel like life now is even better than before," Dale says. "I have my health. I'm married to the woman of my dreams. And I'm thankful to God and my doctors. I'm an example of what can happen if you don't look after yourself properly. Everywhere I go, I tell people that I'm a big proponent of heart scans. See your doctor. Find out what's going on in there. It could save your life."