Imaging in a New Dimension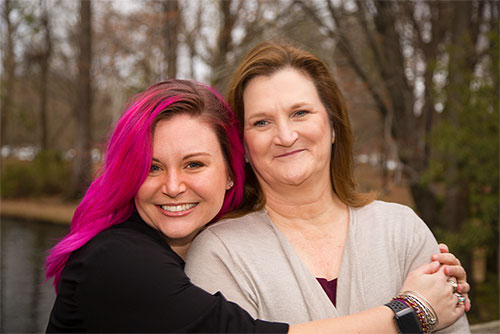 As she routinely reported to work each day, the tumor continued to do its own work. Fortunately, Sheila faithfully scheduled her yearly screening mammogram. Sheila knew routine screenings were important because what she couldn't see growing inside of her body, the radiologists and radiation techs at the CHRISTUS St. Michael Imaging Center could.

Just like she does every October, Sheila walked through the doors of the CHRISTUS St. Michael Imaging Center in 2017 for her mammogram. Shortly after her arrival, the radiologist identified a small mass that was only visible on the detailed breast images from the Hologic® Genius™ 3D Mammography™ exam. After a biopsy, Sheila was diagnosed with stage I invasive lobular carcinoma.

"The tumor was the size of a pea … no lumps … no way of knowing," Sheila says. "If I hadn't had the Genius 3D exam, there's no telling when it would have been detected."

"The CHRISTUS St. Michael Imaging Center is proud to offer Hologic Genius 3D Mammography as the standard of care for all women undergoing screening exams at our facility," says Lisa Patterson, director of imaging services at CHRISTUS St. Michael Health System. "This technology enables breast tissue to be examined layer by layer, helping to screen for cancer, determine if additional testing is needed or dismiss a false-positive with confidence. It is especially useful in examining younger or more dense breasts."
THE GENIUS EXAM
Three-dimensional tomosynthesis mammography detects 41 percent more invasive breast cancers, detects cancer 15 months earlier and reduces false-positive recalls by up to 40 percent as compared to conventional 2D mammography.

"CHRISTUS St. Michael Health System has offered 3D tomosynthesis mammogram since 2012 as a tool for breast cancer detection," Patterson continues. "Three-dimensional tomo was previously used primarily for workup of a suspicious mass."

Now, a Genius 3D Mammography exam is covered by Medicare and a growing number of private insurers since both the states of Arkansas and Texas have recently approved use of this technology to provide routine yearly screening mammograms.

"We are blessed to have this technology in our community," Sheila shares. "It's so scary how many women could walk around not knowing they have cancer. Now, we have the technology to better detect the disease."

Just three months after her diagnosis, Sheila completed her treatment, which consisted of surgery and radiation therapy. Although she is in remission, Sheila takes a daily hormone blocker and will return twice a year for a Genius 3D Mammography exam and magnetic resonance imaging (MRI) of the breast.

Because of a simple, yet groundbreaking image, she is able to spend quality time she might never have had with her daughter, Whitney, and husband, Jerry. That's the kind of picture all of us at CHRISTUS St. Michael are blessed to see.