Suddenly Jim was having trouble breathing. Within a couple of days, he couldn't swallow, speak or raise his head. After a week in a local hospital with no diagnosis, we were losing hope. Jim had lost nearly 25 pounds and was wasting away. We thought he was dying.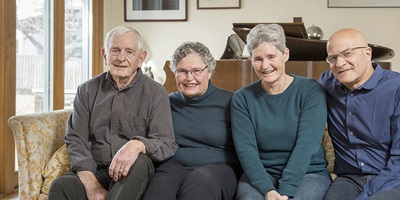 Jim was sent to CHRISTUS St. Vincent for a swallowing study and feeding tube. It was in the emergency room that Dr. Rosen recognized my husband's symptoms were consistent with myasthenia gravis, a rare autoimmune disease that affects nerve-to-muscle communication. He confirmed his suspicions by giving Jim a medication that temporarily reversed his symptoms.

As the medication was administered, we watched a miracle unfold. For the first time in weeks, Jim was able to speak, smile and even lift his head up high. My daughter and I broke into tears. My husband, my lifelong partner, was back to himself again. God heard our prayers, and we were overcome with joy.

Jim was quickly admitted to UNM Health, where he spent the next few days in the care of a neurologist who specializes in myasthenia gravis. As Jim's abilities came back, he told us he felt as though he was "riding through a rainbow of glorious colors."

Today, Jim is back at home and doing great. We thank God for the many angels who ministered to us throughout this experience, especially Dr. Rosen. He gave me my husband back.

Jim Little
Jim Little is a retired electrical engineer and safety officer of Los Alamos National Laboratory. Jim and Gail, a classical pianist, have lived in in Los Alamos, NM since 1967, where they continue to be active church members and community volunteers. The couple has three daughters – Brenda, Cindy and Nancy – and several grandchildren.