Jesse Buchanan Rings in the New Year Cancer Free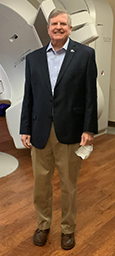 Jesse Buchanan has contributed his entire career into investing back into Texarkana, USA. He has devoted many years of service to our country and to the community where he grew up. An Arkansas High alum, Jesse served in the Army National Guard for 32 years before becoming Director of Parks and Recreation for the city of Texarkana, Texas. God then brought Jesse to CHRISTUS St. Michael where he has provided oversight of facilities for 11 years. Jesse has been instrumental in ensuring technology like the regions only electrophysiology (EP) Lab, region's only hybrid OR and the TrueBeam Linear Accelerator were successfully installed at CHRISTUS St. Michael. His contributions to CHRISTUS St. Michael continue to elevate health care for many in our community, and those contributions would come full circle.
"I was on the project management team when we installed the TrueBeam Linear Accelerator in 2018," shared Jesse. "I knew having this level of technology would benefit our community but never imagined it would be used to help treat my own cancer just a year later."
In April 2019, after seeing an ENT with a persistent sore throat and hoarse voice, Jesse was diagnosed with larynx cancer. Fortunately, the cancer was caught early and treated with 28 radiation therapy treatments using the advanced TrueBeam Linear Accelerator. In September 2020, on Jesse's birthday, they discovered cancer again, this time in a lymph node in his neck.
"My doctors told me typically cancer doesn't go from the larynx to the lymph node," said Jesse. "I was in a 2% group. I wasn't a high risk for this type of cancer either. I didn't have HPV, I don't smoke and genetic testing revealed no markers… I wasn't supposed to have this."
Team Effort
The ENT, Medical Oncologist and Radiation Oncologist determined a treatment plan that included surgery, radiation therapy and chemotherapy. Three weeks after surgery, Jesse began his second treatment journey.
Jesse knew he could trust Hesham Hazin, M.D., Medical Oncologist, CHRISTUS St. Michael Oncology Clinic. He had worked with Dr. Hazin and felt confident the oncologist's reputation of providing excellent care was tried and true. After consulting with the newest addition to the CHRISTUS St. Michael oncology team, Charles Matthews, M.D., Radiation Oncologist, W. Temple Webber Cancer Center, Jesse was even more certain his care couldn't have been placed in better hands.
"It was my first experience with Dr. Matthews, and I was immediately put at ease with his demeanor and how thorough he was in explaining my treatment plan. I had lost a lot of weight during the treatment process, so he adapted my plan to ensure the radiation treatment was precise and safe."
The Less Road Traveled the Better
While Jesse knew his care plan was taking him to a healthier outcome, the seven weeks of treatment led to some nausea, exhaustion and weakness. The treatment changed the taste of many foods making it difficult to eat and keep up his needed caloric intake. He lost 28 lbs. in two months.
"I cannot imagine having to travel hours away for my treatment or being away from my support system throughout this process," he said. "There were days I struggled to make it across town, much less having to travel further. I recommend anyone facing cancer treatment decisions meet with the care team at CHRISTUS St. Michael before they go somewhere else. I was able to receive the same level of innovation and excellent care of larger cities without having to travel."
Ringing in the New Year
On December 31, 2020, Jesse completed his final round of treatment and ended 2020 with ringing the survivor bell at the W. Temple Webber Cancer Center.
"The team at CHRISTUS St. Michael, led by Dr. Hazin and Dr. Matthews, was phenomenal, and I want to thank everyone on the team," shared Jesse. "The nurse practitioners, oncology nurses and radiation techs along with the support staff are awesome. The care and compassion they have given me could not have been better. We are blessed to have these advanced services in our community."
And, this community is blessed to have you, Jesse.