Pain Relief During Pregnancy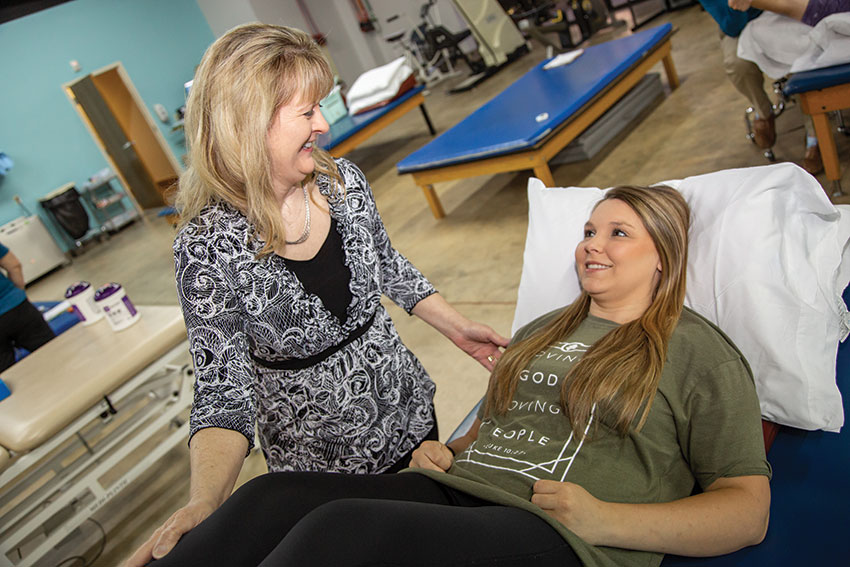 Last winter, while pregnant with her third child, 26-year-old stay-at-home mother Morgan Faulk of Bossier City developed severe sciatica. The nerve pain made her right leg weak, gave her a limp and made it difficult to walk, sit or stand for more than a few minutes at a time. In February, Morgan began visiting CHRISTUS Specialty Therapy for Men and Women. There, Certified Pelvic Specialist Shannon McAllister, PT, addresses pelvic pain, incontinence, pregnancy-related pain and many other conditions.

"My treatments for clients who are expecting consist primarily of manual therapy, which includes several hands-on techniques," Shannon says. "I also work with mothers on flexibility training, therapeutic exercises for strengthening, such as pelvic floor muscle exercises, and core and hip strengthening. I love working with expectant mothers because they tend to do great with therapy and feel so much better. "That was true for Morgan, who worked with Shannon twice weekly until April 11, the day before she gave birth to daughter Tinley. "Therapy made the pain much more tolerable," Morgan says. "I was able to walk straighter, faster and longer without having severe pain." Once Tinley arrived, Morgan's sciatica pain disappeared.