Tickled Pink
Necoah had to be whisked away to the NICU just seconds after her mother, Lafeesha, underwent an emergency C-section.
Lafeesha and Aaron Saul were ready to add to their family of four, so when they learned Lafeesha was pregnant, it was welcomed news. With two boys – one 8 and the other 10 – they were excited about the prospect of bringing a newborn home.
Other than feeling tired and nauseous, Lafeesha's first trimester was uneventful. However, at the end of her first three months, Lafeesha learned she had gestational diabetes, a diagnosis that can be harmful to a developing baby. In addition, doctors detected some extra fluid at the base of the baby's neck and the top of the spine. So, erring on the side of caution, they decided to do some additional tests.
During these additional tests, Lafeesha and Aaron learned they were having a girl, who they would later name Necoah. The entire family rejoiced.
"Secretly, I was hoping we would be having a little girl," said Lafeesha. "Both of my older kids have been asking for a baby sister since they were 2 or 3 years old. So, we were tickled pink."
The happy news about having a girl was mixed with some concerning information: the tests revealed a potential problem with Necoah's heart and bowels.
Lafeesha entered her second trimester, where doctors performed an anatomy scan on Necoah.
"She had 10 fingers and 10 toes," said Lefeesha. "But we were all concerned about her bowels because they were coming up brighter on the screen, and she also continued to have that extra fluid at the base of her neck. In addition, a vein was coming from the back of her heart – an indication that something just wasn't right."
Because of these red flags, Lafeesha's maternal-fetal medicine doctor at The Center for Maternal and Fetal care – Westover Hills recommended that she deliver Necoah at The Children's Hospital of San Antonio (CHofSA) where she would be close to a Level IV neonatal intensive care unit (NICU), where doctors and nurses offer the highest level of care to the sickest newborns.
Lafeesha entered her third trimester and went to weekly doctor appointments to make sure everything was OK with Necoah. Finally, when Lefeesha was about 35 weeks along, Necoah decided it was time to make her entrance into the world. Necoah's heart rate was rising and Lafeesha was making little or no progress when it came to contractions, and she was not dilating at all.
On July 10, 2021, Lafeesha underwent an emergency C-section. She remembers seeing her baby girl only for a split second, and then Necoah had to be whisked away to the NICU.
That evening, Lafeesha met Necoah for the first time and remembers the union being what she described as "bittersweet."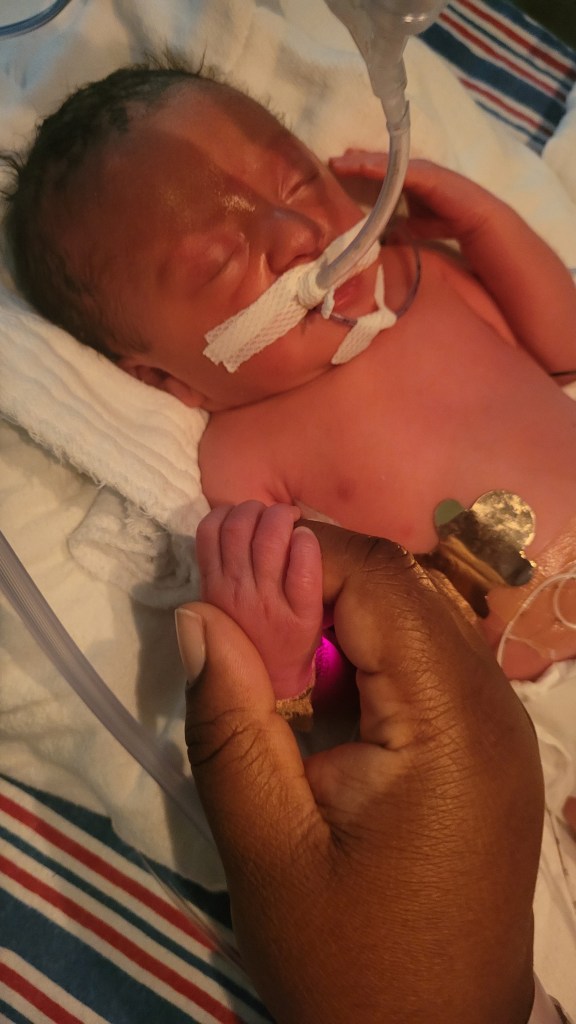 "It was wonderful to see that I had brought another child into the world, but at the same time, it was heartbreaking to see her on a ventilator with a bunch of wires and tubes," said Lafeesha. "I couldn't hold her or anything. She was so tiny – just a little over 5 pounds. But she had survived, and I knew we were in the right place for her to get the help she needed."
Meanwhile, Lafeesha was recovering from her C-section, a procedure she had not gone through when she had her other children. She says the nurses at CHofSA were patient and kind, offering her tips on how to get out bed and walk.
During the first few days in the NICU, there were at least four or five doctors surrounding Necoah at any given time. After further evaluation and putting her on some medication, they determined that she definitely had a heart defect, but she likely would be OK with some medication and time. Lafeesha and Aaron thought the heart issue was the extent of it.
It wasn't until another week or so in the NICU that Necoah's doctors discovered she had a condition known as a congenital diaphragmatic hernia (CDH). A rare condition in newborns, CDH happens when a hole in the diaphragm allows the intestines, liver, and abdominal organs to enter the chest and impact normal lung development.
Little Necoah had a long way to go. She had developed some hypertension, was still on a ventilator, and getting fluids through an IV. While her hernia was not as bad as it could be, the doctors were still concerned that it could put added stress on her heart, so they observed it and told Lafeesha and Aaron that their little girl would eventually need an operation to correct the defect.
"While it was hard to hear that Necoah would eventually need to have surgery, I had the highest level of confidence that the team at CHofSA knew what they were doing. They were all pretty great at letting us know exactly what was going on and what they wanted to do," said Lafeesha. "We were never in the dark, and this was something we greatly appreciated."
When Necoah was about a month old, she had the surgery. Lafeesha had numerous conversations with the surgeon, Dr. John Doski about the procedure, which put her at ease. Dr. Doski walked her step-by-step what would happen and when.
Necoah's surgery was a success. While she went back on a ventilator, it was only for a few days until they got her on a feeding tube and oxygen only through a cannula.
Lafeesha's little girl was turning a corner. However, despite her forward progress, she didn't have any interest in taking a bottle, so about a month later, she had a gastrostomy or G-tube placed to make sure she was getting adequate nutrition.
From there, Necoah continued to make progress and eventually was released to go home in early October. She had been in the NICU for three months.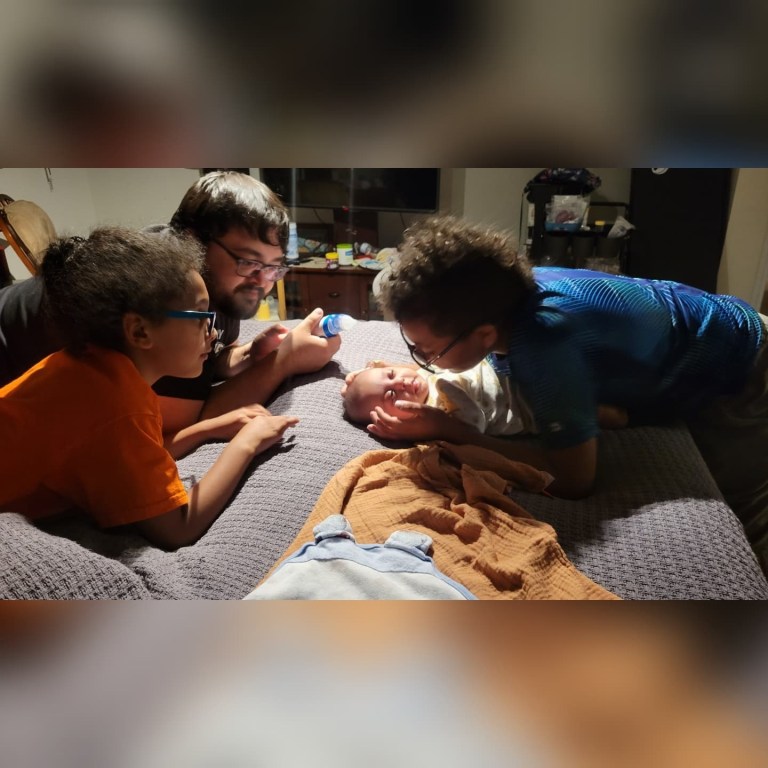 When she looks back at her experience at CHofSA, Lafeesha is immensely grateful for all they did for her and her daughter. She was particularly thankful to a woman named Gail, who took care of Necoah when Lafeesha could not be there, especially when the rest of the family came down with COVID-19 and Lafeesha had to quarantine.
"Gail made sure Necoah's clothes were washed and brought toys to her and even did some tummy time with her," said Lafeesha. "She looked after Necoah as if she were her own child."
Lafeesha also was impressed by the doctors, Dr. Maria Pierce and Dr. Sowyma Mohan. She said both were great women and excellent doctors – easy to communicate with and highly compassionate.
"I would like to thank them for all of their hard work, for communicating with me, and always being honest. They were so great about calling us every single day and making sure we were informed. Everyone on the team was in alignment with us, and it was awesome."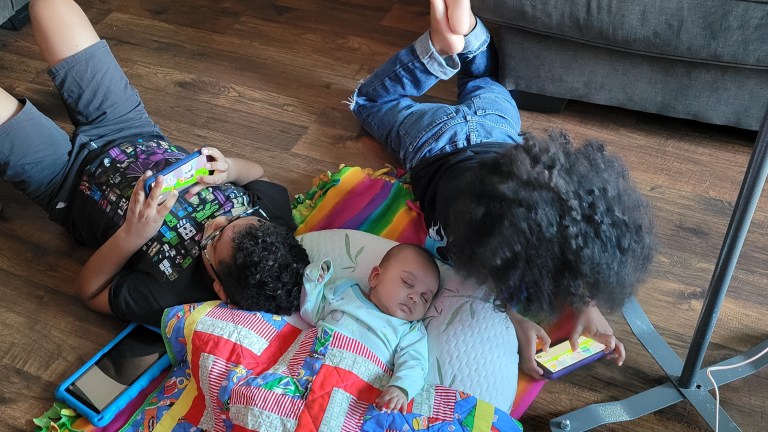 Today, Necoah loves being showered with love and attention by her older brothers. She's smiling and learning to laugh. Despite being in the NICU for a long time, Lafeesha says she seems like a happy, healthy baby.