Empowering Transformation: Diana's Journey to Health and Happiness Through Bariatric Surgery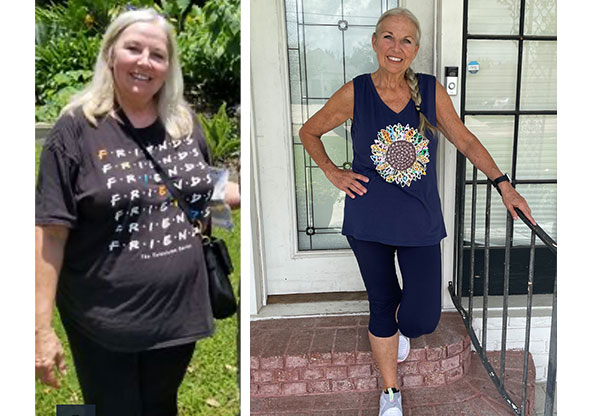 Diana Rentrop has grappled with obesity for as long as she can remember. She tried everything to lose weight. From WeightWatchers to Medifast, to even shots and diet pills, nothing seemed to work for her.
The only thing that seemed to change was her bank account, as each drastic measure to lose weight burned another hole in her wallet. She was running out of options and out of money.
"I was definitely an emotional eater," Diana said. "Being overweight, you stay in that kind of depressed mode a little bit. It's always just something on your mind. Constant, constant."
She started gaining weight in college and faced many hardships because of it. Although she did love to exercise, it was something she could never stick with. As the years passed by, Diana's weight problems continued to get worse.
Need for Change
Diana's turning point came when her daughter, who also struggled with weight issues, underwent surgery for her weight. This gave her the confidence she needed.
"I have a husband who has dementia, and I have a 16-year-old grandson," Diana said. "And because of them—they have motivated me—because I need to be healthy for them. I need to be healthy for myself first, but also need to be healthy for my family."
Upon seeing how well it worked for her daughter and desperate to leave behind the only life she knew, Diana started her search for help.
The Starting Point
Through an internet search, Diana learned about Dr. Matias Nauts, a general surgeon at the CHRISTUS Ochsner Southwestern Louisiana Bariatric Center. Diana's journey to a better life had finally begun.
"The nurses and staff at the hospital were excellent when I went up there," Diana said. "I got great care. We got started doing what I needed to do with the dietician."
Once a month, she met with Leslie, her dietician. Leslie recommended that she start losing weight the right way and not through injections like Ozempic. Ozempic is a drug used to treat diabetes that has gained a lot of recent attention due to celebrities and social media influencers using it to lose weight quickly.
For Diana, the right way meant watching what she ate, lowering her carb intake, and exercising regularly.
Finding the Best Option
With a BMI of 40, Diana was diagnosed as morbidly obese. According to the National Institute of Health, common risk factors for obesity include heart disease, stroke, Type 2 diabetes, high blood pressure, and sleep apnea.
Diana had already been diagnosed with sleep apnea years ago. The Mayo Clinic describes sleep apnea as a potentially serious sleep disorder in which breathing repeatedly stops and starts. For 12 long years, Diana relied on a CPAP (continuous positive airway pressure), a machine designed to keep the breathing airways open while asleep.
With these two conditions in mind, Diana agreed to surgery and after conferring with Dr. Nauts, they decided on a gastric sleeve surgery. This bariatric procedure removes 75-80% of the stomach.
It was the same procedure her daughter had gotten two years prior. She was also happy to learn that Medicare would completely cover this procedure, unlike her previous weight loss efforts.
"I was really worried about a lot of issues because with everybody going into any kind of surgery, it's scary," Diana said.
The Surgery
Despite her worries, on December 20, 2022, weighing 239 lbs., Diana had her gastric sleeve surgery. Thankfully for her, the recovery process proved to be much easier than she had initially expected, and she was up walking within five hours of her surgery.
"When I tell you that I really had no pain, I had no pain," Diana said. "I had a totally different experience than some people, but in my personal experience, I had no pain."
The next day on December 21st, she was cleared to go home.
The Healing Process
Diana quickly learned that physical recovery was only one side of the coin. Her emotional recovery was just as important. But Diana was not alone and had the support of family, friends, and a bariatric support group to help her with the healing process.
"We have bariatric meetings once a month," Diana said. "It's a support group. And it is wonderful."
Diana said she is glad to know that if she ever had an issue, she could pick up the phone to speak with her dietician, Leslie, her nurse, Tracy, and Dr. Nauts.
"They are an excellent team that I would highly recommend anybody to use," she said.
As Diana adjusted to her new life, she started walking again and soon discovered she could stick to an exercise regimen this time. Five weeks later, she was strength training and boxing at Mayweather Boxing + Fitness gym.
A New Lease on Life
Diana is happy to report that her energy has increased and that her journey has been a great experience.
"It's something I wish I would have done many years ago," Diana said. "My blood work is excellent, my blood pressure is excellent. I have a family history of diabetes, but I have none. Mentally and just physically, I just feel so much healthier."
Diana notes that although her surgery helped put her on the right track for her health, it's not the cure-all that some people might expect it to be. Instead, she describes it as another tool to help.
"I still have to watch what I eat," Diana said. "I can't just eat anything. You have to follow the process. When people say that weight loss surgery doesn't work, it's because they are not using the tools that they have 100%. You've got to follow, like anything else post-surgery, the recommendations for this surgery to work. And if you do, it's successful."
Today, Diana says she is off her medications and has a new lease on life. For others who have struggled with their weight and feel trapped, she recommends they seek professional help to see if they are a candidate for bariatric surgery and to go over their options with a doctor.
She still emphasizes the importance of diet and exercise but says her gastric sleeve surgery was the right choice for her.
"I'm telling you, this surgery is the best thing that's ever, ever happened," Diana said. "It kind of empowers me to just to be a better person. I thank God every day. He's the number one."
Are you at risk for weight-related disease?
Take our free online health risk assessment today to find out if there are other options you can utilize to stay on top of your health.
Take the Assessment