A Prayerful Journey for Jonah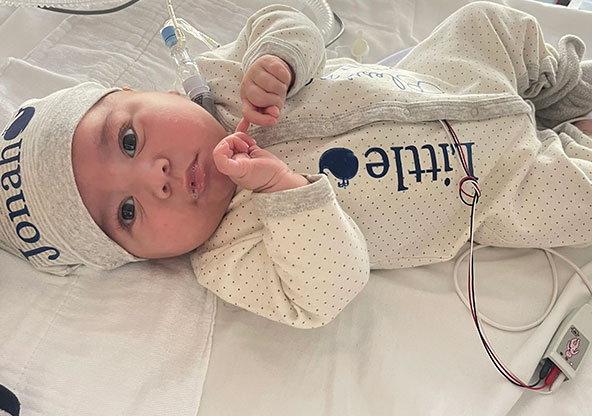 Sylvia and Matt Arismendez were thrilled when they heard they were pregnant with their fifth child. They were looking forward to a new bundle of joy to love.
All of Sylvia's other pregnancies were normal in that neither she nor her babies experienced any major complications. But this pregnancy was shaping up a little differently. Not only did Sylvia have gestational diabetes, but she had an excess amount of amniotic fluid, which can lead to pre-term labor and other issues. In addition, they also learned that their unborn baby had a condition known as right-sided congenital diaphragmatic hernia or R-CDH.
CDH occurs when the diaphragm, the muscle that separates the chest from the abdomen, doesn't close during prenatal development. The baby's abdominal organs push (herniate) through the defect into the chest cavity impacting the baby's developing lungs.
"Along with learning all the aspects of this condition, we also discovered that it's extremely rare," said Sylvia. "And the chances of survival, especially for a right-sided diaphragmatic hernia, are extremely low."
CDH has a prevalence of about 1-4 per 10,000 births, of which approximately 85% are left-sided (L-CDH), 13% are right-sided (R-CDH), and 2% are both sides. At first, Sylvia and Matt were told that their baby – who they would eventually name Jonah – had a 30 – 40% chance of survival. But, as they met with more specialists, that survival rate dwindled to only 5% – something Sylvia and Matt were not prepared to hear.
"At this point in our journey, we were being told that Jonah's only option would be palliative care and that there was nothing that doctors could do to save his life," said Sylvia.
They were determined to find another way to help Jonah and weren't going down without a fight. So, they prayed and began exploring other possibilities.
When they learned about a hospital in Houston that delivered CDH babies, they decided they would pursue that route and then discovered that CHRISTUS Children's provided the same services. It was right in their own backyard.
"I had a 2-year-old, 4-year-old, 6-year-old, and 8-year-old enrolled in homeschooling, and my husband was working full time. So, it was not ideal for us to pick up and go to Houston," said Sylvia. "At the same time, we wanted to give Jonah a fighting chance and decided to inquire about what Children's could do to help him."
As soon as she made the call to CHRISTUS Children's, Sylvia knew they had made the right decision. That was on a Friday. On Monday, she met with Dr. Cody Henderson, neonatologist, and Dr. Katherine Barsness, Jonah's surgeon.
The minute they walked into the hospital, Sylvia said she and Matt felt a sense of peace. Since they were devoted Catholics, the couple was comforted by all the images of Mary, Joseph, and Jesus surrounding them.
Once again, they heard the odds were not in their favor and that Jonah had a slim chance of survival. So, they and the doctors both relied on the power of prayer. Sylvia remembers Dr. Barsness telling them the care team would pray before Jonah's procedure, during and after. She also told Sylvia that they would do everything in their power to keep Jonah alive.
At this point, Sylvia was about 35 weeks into her pregnancy. To help Jonah have the best possible outcome and allow his little lungs to grow, they decided it would be best to try and get Sylvia as close to 40 weeks as possible.
Doctors scheduled Sylvia to have her C-section at 38 weeks on November 2, 2021. To the surprise of her physicians, her level of amniotic fluid reduced and went back to normal right before Jonah was born. It rarely happens and perhaps would help Jonah have a positive outcome.
"I remember the room was full of nurses and specialists ready to assist as soon as Jonah was born," said Sylvia. "I had prepared myself for the idea that they would not give him a chance to cry. They needed to get him intubated as quickly as possible."
Sylvia and Matt had a minister on hand to baptize Jonah right away, just in case things took a wrong turn. It was not until that evening that she was able to visit Jonah in the Neonatal Intensive Care Unit (NICU) and lay eyes on her newborn baby. She learned that he had been immediately intubated and placed on extracorporeal membrane oxygenation (ECMO). The ECMO machine is similar to the heart-lung by-pass machine used in open-heart surgery. It pumps and oxygenates a patient's blood outside the body, allowing the heart and lungs to rest.
Jonah stayed on ECMO for six days. Sylvia and Matt later found out that it's a regular practice for CHRISTUS Children's to keep babies on ECMO for a maximum of two to three weeks because it thins their blood and increases the risk of having a seizure or stroke. Jonah did experience over 30 seizures and had a significant stroke while he was on ECMO. He wouldn't have survived if the doctors had taken him off too early.
Jonah was off ECMO and had reached a major milestone. His next milestone would be surviving surgery.
When he was seven days old, Jonah had surgery to repair the CDH. Dr. Barsness explained to Sylvia and Matt that there was a chance that when they moved Jonah's organs to the right cavities that his intestines may not fit, and they would have to create a pocket outside of his body until everything settled into place.
"It sounded scary, but the doctors assured us that it was normal," said Sylvia.
Sylvia and Matt once again turned to prayer and asked everyone they knew to pray for baby Jonah. At one point, thousands of people were lifting Jonah in prayer. People from all across the world – people Sylvia and Matt didn't even know – were praying for their baby.
Once again, Jonah defied the odds. Doctors were able to make sure all of his organs and intestines fit. It was yet another miracle, and another prayer answered.
"We felt God's presence every step of the way. We knew that He was taking care of us, and we needed to trust that He was providing all the resources we needed. He had guided us to the right people when we needed them, and he helped us make the right decision for Jonah," said Sylvia.
Jonah was turning a corner but had a couple of challenges ahead of him. First, he needed to be weaned off morphine, something Sylvia said was tough on him. After all, Jonah had been on the drug for the first two and half months of his life. He also would need a tracheostomy, a small, surgical opening through the neck into his windpipe to help him breathe better. He also was going to need a gastrostomy tube to help him eat. Despite developing multiple infections, including a bout with pneumonia, Jonah recovered and eventually was able to go home.
In total, Jonah spent four months in the NICU.
Sylvia and Matt were grateful for the physicians: Drs. Pratik Parikh, who became his main neonatologist, Dr. Barsness along with a team of other neonatologists, our occupational therapist, physical therapist, respiratory therapist and the nurses who took such great care of Jonah every step of the way.
"Our two main nurses were Madison and Rachel. They were so wonderful with Jonah and became familiar faces to him. You could tell they cared a lot about him, which meant a lot to me," said Sylvia.
Every time they hit a bump in the road with Jonah's care, everyone prayed: Sylvia, Matt, the doctors, and the nurses. Sylvia said everyone on the care team was so compassionate and caring, but what impressed her the most was how they relied on God to lead them.
Now that he is at home, Jonah has progressed quickly. Sylvia says he's active, and when he goes to physical, occupational or speech therapy, they are blown away by his development.
"They can't believe that he was in the NICU for so long and yet is so strong and is picking up on many things," said Sylvia. "Overall, he's doing exceptionally well, and the doctors expect him to be a normal functioning child as he continues to grow."
It was believed that Jonah's right lung may never function. But, once again, Jonah has defied the odds – his left lung is completely inflated, and his right one is functioning. Sylvia believes it's the result of fervent prayer and the care he received at CHRISTUS Children's.
"My hope for Jonah is that he will become a strong man physically, mentally and emotionally," said Sylvia. "I want him to be able to share his story and serve as a beacon of hope to others."