For as long as she can remember, Rebekah Jowers knew it would be difficult to get pregnant. In 2017, she was diagnosed with Polycystic Ovary Syndrome (PCOS), a hormone imbalance disorder that causes small cysts to form on the ovaries. It was normal for Rebekah to skip her periods for several months or even years. If she was pregnant, a missed period wouldn't be a clear indicator.
While Rebekah and her fiancé, Logan, were eager to start a family, they knew their dream may not happen, but they clung to hope even though they were hanging by a thread. Rebekah's biggest dream was becoming a mom. Little did she know, things happen when least expected.
"A few days after my fiancé and I went out for dinner, I started feeling very ill," said Rebekah. "I couldn't keep anything down. At first, I thought I had food poisoning. When my symptoms persisted for several days, I went to the emergency room. They gave me IV fluids and a pregnancy test which I didn't think much about. To my surprise, the nurse told me my test came back positive! I was like, 'What? Are you sure this is right?' And she said, 'Yes, you are pregnant. Congratulations!' It took me a few minutes to process what I just heard. It was a jaw dropping moment for me because I thought I could never conceive a baby. I have PCOS and the chances of me getting pregnant were slim to none. When I told Logan the news, he was as surprised as I was! It was an amazing moment for us."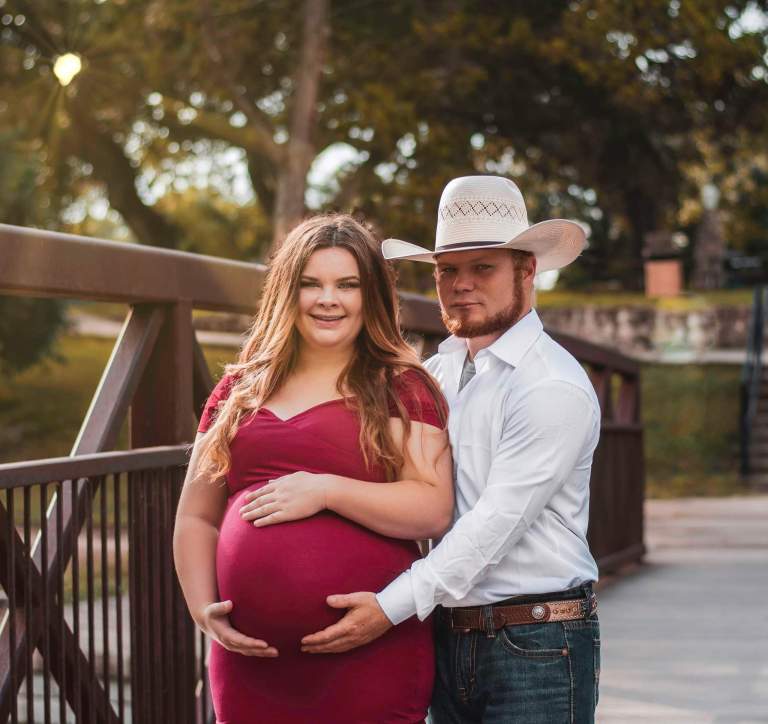 While Rebekah had frequent bouts of morning sickness during the first three months, her baby was growing and developing normally. Her obstetrician, Dr. George Cajas at the Women's Center at Westover Hills, requested weekly ultrasound visits and her baby was very active and loved to stand up and dance in her belly.
"I love dancing so my baby picked up on that," said Rebekah. "During my second trimester, Logan and I found out we were expecting a girl. As my pregnancy progressed, I noticed she wasn't as active, so I went to the ER to make sure she was still breathing. And sure enough, when we saw and heard her heartbeat on the ultrasound monitor, we knew our baby was fine. Since I'm a physically active person, the doctors told me I basically rocked my baby to sleep in my belly. I put her in a deep sleep and that is why she wasn't moving as much. They told me to lay down in a dark room and drink lots of cold water to wake her up. Sure enough, it worked. She started moving again."
When Rebekah was 37 weeks pregnant, she began having Braxton Hicks contractions. She was doing everything possible to alleviate the contractions. She'd walk, perform breathing exercises, and move back and forth on a bouncing ball. While it seemed to calm down the contractions, she began having more frequent contractions several days later. At 39 weeks, she was put into the hospital and labor was induced. Her nurses evaluated her progress and noticed the baby's heart rate was dropping. Whenever Rebekah rolled over to her left side, the baby's heart rate would go down and so would Rebekah's blood pressure. But, when Rebekah rolled over to her right side, the baby's heart rate would go up again, and Rebekah's blood pressure would return to normal. Her nurses were a bit concerned and monitored Rebekah and her baby more frequently.
"My labor wasn't progressing well," said Rebekah. "At that point, I was given medicine to speed up my contractions. As I was going through labor, my nurses checked the ultrasound monitor and they noticed that my baby had ingested meconium (her first stool) which can lead to serious breathing problems after birth. As a result, my obstetrician determined it was best to deliver my baby right away. As I was being prepped for an emergency C-section, my fiancé and I were so nervous. Up until this point, I had an uneventful pregnancy. We tried to stay positive and basically roll with the punches."
On November 12, the couple welcomed their daughter, Paisleigh, who was born at 39 weeks, and weighed 8 pounds, 4 ounces. Immediately after she was born, Paisleigh was transferred to CHRISTUS Children's since they had a level IV neonatal intensive care unit (NICU).
"As a new mother, it was heart-breaking to see my baby in an incubator hooked up to everything you could imagine," said Rebekah. "She was on oxygen and connected to different machines. My daughter wasn't moving, and it was hard to see her in this condition. I was glad she made it here."
When Paisleigh arrived, she was put under the care of neonatologist Dr. Cheryl Motta and Dr. Maria Pierce, a neonatal medicine physician who provides care for infants with persistent pulmonary hypertension and those in need of extracorporeal membrane oxygenation (ECMO). CHRISTUS Children's is one of the only children's hospitals in the region providing this advanced life-saving treatment for infants.
Paisleigh was treated for meconium aspiration, which occurs when a baby ingests amniotic fluid containing meconium (baby's first stool) into their lungs. When these particles stick to the lungs, it can prevent a baby from breathing properly resulting in respiratory distress. In Paisleigh's case, she developed persistent pulmonary hypertension, or high blood pressure in her lungs, due to the meconium build-up which restricted the flow of blood into her lungs where it normally picks up oxygen.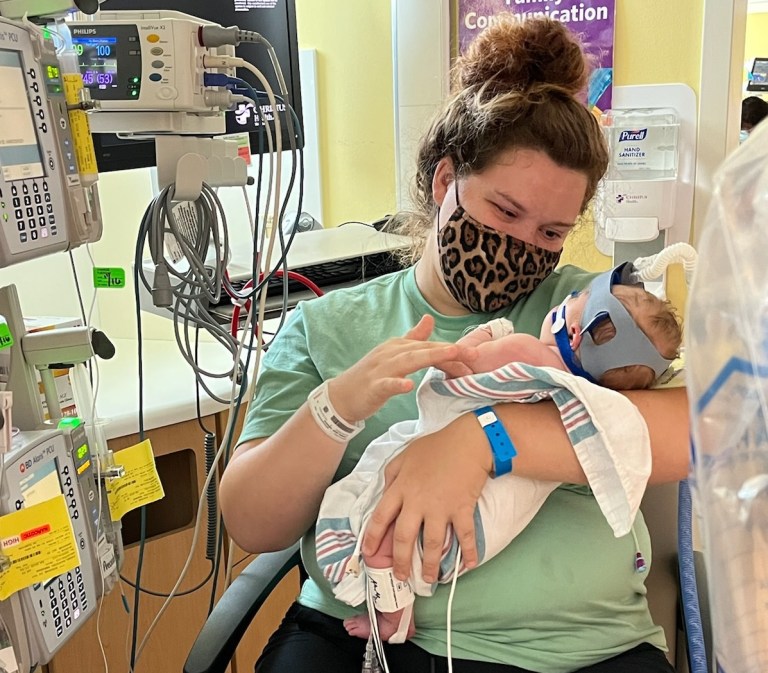 Paisley was transferred to CHRISTUS Children's of San Antonio Level IV NICU to receive expert care including ECMO treatment.
"When treating pulmonary hypertension, our primary goal is to increase oxygen flow to the baby's organs to prevent further complications," said Pierce. "Severe meconium aspiration and pulmonary hypertension can be fatal. Our team responded quickly and gave Paisleigh the care she needed. To help her lungs recover and heal, we placed her on ECMO for several days, which is a heart-lung bypass machine that takes over the baby's heart and lung functions and delivers oxygen to the brain and other parts of the body. ECMO is the highest form of life support that can be provided to a critically ill infant. We are fortunate to have the resources available to be able to offer it here at CHRISTUS Children's."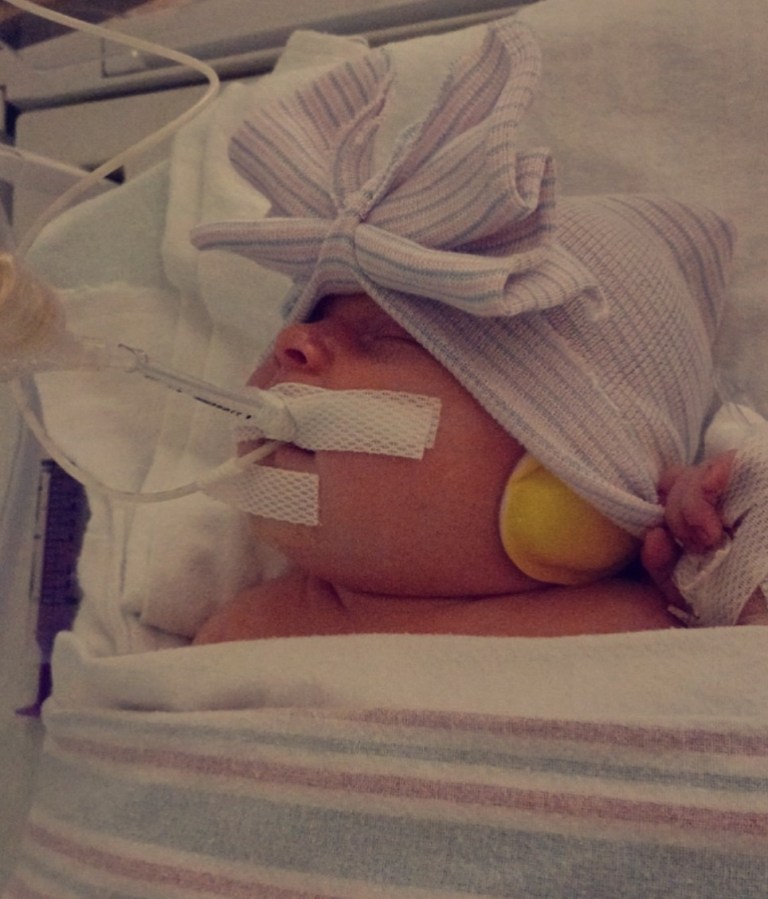 Paisleigh spent 18 days in the NICU under the care of Drs. Maria Pierce and Cheryl Motta.
After 18 days in the NICU, Paisleigh was discharged on November 30, just weeks before Christmas, which is what Rebekah and Logan had hoped for. Rebekah says if it weren't for the wonderful doctors and nurses who took such great care of her baby, her outcome could have been completely different.
"I had the greatest team of doctors and nurses," said Rebekah. "They were amazing since the first day my daughter was transported to the NICU. If I had a question or concern, it was never hard to reach them. As a first-time mother, I had so many questions to ask them. I credit the NICU care team, including Dr. Pierce and Dr. Motta who were Pasleigh's primary physicians, for saving my daughter's life. Despite everything we've been through, I am grateful my baby is alive and with us."
Today, 2-month-old Paisleigh is doing remarkably well. She can breathe on her own and acts like any other healthy baby. She is a miracle to her parents, and her personality is beginning to show.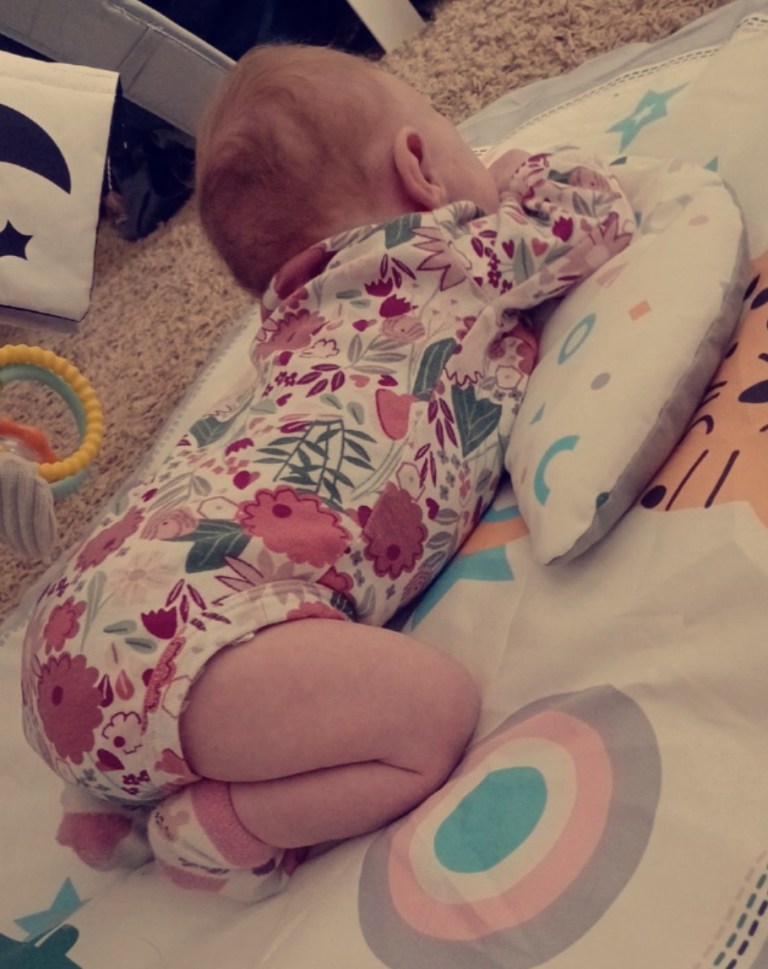 Rebekah is grateful for the life-saving care Paisleigh received in the NICU at CHRISTUS Children's.