Finding A Temporary Home: A Mother's Tale of Hope and Healing at CHRISTUS Children's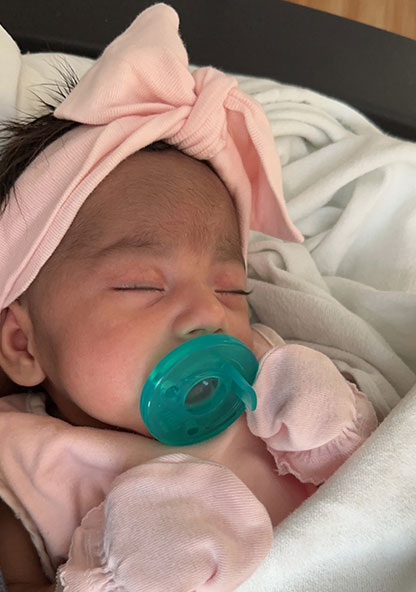 Amber Romero's hospital bag was packed with newborn clothes. Her new car seat was fitted for the short drive home. Amber approached her delivery with the expectation of a healthy baby and a typical hospital stay of a couple days before returning home with Vida, her third child and precious bundle of joy.

Little did she know that the journey ahead would be filled with unexpected twists and turns, ultimately becoming a family bonding experience that would leave a lasting imprint in her heart.
A fateful beginning
Amber vividly recalls the events that unfolded shortly after Vida's birth at Valley Baptist Hospital in the Rio Grande Valley of South Texas. Almost immediately, Vida was unable to maintain a consistent body temperature, causing concern for her care team. Recognizing the need for specialized care, Vida was transferred to the hospital's neonatal intensive care unit (NICU), leaving Amber feeling alone and anxious about her baby's condition.

Upon receiving several abnormal test results, the hospital team made the choice to seek more advanced care for Vida. They reached out to their trusted partners at CHRISTUS Children's in San Antonio, which provides the highest level of specialized care for premature and critically ill infants through its Level IV NICU.

The CHRISTUS Children's team swiftly mobilized a specially designed hospital plane and expert transport team to pick up Amber and her newborn. Although her nerves were initially very high, Amber found comfort in the professionalism and sophistication of the transport team, who provided a sense of security and warmth during this unexpected cross-state trip.

Arriving at CHRISTUS Children's after a two-hour flight, Vida was promptly admitted to the NICU, where she would receive specialized care from a multidisciplinary team. Amber remained by her side, navigating the challenges that arose as the parent of a struggling newborn.

Meanwhile, back home in the Rio Grande Valley, Amber's middle son fell seriously ill and required urgent medical attention. He was only 13 months old at the time. In the face of a parent's toughest decision, Amber had to choose between staying with Vida in San Antonio or rushing home to tend to her ailing son, Lucio Azul.

With a heavy heart, Amber headed back home, leaving Vida in the capable hands of the dedicated NICU team at CHRISTUS Children's. "It was such a tough moment for me. I wanted to be there for both babies. But from the moment I stepped on the plane with the transport team, I knew I could trust everyone at CHRISTUS Children's. I felt surrounded by the support of an extended family. They guided me through this challenging situation like a family member would," Amber shared.
Nurturing hope while managing a series of challenges
Vida experienced the dedicated care of a compassionate team of doctors throughout her NICU stay, even when Amber wasn't able to be with her. Led by Dr. Maria Pierce, Dr. Pratik Parikh, and Dr. Cody Henderson, the team addressed Vida's various complications while fostering collaboration and communication with Amber, even from a distance. As an active partner in her daughter's care, Amber gained a deep understanding of the tests and procedures conducted, forming a strong bond that ensured the best possible care for Vida.

Vida's hospital stay involved a number of procedures and tests, leaving no stone unturned in the pursuit of answers. The medical team skillfully placed a PICC line in her arm, conducted genetic testing that required the collection of DNA from the cells on the inside of Vida's cheek (a buccal swab), and performed numerous blood tests. Each step provided crucial insights. Ultimately, a combination of metabolic, heart, and liver abnormalities were responsible for Vida's inability to regulate her body temperature. Vida's recovery plan would be slow and complex, but her path forward went from uncertain to favorable thanks to the multidisciplinary approach.

"The NICU doctors really helped me change my perspective," said Amber. "I went from thinking she had complications to thinking she was special. This really helped my mental approach, and I couldn't be more thankful for their wisdom. Their family-friendly approach is why I was so grateful to have my son transferred to CHRISTUS Children's too." With Vida improving in the NICU on the 3rd floor, Amber's 13-month-old son was now receiving care in the same building instead of several hours away – just 7 floors up in the same building.

Amber soon learned that Lucio Azul was diagnosed with Acute Disseminated Encephalomyelitis (ADEM) by Sreenivas Avula, MD on the pediatric neurology team. ADEM is a condition causing severe brain inflammation, and Lucio Azul's life hung in the balance. The decisive actions of the medical team included performing a lumbar puncture to extract spinal fluid for testing, which confirmed the gravity of the situation and necessitated immediate intervention.

Dr. Avula administered a series of steroid shots to alleviate inflammation and promote healing. With continuous monitoring and adjustments to the treatment plan, Lucio Azul was quickly back to being himself and feeling much better. In the face of two life-threatening situations, the medical professionals at CHRISTUS Children's exemplified their commitment to providing comprehensive care to each child and their family. Amber's journey with both Vida and Lucio Azul showcased the hospital's ability to manage multiple complex cases while offering unwavering support and personalized treatment plans.
A homecoming of love and gratitude
After calling CHRISTUS Children's their home for several weeks, Amber and her children finally returned home to South Texas, forever transformed by the care and compassion shown by the staff at CHRISTUS Children's. As they settled back into their lives, the impact of their experience at CHRISTUS Children's continued to shape their journey.

Amber's appreciation for the remarkable care they received is evident: "In my heart, I will forever carry a deep appreciation for the exceptional care we received at CHRISTUS Children's. The doctors who skillfully treated my children have left a permanent mark on our lives. They became our extended family. I wholeheartedly recommend this hospital to other families facing similar challenges, as I know firsthand the profound impact the CHRISTUS Children's staff can have. Their names will forever be etched in our hearts."

Today, Amber and her children continue to thrive, their lives transformed by the care they received. The memories of their time at CHRISTUS Children's will forever serve as a reminder of the power of compassion and the unwavering spirit of hope that resides within the walls of the hospital.

At every hour, any day of the week, CHRISTUS Children's NICU team provides the highest level of specialized care for premature and critically ill infants. Learn more at https://www.christushealth.org/get-care/services-specialties/womens-services/neonatal-intensive-care.
ALL KIDZ Critical Care Transport Team brings specialized care to families in need
The team provides safe and efficient transportation for critically ill newborns, infants, children and women with a high-risk pregnancy.


The Transport Team operates round-the-clock and specializes in transporting critically ill infants and children from referring hospitals and clinics in San Antonio and throughout south, central and west Texas.


A versatile transport team utilizes various modes of transportation, including ground ambulance, helicopter, and fixed-wing aircraft, to swiftly transfer patients safely. This flexibility allows the transport team to respond promptly and efficiently to requests from other hospitals with patients who need the expertise found at CHRISTUS Children's.
Pediatric Transport at CHRISTUS Children's