Noah's remarkable recovery after a urinoma and hydrocephalus diagnoses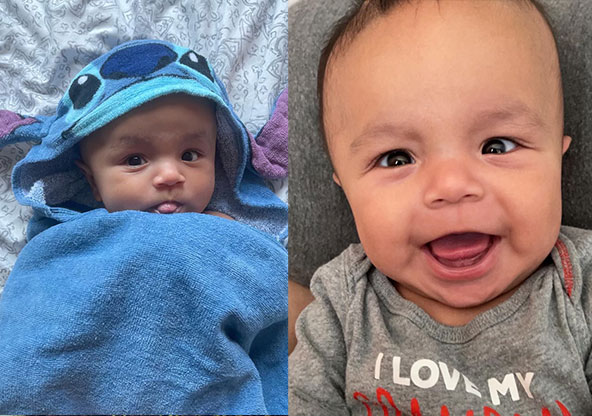 Ana Morales found out she was pregnant on October 4, 2021. She and her fiancé, Jassen, were getting ready to take fall pictures – but Ana felt a little off that day. After the shoot, she took a pregnancy test.
"I thought it was probably going to be negative like all the other ones," said Ana. "But this was a big surprise. When I saw those two faint pink lines, I couldn't believe it. We were going to be parents!"
Ana could hardly wait to tell her fiancé the wonderful news. The couple were living in Connecticut at the time, and since he was a big New England Patriots fan, Ana bought a Patriots onesie and stuffed it in a box along with the positive pregnancy test. When he opened the box, he was happy and surprised.
"I told him, 'We finally scored a touchdown! We are adding a little new member to our team."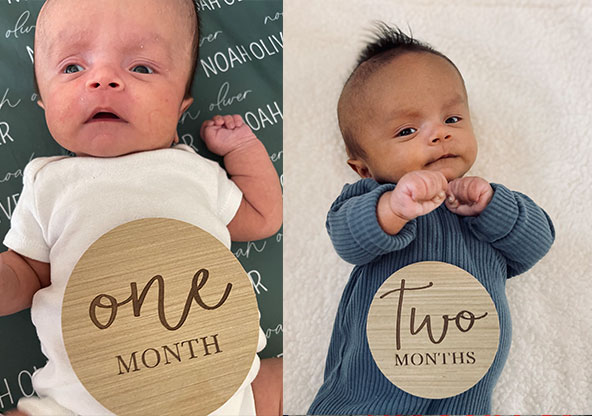 A complicated pregnancy
Ana was happy to finally be pregnant. At her second OB-GYN visit, Ana learned she had Type 2 diabetes.
Diabetes can have negative effects on both the mother and baby. If not well controlled, it can cause the fetus's blood sugar to be too high, increasing the risk of birth defects and premature delivery.
Ana's pregnancy was considered high risk, and she and her baby would need additional monitoring.
In addition to taking insulin to control her blood sugar, Ana's OB-GYN in Connecticut also referred her to a maternal fetal medicine (MFM) specialist to check on her pregnancy and the baby more frequently.
The baby's fetal ultrasounds were normal early on in the pregnancy. But when Ana was 16 weeks along, the anatomy scan showed that her baby's head was slightly bigger than it should be. While her doctors suspected hydrocephalus (build-up of fluid in the brain), they also noticed both kidneys were dilated.
"I just went numb when I heard this," said Ana. "The first thing that came to my mind was I needed to leave everything in God's hands. All I can do is pray about it, take care of myself, and hope for the best."
Despite these unexpected complications, Ana and Jassen were excited to learn they were having a boy.
The move to San Antonio
When Ana was seven-and-a-half months pregnant, she and her family moved to San Antonio where she began seeing her OB-GYN, Dr. Edward Blackmon, and her new MFM physician Dr. Emma Rodriguez at the Center for Maternal and Fetal Medicine at Westover Hills to monitor her pregnancy.
"The transition of care went very smoothly," said Ana. "They got me into my MFM doctor right away. Everything was great, except for my son's hydrocephalus and dilated kidneys. My doctors kept a very close eye on that. My delivery plan was all set. I honestly couldn't have asked for a better care team."
As her pregnancy progressed, Ana felt more physical discomfort as her baby grew bigger each day.
At Ana's 37-week MFM appointment, Dr. Rodriguez noticed the baby's kidneys were larger, and he was struggling. She determined it was best to deliver Ana's baby as soon as possible.
On May 20, 2022, Ana and Jassen welcomed their newborn son, Noah Jaime, at CHRISTUS Children's. He weighed a whopping 9 pounds, 8 ounces. The couple was simply overjoyed.
"When I heard him cry, that cry changes your life," said Ana. "For us to finally see our little boy was rewarding considering all of the complications he had. We were happy he was alive and breathing!"
Noah's life-saving procedures
Noah was doing well in the neonatal intensive care unit (NICU). He was on oxygen for a few days and drank breast milk like a champ – but Ana and Jassen knew their newborn wasn't out of the woods yet.
Noah would have to undergo three procedures during his 35-day hospitalization in the NICU.
Noah was born with cystic dysplastic kidneys. His kidneys did not develop properly during pregnancy. Babies with this condition often have fluid-filled sacs (cysts) that prevent the kidneys from working normally. In Noah's case, his right kidney didn't work at all. His left kidney had a lot of fluid buildup.
Because he had an obstruction from his left kidney to his bladder, Noah developed a urinoma, a mass that forms due to the accumulation of urine in the retroperitoneum, the space where the abdominal organs sit. If left untreated, the urinoma can cause respiratory distress and compromised renal function.
Shortly after Noah's birth, Dr. Jeffrey Leslie, a pediatric urologist at CHRISTUS Children's, performed a percutaneous nephrostomy to drain the urine that built up in the left kidney. A flexible rubber tube (catheter) was placed in his back and travelled to the kidney to drain the excess urine.
"It took a while to drain the urine," said Ana. "Dr. Leslie had to insert a bigger tube, so they had to go in twice through his back. There was a little tube sticking out from his back that released the fluid. When the urine was completely drained out, Noah's left kidney was better and able to work like it should."
On May 27, 2022, about a week after placement of Noah's nephrostomy tube, Dr. Micam Tullous, a pediatric neurosurgeon at CHRISTUS Children's, placed a ventricular peritoneal shunt (VPS) into Noah's brain to drain the extra cerebrospinal fluid that had contributed to his hydrocephalus or collection of fluid in the brain. Too much fluid on the brain can lead to developmental, physical and intellectual impairments.
"The changes were amazing," said Ana. "We noticed a difference in his head shape. Before the shunt placement, his eyes were tiny and swollen. A few days after placement of the VPS he could open his eyes and blink more."
Noah's third procedure was a stent placement in his ureter to prevent future urinoma occurrences.
A positive outcome
After three successful procedures, Noah was discharged from the NICU on June 24, 2022.
Today, 5-month-old Noah is thriving!
"It's amazing to see Noah doing so well after all he's been through," said Ana. "We are very impressed with the care our son received. We love Dr. Leslie and Dr. Tullous. The NICU nurses were the sweetest – especially Jesse who gave Noah his first bath, and Becky who was always there when we needed her."
Noah receives speech and occupational therapy at home through Angels of Care that has helped him reach his developmental milestones which were slightly delayed due to his hydrocephalus diagnosis.
Through her family's experience, Ana has encouraging words for families struggling with a diagnosis:
"Never give up hope," said Ana. Never lose faith at all. Some days are going to be harder than others, but all you can do is just keep pushing through and be positive. Lean on your family and friends for support."