Premature Twins: A Story of Faith, Hope & Survival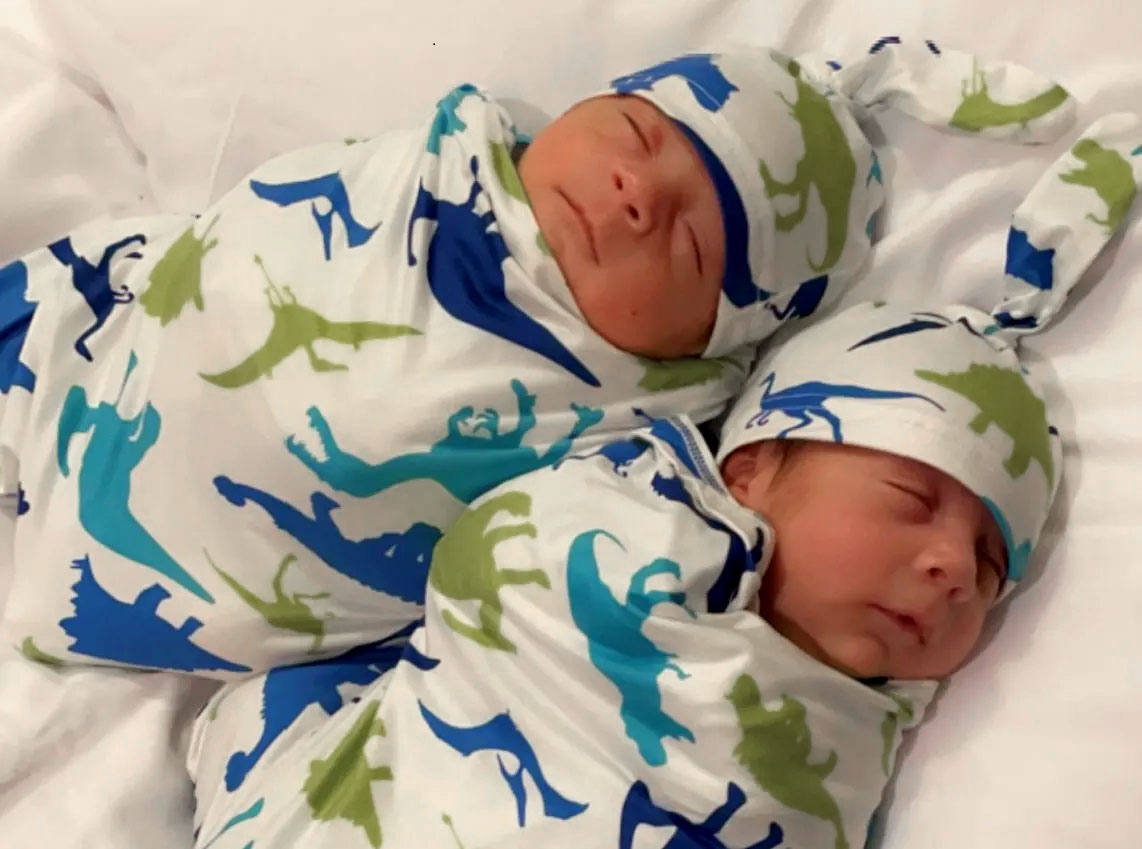 Last August, Cynthia and Isaac Torres from Eagle Pass, Texas, were excited when they found out they were expecting another baby. The couple has a 13-year-old son, but they always wanted to have more children. After several miscarriages, they were unsure if another baby was possible. As they clung to their faith, God doubled their blessings in ways they never imagined.
"Early in my pregnancy, my ultrasounds showed I was carrying one baby," said Cynthia. "When I was 13 weeks pregnant, I had another ultrasound, and I will never forget that day. Just like any other prenatal appointment, I went in for an anatomy scan to see how my baby was developing and I remember the technician telling me, 'I see two babies. You are pregnant with twins.' My immediate reaction was, 'Are you serious?' When she turned the monitor towards me, sure enough, I saw two tiny hearts beating in unison. My husband and I were beyond excited."
Cynthia began seeing two OB-GYN specialists – Dr. Carlos Hernandez in Eagle Pass and Dr. James Hill, her high-risk maternal fetal medicine physician at CHRISTUS Children's. Since Cynthia was pregnant with twins and she had a previous history of miscarriages, she and her babies were monitored closely. Cynthia had to take daily injections of Enoxaparin, a blood-thinning medication to prevent recurrent miscarriages. She gave herself these injections throughout her entire pregnancy. During her first and second trimesters, her pregnancy was going smoothly, and the babies were developing normally.
When Cynthia was 31-weeks pregnant, she went on a family vacation to Mazatlan, Mexico, with her husband, their 13-year-old son, and her mother in December 2021. They enjoyed the beach and wanted to have one last family vacation before the babies were due on March 1, 2022. After spending nearly a week in Mexico, the unexpected happened on the last day of their vacation.
"My family was packing our luggage since we were heading home the next day," said Cynthia. "I was laying on the couch in our hotel room, and I remember screaming. My mom asked me what was wrong. I told her I didn't know. I just got this bad pain. And when I got up, my water broke. Since I was considered high risk, I went to the hospital which was a short drive from our hotel. I was hoping that I could still make it back home the next day, but that wasn't the case. When I arrived in the ER at Mazatlan, I had an ultrasound to see if my babies were OK. Then, the gynecologist who examined me performed another ultrasound. He told me there was not enough amniotic fluid in the sac, and it was dangerous for the babies to remain in my womb."
Welcoming Fraternal Twins
On January 2, 2022, Cynthia and Isaac welcomed their fraternal twins – Isaac and Israel – who were delivered via emergency cesarean section in Mexico. They were born at 31 weeks and weighed just three pounds each. Isaac was born first and was smaller than his younger brother, Israel. Soon after their births, Isaac and Israel were sent to the neonatal intensive care unit where they were monitored.
"It was a big sigh of relief when I heard my babies cry for the first time," said Cynthia. "As much as I wanted to hold them closely, I couldn't because I tested positive for COVID-19. This was my second time having COVID, but in both cases, I had mild symptoms. I was quarantined at the hospital and nobody in my family could see me. I remember crying and feeling so alone. I had my cell phone with me so my husband could text me pictures of Israel and Isaac in the NICU."
Since the twins were born premature, Israel and Isaac were having trouble breathing. They were both hooked up to oxygen, but Israel's lung condition seemed to be getting worse. The NICU doctors in Mazatlan told the Torres' that it would be best for Israel and Isaac to be transferred to CHRISTUS Children's since they have a Level IV NICU that provides the highest level of care for premature and critically ill newborns. Once the babies arrived, they would be placed under the care of Dr. Maria Pierce, a perinatal-neonatal medicine physician and medical director of the hospital's NICU.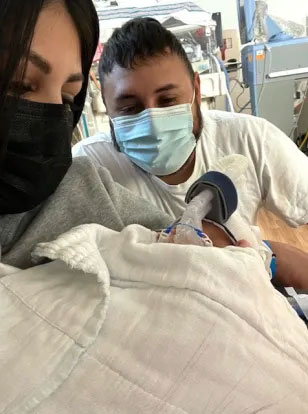 Flying From Mexico to CHRISTUS Children's
"Dr. Pierce was an angel sent from above," said Cynthia. "My husband called her from Mexico, and she told us there was space for our boys in the NICU. As nervous as we were, my husband got the paperwork completed for the air transport of our twins. He accompanied our sons on the two-hour airplane ride to San Antonio. They arrived at CHRISTUS Children's on January 5 at 2:00 a.m. Dr. Pierce and the rest of the team were already waiting for Israel and Isaac to get to the NICU."
When the babies arrived at Children's, they both needed oxygen. Israel, the weaker twin, went into cardiac arrest as they arrived at the NICU. The NICU team performed CPR on Israel, and they were able to resuscitate him within minutes. Both babies were stable, but they were not out of the woods. Dr. Pierce and the NICU nurses monitored them closely and updated the family on their progress.
"Dr. Pierce called me in Mexico to let me know how my twins were doing," said Cynthia. "I spent two nights in the hospital in Mexico before I could go back to Texas. My son, mom and I made the 12-hour drive to Eagle Pass. It was a long ride for me as I was still recovering from my C-section. Since I had COVID and had to be quarantined at home, my husband stayed with our twins for the first 10 days in the NICU. When I finally held Isaac and Israel for the first time, I cried. It was a beautiful thing to be reunited with my sons. It was the best feeling in the world."
While in the NICU, Israel and Isaac were monitored and tested daily. They underwent many different screening tests including MRIs on their brains and lungs to make sure everything was functioning normally. Although they had low iron levels, which is not uncommon in premature babies, they were given vitamins twice a day. While they had feeding tubes, they were receiving bottle feeds as well, and they gained weight in the NICU. Isaac and Israel were getting stronger day by day and were able to breathe on their own. Once they were completely stable, they were ready to go home on February 12, 2022, after spending a month and a half in the NICU.
"Our 2-month-old sons are doing amazingly well," said Cynthia. "Their little personalities are beginning to show. While Isaac loves to command attention – he thinks he's the center of the world – his younger brother Israel loves to be held all the time. He is more patient than his older brother. As I look at our sons today, I can't help but think about their journey of survival, and the amazing doctors and nurses in the NICU who took great care of them. Dr. Pierce and the NICU nurses were amazing. They answered all of our questions and concerns, and they were always there to comfort and support us especially during those unstable moments when I wasn't sure what the outcome would be. There were a lot of ups and downs on our journey, but our family and faith kept us strong. I'd go to the chapel at the hospital and pray for our boys every day. I can't wait to tell my boys the story about their birth when they get older. It was a wild ride – but in the end, I am grateful God blessed us with these two miracle babies that we love so much.