Our Little Fighter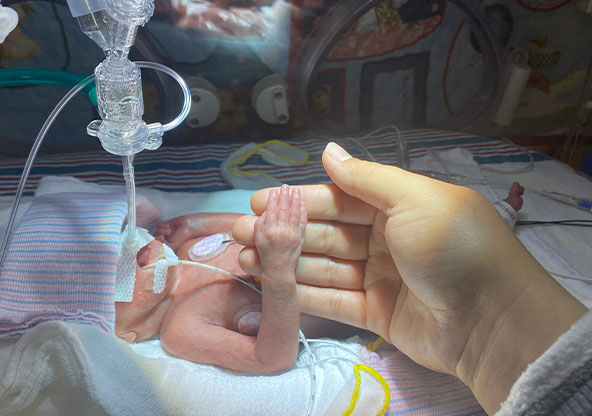 Christina wanted to give her husband, Sergio, a child of his own. A mother to three children from a previous marriage, Christina had her fallopian tubes tied, so the couple would need to go through in-vitro fertilization (IVF) to have a child.
After discussing it as a couple, they decided it was their best chance to give Sergio the baby he always wanted.
"IVF is hard. It was a beautiful journey, but it was tough. My hormones and emotions were all over the place. I experienced a lot of morning sickness – more than I experienced with my three other children," said Christina.
Despite the uncomfortable pregnancy, Christina was excited when she learned she was having a girl and decided they would call her Hannah.
Hannah's expected due date was Dec. 23, 2021. Christina thought she and her family would have time to plan for their new addition, but Hannah had other plans.
On Sept. 26, 2021, Christina had severe contractions, and her blood pressure skyrocketed. She was scared and overwhelmed – not only for herself, but for Hannah. The next thing she knew, Christina was being prepped for a C-section.
Thankfully, Christina had already chosen to give birth at CHRISTUS Children's, so Hannah would have access to a Level IV Neonatal Intensive Care Unit (NICU).
Weighing a little over two pounds at birth, baby Hannah made her entrance into the world.
"Immediately after she was born, she had a ton of problems. If it wasn't one thing, it was another," said Christina. "She had to be put on three or four breathing machines because her lungs were super premature."
Hannah also was born with a heart defect known as patent ductus arteriosus (PDA). An opening between two blood vessels leading from the heart, small PDAs usually cause no symptoms, but larger PDAs, like the one Hannah had, can cause the heart and lungs to work harder and cause permanent damage to the blood vessels in the lungs.
Hannah also had protectors over her eyes because they weren't ready to be opened yet. Seeing her baby in this state was heartbreaking for Christina, and she wanted nothing more than to hold her.
"I developed a bad case of postpartum depression. It was so hard to see Hannah like that and not be able to hold her close," said Christina.
A few days after she was born, Hannah had surgery to close the PDA and did exceptionally well.
"Dr. Daniel Nento did an amazing job, and we were incredibly grateful to everyone on the surgery team who took such good care of her," said Christina. "We were in awe of the surgical team who repaired Hannah's PDA and for their ability to operate on such a tiny baby."
Aside from the surgery to repair her PDA, Hannah did not require any further surgeries after she was born – quite remarkable for a tiny baby.
"Hannah developed a reputation for being tough and feisty like her mom," said Christina. "It's always the tough ones who make it."
Hannah was not entirely out of the woods yet. She developed some serious lung and kidney infections and some other challenges, but not once did Christina give up on her daughter. Hannah was a living, breathing miracle and her family was so grateful she was alive.
In total, Hannah was in the NICU for four months and finally went home Jan. 3. Since she spent the holidays in the hospital, nurses dressed her up in outfits, including a bee costume for Halloween.
"What the nurses do for the NICU babies is incredible, and we were so grateful we were at Children's. They are so well-equipped to handle premature babies and knew exactly what to do. I would highly recommend them to anyone, and if I have another baby myself, that's where I'm going," said Christina.
Christina and her family are incredibly thankful for Dr. Cheryl Motta for thoroughly explaining what was happening and why. Christina also remembers a kind and compassionate nurse named Renee, who helped her hold Hannah for the first time.
"She was amazing, and I will always remember her for helping me create that moment with my daughter," said Christina.
Since she's been home, Hannah has been doing well. Initially, she couldn't keep her food down, and Christina grew concerned that they might have to return to the hospital. In addition to all her other issues at birth, Hannah had paralysis of her left vocal cord, which made it challenging for her to eat and cry. Her older siblings love having her at home and are a big help to Christina.
"For so many months, my other children only saw photos of Hannah, so they are happy to have her around," said Christina.
Christina is unsure what the future holds for Hannah and takes things one day at a time. Given everything her daughter's been through, she's made remarkable progress and is a blessing for Christina's family. Her biggest hope for Hannah is for her someday to aspire to become a doctor or a nurse in the NICU and help tiny babies like herself survive and thrive.
"Hannah may be small, but one thing is for sure, and that is that she's a fighter. I will never underestimate her strength," said Christina.