Neonatal Intensive Care Unity: Small but Mighty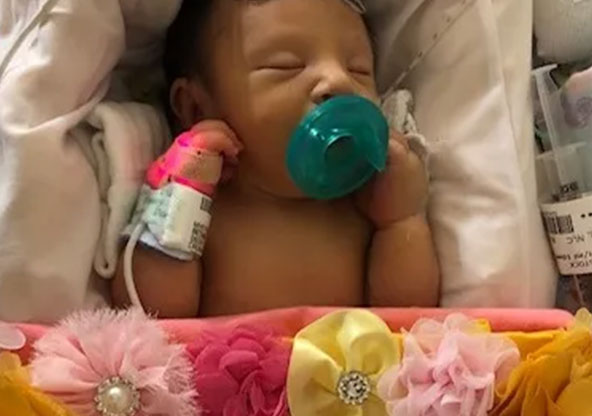 When Josefina Betancourt learned she was pregnant for the fourth time, it came as shocking news. It was not a planned pregnancy, and she had her hands full with three other children, including an 8-month-old. But as time progressed, she and her husband became increasingly excited about the arrival of a new addition to their growing family.
With this pregnancy, Josefina decided to try a different obstetrician, one that was a bit more convenient and closer to home. After studying some online reviews and doing some research, Josefina selected Dr. Mallory Thompson at The Women's Center at Westover Hills.
Her first trimester was uneventful, and Josefina was feeling blessed that she was not experiencing any symptoms. Everything was going well until she had her first anatomy scan.
During her appointment, Dr. Thompson and her team noticed that Josefina's baby had some extra skin and fluid behind its neck. At the time, Dr. Thompson suspected that the baby had Turner's Syndrome, a condition that occurs only in females when one of the X chromosomes is partially or entirely missing. It can cause a variety of medical and developmental problems, including short height, failure of the ovaries to develop, as well as heart defects. But because Josefina and her husband were soon going to have a gender reveal party, Dr. Thompson suggested not researching Turner Syndrome until after the party. She reassured Josefina they would further discuss the findings at the next appointment and that for the time being she wanted Josefina to enjoy her gender reveal party.
Josefina and her husband went forward with the gender reveal party and were excited they would be having a girl. In the back of her mind, though, Josefina couldn't help but worry. She decided to arm herself with knowledge, so she and her husband read everything they could about Turner Syndrome to learn more about the condition and what to expect.
About a month after the initial anatomy scan, Josefina had another appointment with Dr. Thompson. This time, now that Josefina knew the gender of her child, Dr. Thompson discussed Turner Syndrome and what it would mean for Josefina's baby, who she would eventually name Diana. Dr. Thompson referred Josefina to Dr. Emma Rodriguez, a maternal-fetal specialist with the Center for Maternal and Fetal Care at CHRISTUS Children's. During the first appointment at the specialty center, Dr. Rodriguez noticed an issue with Diana's heart.
"At that point, everything was just so overwhelming, but I was grateful that my baby and I were in the hands of a great team of doctors," said Josefina.
As soon as Josefina reached her third trimester, Dr. Thompson gave Josefina clear instructions to head straight to CHRISTUS Children's if she felt she was going into labor. Diana would need access to the neonatal intensive care unit (NICU) when she was born.
When Josefina went in for one of her regular appointments at almost 37 weeks, Dr. Rodriguez's team noticed that Josefina's amniotic fluid was low. They decided to admit Josefina to Children's and administered an IV. The IV did not help increase the amniotic fluid and the doctors decided to induce labor. The drug used to induce labor, Pitocin, had to be stopped and started a couple of times because it was accelerating Diana's heartbeat. Josefina was admitted to the hospital on a Tuesday and finally, on Thursday, August 29, 2019, Diana was born.
"I carried Diana until she was 36 weeks and five days old, which was a real blessing considering that the mortality rate for babies with Turner Syndrome is high. The fact that Diana made it to almost full-term was a miracle in itself," said Josefina.
The immediate moments following Diana's birth were touch and go. Josefina was only able to touch and kiss her for a few brief seconds before being handed to the NICU team who started administering oxygen to Diana because she wasn't breathing.
Josefina was able to hold Diana for only a brief moment before the team from the Neonatal Intensive Care Unit began giving her oxygen to help her breathe.
"Thankfully after a short time, she responded and started crying. It was the most beautiful sound in the world," remembers Josefina.
Shortly after birth, Diana had an echocardiogram. The ECHO revealed that Diana's aorta was narrow and she would need a complex procedure on her heart known as an aortic arch repair.
"It was definitely scary and not what we wanted to hear, but Dr. Nento's thorough explanation in a very calm, confident and straightforward manner was helpful," said Josefina. "We knew that our baby girl was in great hands."
Six days after she was born, Diana underwent open-heart surgery and it was a success. The surgery team at Children's was clear with Josefina and her family that the procedure would take seven to eight hours. Josefina recalls those hours being the longest of her life. But every step of the way, they would receive updates personally or via text letting them know how Diana was doing.
In addition to the aortic arch repair, Diana would need a gastrostomy tube, often referred to as a G-tube, to help with her feeding. After the surgery, Diana presented paresis of the left vocal fold and eating by mouth was a challenge.
In total, Diana stayed in the NICU for nearly two months and went home at the end of October. A little over a year later, she required a second heart surgery. Her cardiologist, Dr. Jesse Lee, noticed there was a tissue forming under her bicuspid valve that continued to grow and was obstructing her blood flow. The only way to remove that tissue was for Diana to have another surgery.
"She did amazingly well, so well that she was discharged five days later for a procedure that I was told to expect a recovery period to be between seven to 14 days," said Josefina. "She had no complications, and we were extremely grateful."
Today Diana lives a life like many other healthy 2-year-olds. She has some noticeable physical characteristics common in Turner Syndrome, like lymphedema in her hands and feet and a wide weblike neck, but that has not stopped her.
"She loves to dance and sing; she loves books and enjoys reading and playing. We're working with her to get her to eat more orally," said Josefina.
Josefina is grateful for the medical team at CHRISTUS Children's for giving Diana the chance to have a joyful childhood. Today, Diana's favorite activities are singing, dancing, playing and reading books. Josefina and her family are grateful to the team at Children's including Dr. Rodriguez and Dr. Nento for their care and support during their journey.
"Their expertise and knowledge are admirable to me. I'm so grateful Diana received the attention and care she needed so early on," said Josefina. "The doctors were always willing to meet with us and were very transparent so that we were aware of what was going on and the plan of action."
Josefina was particularly impressed by Dr. Nento and how he could perform heart surgery on such a tiny baby and heart. His abilities and compassion blew her away.
As Diana continues to grow, Josefina hopes that she will be able to experience a joyful childhood and believes that without a doubt, her daughter is destined for great things.
"I know in my heart that Diana is a fighter. Having gone through so much since birth, I know that she has a wonderful mission and purpose in this life. And my goal is to make sure she finds it and leads a happy and healthy life," said Josefina.