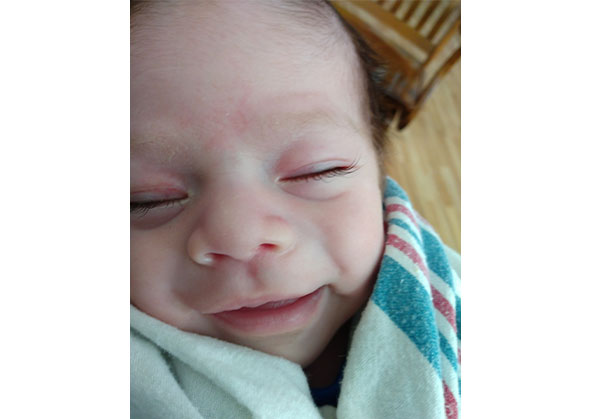 Elsa Gabriela Mitre López was looking forward to being a first-time mom. At age 36, she knew her window of opportunity to have a child was closing, and she was excited about the future.
Her age and a history of uterine fibroids increased the likelihood of a high-risk pregnancy, so she was referred to a maternal fetal medicine specialist.
Elsa was about six months into her pregnancy when she learned her baby had a congenital heart defect known as "transposition of the great arteries" (TGA) with an intact ventricular septum. This condition is especially high risk because not only are the two main arteries leaving the heart reversed or transposed, but due to the intact ventricular septum there would be no mixing of oxygenated and deoxygenated blood. In other words, Isaac would be in trouble immediately.
"Everything was a whirlwind; the news about baby Isaac was difficult to take, and I had to mentally prepare myself for whatever may happen," she said.
Her maternal fetal medicine specialist told Elsa that she would need to see a pediatric cardiothoracic surgeon. She was referred to Dr. Daniel Nento at CHRISTUS Children's so her baby could receive the best possible care immediately after birth.
Elsa and her medical care team had everything planned out for her C-section when she came down with COVID in January 2022.
"Coming down with COVID-19 was not in the plan, but it did give my baby more time to grow," said Elsa.
After she recovered from the virus, her doctor rescheduled Elsa's C-section. Unfortunately, because she was giving birth during a period of a large COVID surge, Elsa found herself in the hospital alone. She remembers how her friends and family rallied around her on the phone and how the team at CHRISTUS Children's made her feel supported in anticipation of baby Isaac.
"I was looking forward to Isaac being born, but at the same time, I had this feeling in my head that I needed to prepare myself for getting the baby healthy. So, I kept telling myself I had to be here – to be present and patient to get him to a good place," said Elsa.
Before she knew what was happening, Isaac was born. She had prepared herself for not hearing him cry because of his heart issues, but out of the corner of her eye, she could see the nurses and doctors attending to him, ensuring he could breathe.
When she finally saw Isaac for the first time, he was in an incubator with a tube down his breathing pipe and on a morphine drip to keep him comfortable – an overwhelming site for any parent, especially a new one.
Elsa knew Isaac would have to have an intervention almost immediately after he was born. It was something Dr. Nento had prepared her for. His repair would need to be done in stages. The first stage consisted of inserting a catheter up his little leg to keep his blood flowing. Going this route would allow some mixing of oxygenated and deoxygenated blood, buying time until Isaac was strong enough for surgery.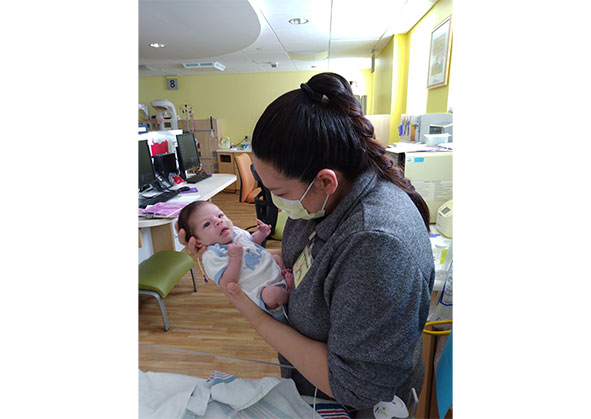 "I had watched videos and done all the research about the procedure before Isaac was born. Finally, I was beginning to feel some peace about the situation and had faith that he would be OK," she said.
Soon, Isaac would be ready to have his surgery. Specifically, he would need a conduit – or tube implanted in his heart to help manage his blood flow. The surgery took nearly 12 hours. He went in around six or seven in the morning and didn't go into recovery until three or four in the afternoon. When Elsa saw him for the first time that day, it had been nearly 12 hours later, she kissed Isaac goodbye.
"It was touch-and-go, but I had confidence in Dr. Nento and the rest of Isaac's care team at CHRISTUS Children's," said Elsa.
Slowly, Isaac made progress, and eventually, plans were made for his discharge. In total, he spent 73 days in the hospital.
Since he has been home, Isaac has been full of constant surprises. He acts like a normal baby and is off his medications. He has fewer checkups that are further apart now, and he is reaching all of the milestones for babies his age.
As far as his long-term outlook is concerned, Elsa knows that Isaac will need two or three more surgeries. But she also knows that Isaac will be in excellent hands with the team at CHRISTUS Children's.
In addition to taking care of Isaac, the team took exceptional care of Elsa."Being alone was hard, but I always felt like I had someone around. The team at CHRISTUS Children's was so supportive of me and embraced me almost like family," said Elsa.
Elsa is particularly grateful to Dr. Sowmya Mohan, who provided words of comfort in Elsa's darkest hours.
"She just knew what to say and when, and it would lift my spirits, and I was able to carry on and be a good mom to Isaac," said Elsa.
She also is thankful for the team of nurses who offered a shoulder to cry on when she needed it the most. The nurses always reassured her that she was never alone. Elsa was particularly grateful for the young chaplain who was completing her internship at CHRISTUS Children's because she would regularly visit and pray with Elsa.
"The team at CHRISTUS Children's was so good to us, and I will always be grateful for everything they did for us – especially as a first-time mom," said Elsa.
To learn more about The Heart Center at The Children's Hospital of San Antonio, visit our CHRISTUS Children's and our pediatric heart care services.