Three Reasons I Needed a CHRISTUS Children's Hospital
When your 2-year-old needs a minor operation, it's comforting to know that a free-standing children's hospital has everything to comfort babies and moms.
Meg Hawley, Social Media Manger, CHRISTUS Children's
I did not know I needed a children's hospital. Sure, I work for a children's hospital, but my family did not need one – or did we? My daughter, Mary Cameron, just needed tubes in her ears to alleviate the chronic and painful ear infections she was experiencing. It's a simple procedure that takes about 10 minutes.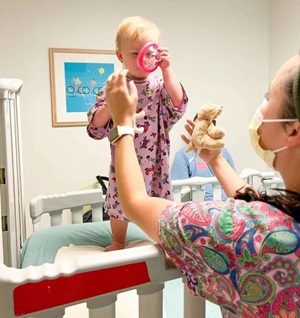 Did I ever think I would need a children's hospital? My baby was not born with a complex heart condition; my teenager was not diagnosed with a rare disorder; and I didn't have a high-risk pregnancy that would require the most advanced care for me or my baby.
It turns out, we did indeed need a children's hospital. Children, all children, need a children's hospital. You could even argue that parents need one just as much as the kids do.
I was telling a friend about Mary Cameron's ear tube procedure and how everything went so smoothly. Her son would soon need the same operation and she wanted to know what to expect. I immediately realized there were three things that made the process less scary and gave me comfort as a mom: A pediatric anesthesiologist, a visit with a Child Life Specialist to practice with the sedation mask, and a little car she got to "drive" into the operating room so that she was completely distracted and unconcerned when I had to kiss her head and say, "See you later."
As I talked with my friend, I realized she may not have access to these child-friendly features in the town where she lives. These are very specific attributes and they don't exist everywhere. Adult hospitals and surgery centers may not have these services but you can find them all in a children's hospital. I quickly realized, yes, my family actually needed a children's hospital.
The Children's Hospital of San Antonio is "the city's first and only free-standing children's hospital." As part of the CHRISTUS communications team, I have written that phrase more than a few hundred times. While I sat in recovery with my loopy 2-year-old, coming out of anesthesia, enjoying her post-op Popsicle, I realized that I may never associate what that truly means as a mere marketing catch phrase. From now on, it will feel like a promise. A promise to me, Mary Cameron, and the rest of San Antonio that children always come first within this building and that's why a children's hospital is essential in every community.
Everything for our children.