Mom And Baby Fight Against Overwhelming Odds
Vanessa Jaramillo did not realize her own strength until she had to fight for not only her survival but for her baby boy JayDen's as well.
In December 2019, when Vanessa was 21 weeks pregnant, she began leaking fluid and wasn't exactly sure what it was. She immediately began to worry and wonder if she was having a miscarriage again.
"I knew I wasn't supposed to look it up on Google, but I did anyway and figured out it might be amniotic fluid," said Vanessa.
And that's exactly what it was.
Vanessa would soon find herself not only fighting to save her unborn son, but to also save her own life.
Born a fighter
Vanessa knew it was too early for JayDen to come. She immediately went to the hospital that was near her, but because it was not equipped to handle babies born at 22 weeks gestation, she was immediately transferred to CHRISTUS Children's, which has a level IV neonatal intensive care unit (NICU) and specializes in caring for micro-preemies.
On December 21, 2019, Dr. Kimberly Crittenden, an OB-GYN who delivers at CHRISTUS Children's, performed a C-section, and JayDen was born, weighing only one pound and six ounces. Nurses immediately whisked him away to the NICU. Vanessa could not hold him right away and only saw him through video.
"I remember his eyes were shut, and his skin was so transparent. He was really, really little," said Vanessa. 
A few days after he was born, JayDen had a perforation of his bowel – a condition where contents of the intestines spill into the abdomen, causing a host of infections. He needed to have surgery right away, or he could die. So, to save his life, they would have to cut out part of his intestines and connect his remaining small intestine to his skin through a stoma, allowing the intestines to heal.
"We were so scared, but we knew JayDen needed to have the surgery to be able to have any chance of surviving," said Vanessa. "So we signed the paperwork, and the doctors did the operation."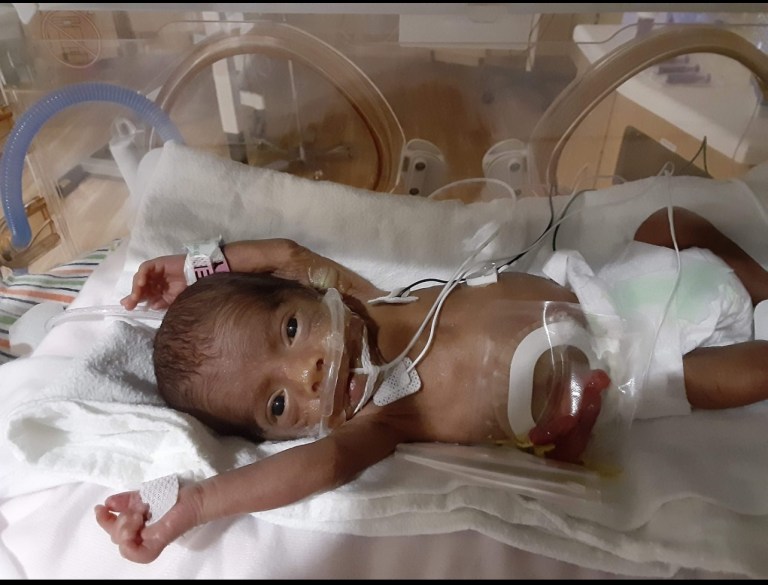 JayDen made it through the emergency surgery. He remained on a breathing machine and a chest tube for an air pocket around his lungs that had occurred shortly before surgery. After a while, he seemed to slowly improve. But Vanessa admits it was really hard to see him in such a fragile condition at times.
During one of these moments, she encountered a NICU nurse, who provided some reassuring words.
"The nurse told me that she had seen other 22 weekers survive and that God has the final say," said Vanessa. "She reminded me not to let anyone or anything take away my hope and that I would be the one JayDen would depend on to help keep up his fight. That is all I needed to help me keep fighting for him."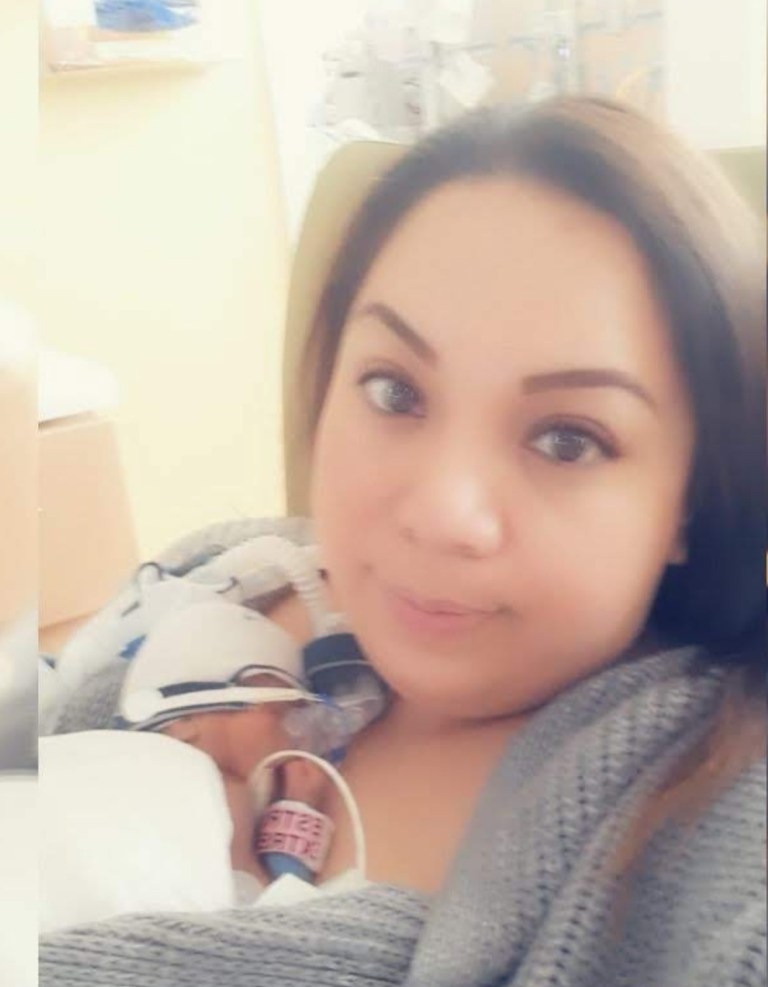 Mom's a fighter, too
Knowing that JayDen would be in excellent hands with the NICU team at The Children's Hospital, Vanessa left the hospital to go home to be with her other four children. A couple of days later, Vanessa began spotting. She decided she'd better go back to the hospital to get checked out. After JayDen was born, she had developed a blood infection and she wondered if the two were related.
Upon arrival at CHRISTUS Children's, the doctors did some tests and it was determined that Vanessa had developed an abscess in her uterus and was quickly transferred to a nearby community hospital.
"The doctors couldn't guarantee the state of my health for the next 24 hours. I thought I was literally going to die," said Vanessa.
The following day on December 31, 2019, Vanessa underwent a six-and-a-half-hour long surgery. Doctors had to re-open her C-section, do an entire washout of her abdomen, and perform a full hysterectomy due to the severity of the infection.
Vanessa was in the hospital for several days and after leaving the hospital, she was still in pain, and had to go back. During that stay, doctors drained 60 mL of fluid from her one remaining ovary.
Vanessa was able to go home, but required the help of home health nurses for several weeks to assist with her wound vac and to change her dressings. It was a painful recovery. By April 2019, Vanessa was finally feeling better and was able to focus her attention back on JayDen.
"During all of this time, my husband was my rock. He had me at one hospital, our son at another and our other kids at home. I know it was hard on him, but he didn't let me see it – he was trying to be so strong for me," said Vanessa.
All of this time, as Vanessa was fighting for her life, JayDen was still fighting for his.
A setback
In March, JayDen was big enough to have surgery to reconnect his intestines. It was during this second operation that he needed a breathing tube. Doctors explained that the tube, while necessary to help him breathe, may have caused JayDen to develop pneumonia, blood and skin infections, and other complications.
JayDen developed an air pocket within his lungs, a condition called pneumatocele. The air pocket became so large that it pushed his heart to one side and prevented his lungs from inflating well. They put him on a jet ventilator, designed to deliver high pressure to his lungs used for the sickest babies in the NICU.
While all of this was happening, doctors were concerned that JayDen would develop bleeding in his brain and that he was at risk for developing cerebral palsy. Jayden's little body grew swollen from all the fluid he was retaining and his liver started to fail.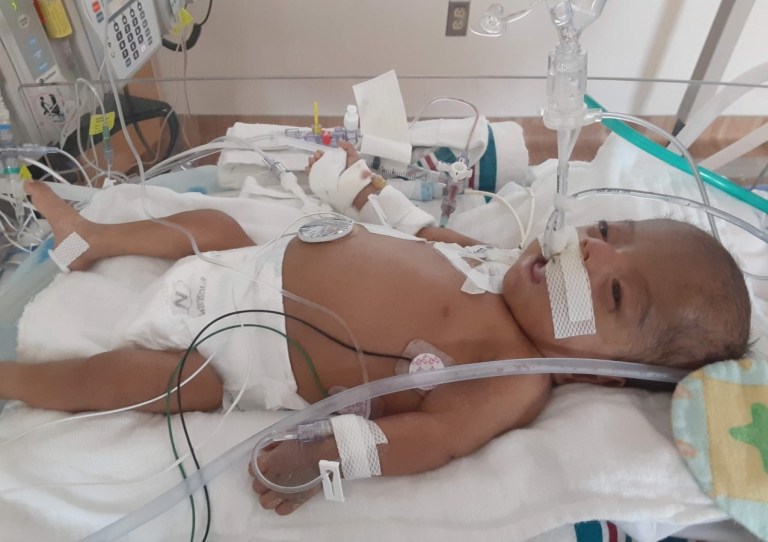 Dr. Lindsay DeVries, one of JayDen's primary neonatologists, remembers the ups and downs of JayDen's journey. She would have multiple conversations each day with the pediatric surgeons, pulmonologists, nurses and the family to try everything they could think of to help him improve.
"JayDen was so sick and he was constantly on my mind. I wanted to do everything we possibly could to help him, but the odds were against us," explains Dr. DeVries.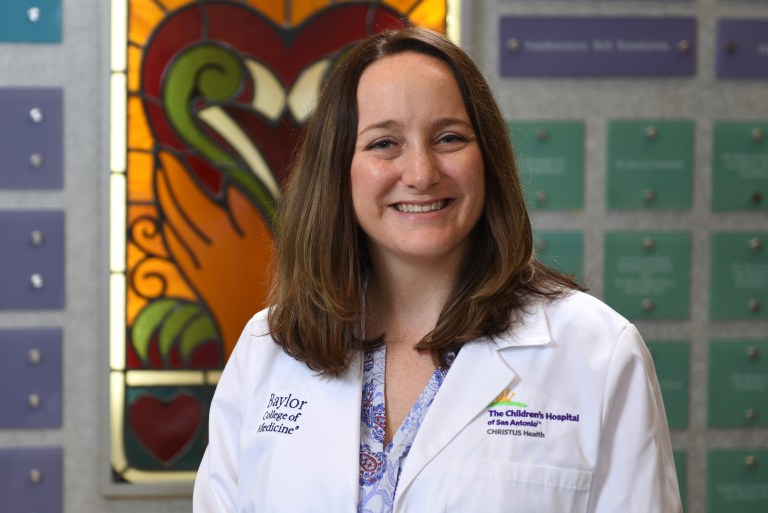 Not out of the woods
But at no moment did Vanessa give up on her tiny fighter.  
"He hadn't given up, so I wasn't going to give up on him. We had been through too much," said Vanessa. "I knew I had to be JayDen's advocate and speak up for him and I would encourage other parents to do that as well for their babies."
After trying all other possible treatments, the team at Children's told Vanessa and her husband that JayDen would need to have part of his lung removed. The lobectomy would take out the non-functioning lobe to allow the remaining lung tissue to expand and work better. It would be a risky surgery, but without it, JayDen might not survive.
"Once I started thinking about it, I couldn't eat. I couldn't sleep. It was really affecting me," said Vanessa. "I talked to my husband, and we decided we needed to give our baby boy every fighting chance he could get."
Dr. Barry Cofer, who had performed JayDen's intestinal surgery, was set to do the lobectomy and was pretty optimistic about JayDen's chances. JayDen came back from the surgery on a regular ventilator, and his remaining lungs slowly improved over the following weeks.
"The surgery was the best decision we ever made," said Vanessa. "JayDen had been on every kind of medication beforehand, and they were able to start weaning him off. His carbon dioxide levels began to stabilize a little bit more, and he was no longer on a jet ventilator but a conventional one, which meant he was moving in the right direction.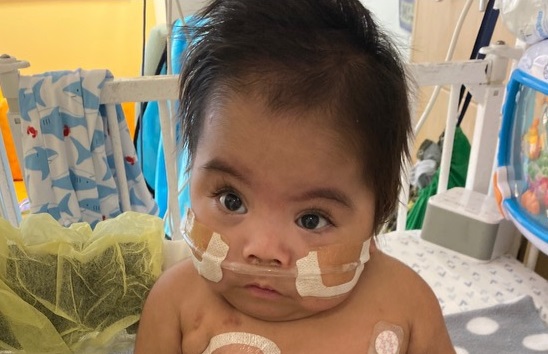 When JayDen had the lobectomy, he was 8 months old. At 11 months old, on November 18, 2020, JayDen was finally discharged from the hospital after multiple surgeries and many ups and downs.
"Getting JayDen home was a true team effort," explains Dr. DeVries. "As a medical team, there were several times during his hospitalization where we felt there was nothing else left we could do, but JayDen's mom wasn't ready to give up. I was impressed by her determination. She pushed me to explore all possible treatments – to try just one more thing."
Even though JayDen would eventually come home with oxygen through a nasal cannula and a g-tube to help deliver food and nutrition, Vanessa was just so happy to have him home with the rest of the family.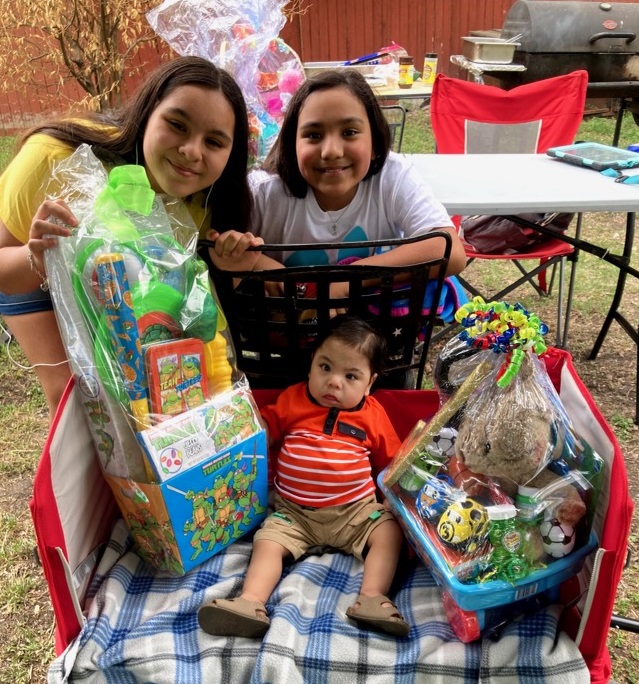 A light in the dark
Throughout JayDen's journey in the NICU, Vanessa encountered several doctors and nurses who served as a calming force, including Dr. DeVries.
"I think our story would have been so different if it wasn't for her," said Vanessa. "It's evident that she loves her job. She did an amazing job advocating for my son and never stopped. She would call me on her days off just to check on him and really fought for JayDen."
Dr. DeVries added, "JayDen is truly a miracle baby, he will always be our 'Jam Jam.' As a 22-week micro-preemie, he had a number of complications and overcame insurmountable odds. He surprised all of us and continued to fight through things that medicine said he couldn't. Because of that, he is still here with us today. Our NICU team at CHRISTUS Children's is so blessed that we can be part of his story."
In addition to Dr. DeVries, Vanessa was grateful to the team of nurses who took care of JayDen while she struggled with her own health issues and recovery.
Looking back on their experience, Vanessa recalls one of the most cherished moments when JayDen moved to what is referred to as the "Goldfish pod" of the NICU, a stepdown area used for preparing babies for going home.
"I had a ton of emotions when they were able to move him to the Goldfish pod, and he had a room all to himself. I was so happy and excited, but also scared that we were leaving this safe haven, the Sunshine pod, the place that protected JayDen during almost the entire first year of his life."
She didn't want to leave nurses like Heather and Melody, who took care of JayDen during the night shift.
The bonds she formed with the nurses are still strong almost a year later. Vanessa sends them photos of JayDen and his significant milestones, like getting his first "big boy" haircut.
Today, JayDen is doing well aside from having chronic lung disease. He is off oxygen and eating by mouth as well as through his g-tube. Dr. Tarak Patel, his pulmonologist, is amazed by his progress. Currently, JayDen does physical and occupational therapy and eventually will do speech therapy.
"I don't know what I would have done without the team at CHRISTUS Children's" said Vanessa. "Everyone had such compassion for JayDen and such love for him. It was truly extraordinary."