Two Tiny Miracles, Born Seven Months Apart
With the help of doctors at CHRISTUS Children's, Valentina gave birth to two baby girls seven months apart. The family's extraordinary journey was nothing short of a miracle.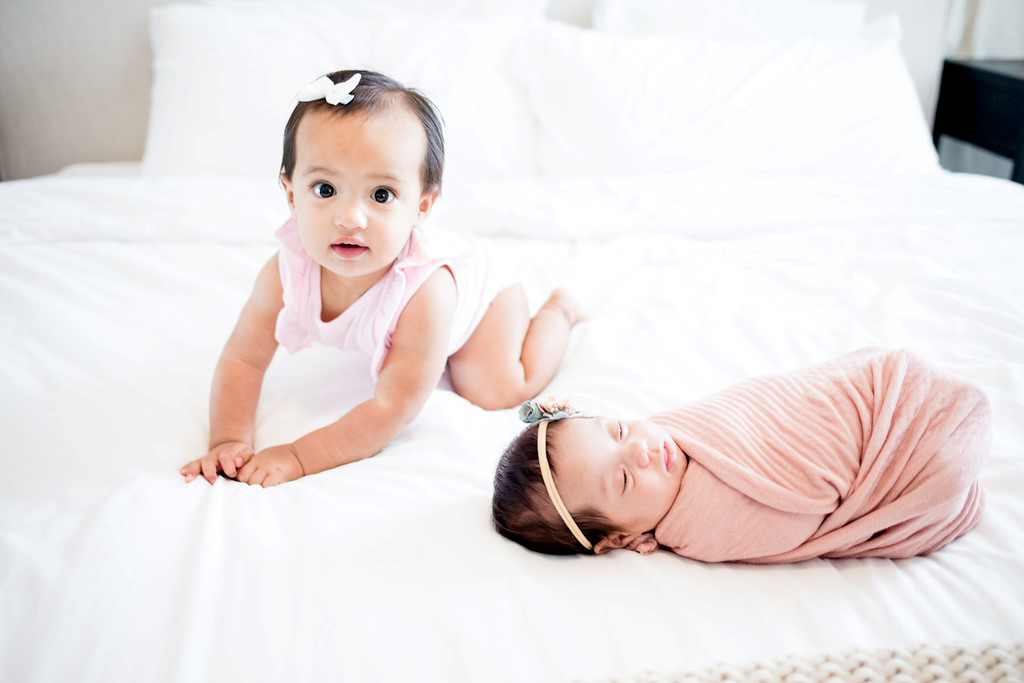 Two years ago, newlyweds Valentina and Anthony Holguin were excited when they learned that Valentina was expecting a little girl. In just a few short months, it seemed like everything they had ever wished for was coming true.
But after a smooth and uneventful pregnancy, Valentina began experiencing extreme pain at the beginning of her third trimester.
"All of a sudden, I had these awful symptoms," Valentina recalled. "My ribs felt like they were going to break and I had difficulty breathing. I was in so much pain."
Valentina brought her concerns to her OB-GYN, but she was told that what she was experiencing was normal, especially toward the end of a pregnancy. Valentina decided to push through the pain and do her best to enjoy the time she had left before her daughter was born. At 32 weeks pregnant, she and her husband planned a trip over Memorial Day Weekend to attend her little sister's high school graduation.
"We drove five and a half hours to get there and we had to stop every hour because I was in such excruciating pain," Valentina said. "I didn't know it at the time, but I was experiencing labor pains."
The morning after they arrived, Valentina proudly watched as her little sister walked across the stage to accept her diploma. She bent down to take a picture to commemorate the moment, and just then, her water broke.
"I didn't know what happened at first because it wasn't a huge gush, but I could tell something was off," Valentina said. "I went into the bathroom and saw that I had some bleeding, so I called my OB-GYN and they told me to go straight to the ER."
There, the doctors confirmed that Valentina was in labor. Because she was only 32 weeks along, however, they did everything they could to stop her from delivering that day.
"They wanted me to hold out as long as possible to give my baby more time to grow," Valentina said. "They admitted me to the hospital and I spent the weekend there on bedrest."
That following Tuesday, a Maternal-Fetal Medicine specialist took Valentina for an ultrasound to check on the baby's progress.
"I remember that the specialist was concerned because I was so swollen," Valentina said. "I had so much amniotic fluid in my womb that the specialist said it must have felt like I was carrying twins."
After the ultrasound, the specialist sat down with Valentina and told her some devastating news. Her baby girl had a condition called hydrops fetalis, also known as hydrops, which is characterized by a large amount of fluid build-up in the tissues and organs. The condition causes swelling and has a poor prognosis, with less than 50 percent of unborn babies surviving birth. In Valentina's case, her baby's lungs were filled with fluid.
"She was very straightforward with us and prepared us for the worst, saying that there was a very real chance that our baby may not make it," Valentina said. "I tried to remain as positive as possible and my husband and I just hoped and prayed she would make it. I knew that my daughter needed me to be strong, and so I was only going to emit positive energy to her."
The specialist told Valentina that she would need to be transferred to a hospital with a Level IV NICU before delivery, since her daughter would need specialized surgery immediately after birth. With the clock ticking, Valentina was airlifted to CHRISTUS Children's.
The day after she arrived, Valentina went into active labor, and she was placed under the care of OB-GYN Dr. Jacqueline Battistelli, MD.
"Dr. Battistelli was an angel sent from heaven above," Valentina said. "She really helped guide me through the process of labor."
Before the delivery, Valentina was also paid a visit by neonatologist Dr. Sowmya Mohan, MD.
"Dr. Mohan gave me such reassurance. She told me her name, introduced me to her team, and told me that they were going to take care of me and my baby," Valentina said. "She also explained how, after the delivery, they were going to try to let me see her for a moment, if possible, but that they would then have to take her into surgery immediately and put a shunt in her lungs to release the fluid. She gave me such clarity as to what was going to happen, which I really appreciated."
Shortly thereafter, Dr. Battistelli delivered a baby girl, whom Valentina and her husband named Elena Diana.
"It was a beautiful delivery," Valentina said. "We played worship music and after just an hour of pushing, my beautiful daughter was born."
Valentina was able to see Elena for just a few seconds before she was rushed into surgery. About an hour after the delivery, Dr. Mohan walked into the room and told Valentina that her little girl was OK.
"They were able to put the shunt in and drain the fluid, and she told us that Elena was in the NICU and ready for us to see her," Valentina said.
Valentina and Anthony were relieved beyond belief. Elena stayed in the NICU for 47 days until she went home with her parents. During that time, Valentina and her husband stayed in the hospital at the Ronald McDonald House, located just one floor above the NICU.
"I hardly left her bedside," Valentina said. "I couldn't hold her for the first 12 days of her life because of all the tubing and how fragile she was, but I made sure to give her all the love she needed."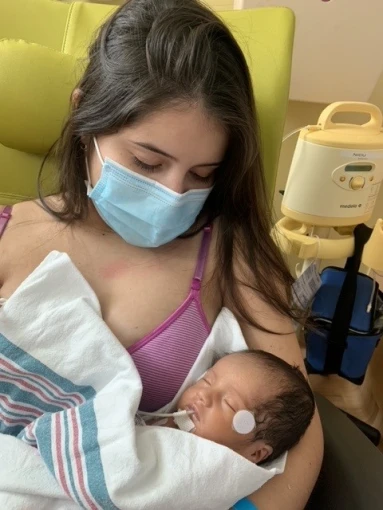 Baby Elena was finally in her mother Valentina's arms. The baby girl needed surgery immediately following her birth to have a shunt placed in her lungs.
Although the experience was difficult and at times exhausting, Valentina said she was so grateful for everyone at The Children's Hospital who supported her and took care of her daughter.
"Every single morning our resident, Dr. Shawnee Wallace, would come by Elena's room and answer all of my questions," Valentina said. "I am so grateful for doctors like her that listened to all of my concerns and allowed me to advocate for my daughter. We had such an amazing experience with everyone, and I felt like I was just surrounded by such good people."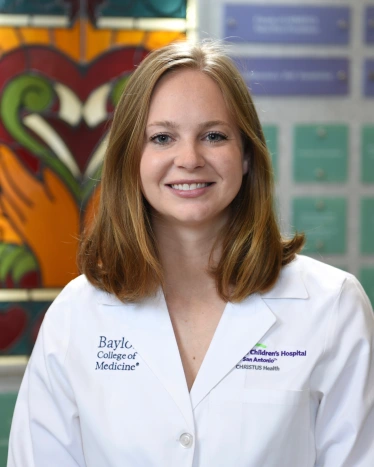 During Elena's NICU stay, Valentina was especially impressed with first year resident Dr. Shawnee Wallace who eased her concerns by thoroughly answering all her questions.
Valentina and Anthony were thrilled to finally bring their daughter home. But then, something unexpected happened.
"A month later, I found out I was pregnant again," Valentina said. "We were shocked but also so excited. And we thought everything was going to be so different this time. What happened with Elena was so rare."
For a while, Valentina's pregnancy progressed as expected. She was monitored closely by a Maternal-Fetal Medicine specialist because of her previous experience, and so far, there were no signs of any complications. But then, at just 25 weeks, Valentina went into labor.
"I started work that morning at 8:00 a.m., and then by 9:08 a.m., I was on the floor with insane contractions—I thought it was Braxton Hicks," Valentina said. "I was working from home so I got into the bathtub and filled it with some warm water just trying to soothe myself, but I was in miserable pain. Then I went to the bathroom and that's when I could feel my amniotic sac."
Valentina was fully dilated.
"I called my husband to come home and he rushed me to the nearest hospital, we didn't have time to go anywhere else," Valentina said.
Because her baby was breech, doctors performed an emergency C-section within an hour of her arrival at the hospital, and her second baby girl, due April 27, was born on January 13, 2022.
"She was so tiny, a micro-preemie, weighing just 1 pound, 13 ounces," Valentina said.
Her daughter, Lucia Valentina, would need the highest level of NICU care, so Valentina asked for her to be transferred to The Children's Hospital of San Antonio.
"It was so scary because of how tiny she was," Valentina said. "At that point, I had already lived a NICU experience and I had made friends with other parents who had shared their experiences with me, both the good and also the really tragic and sad. So, this time it just felt more real."
At CHofSA, Valentina learned that her daughter had a grade three bilateral brain bleed, as well as a patent ductus arteriosus (PDA) which is an opening between the two major blood vessels leading from the heart. Lucia was monitored closely by her primary doctor, Dr. Maria Pierce, a board-certified Perinatal-Neonatal Medicine physician at CHofSA. Both conditions, common among babies born as early as Lucia, were monitored closely and, thankfully, resolved with time.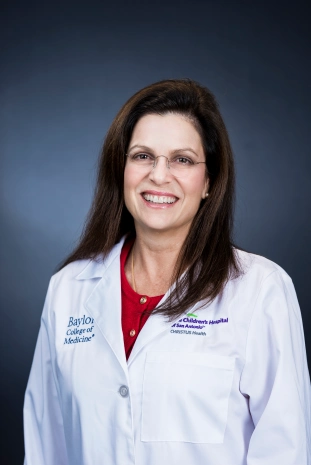 Valentina wanted to make sure her daughter Lucia had the same level of care that Elena had. Again, she turned to The Children's Hospital of San Antonio. This time Dr. Maria Pierce, Medical Director of the NICU, provided outstanding care to Lucia for more than 100 days.
"The doctors were so communicative with me and always let me know what was going on with her every single day," Valentina said. "Dr. Mohan, who we had grown close to on our first NICU stay, never failed to come by and ask how we were doing, as well as answer any questions we had. She had a special way of explaining everything to us."
Lucia stayed in the NICU for 101 days. "This time was harder because I couldn't live with her in the hospital since we had another baby at home," Valentina said. "But it was comforting to know that she was in good hands with her nurses. It was a whole process learning to let go and trust others to look after her, but I know the staff there loved her so much. She had a couple of nurses that I got to know well during our NICU stay, and when Lucia was in their care, I could sleep peacefully at night. Amy Parker, Jesse Battleson, Dayzee Treiber, Coral Nolan and Kristin Joyner are some of those amazing nurses that I was confident would look after her with such genuine love and care."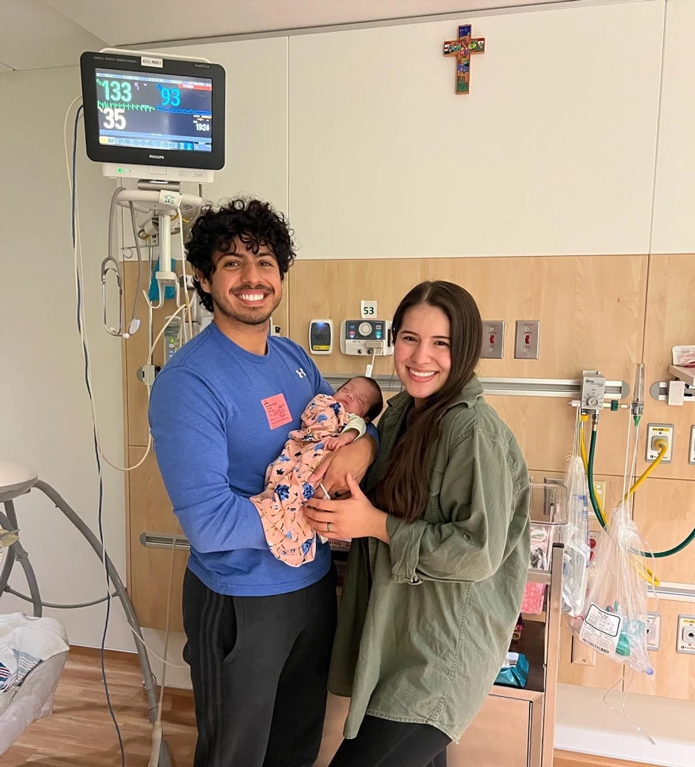 The Holguins found themselves back in the NICU at The Children's Hospital of San Antonio with their second daughter Lucia who was born prematurely. They returned only a few months after Elena was discharged from the NICU. The baby girls were born just seven months apart.
Today, both girls are home, surrounded by their loving parents and doting extended family. Although Lucia still has some hurdles in her growth and development—she is being treated for retinopathy of prematurity, an eye abnormality common in premature infants—she is making strides with a bright future ahead.
"We are just so in love with these amazing little babies," Valentina said. "I still can't believe I have two little miracles, and I am eternally grateful to The Children's Hospital of San Antonio and its outstanding staff for taking care of my girls so well."
To learn more about the Level IV NICU at The Children's Hospital of San Antonio, visit https://www.christushealth.org/get-care/services-specialties/womens-services/neonatal-intensive-care.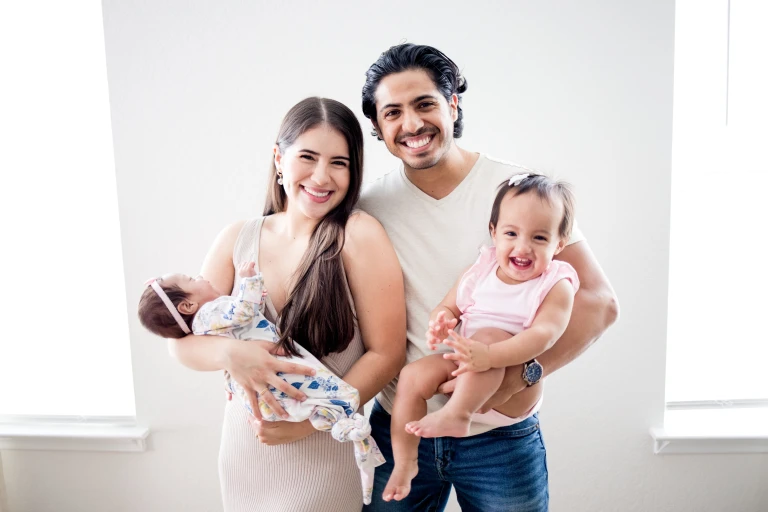 Despite two high-risk pregnancies, the Holguins welcomed two baby girls into their family during a short span of seven months. Here the couple is shown with daughters Lucia and Elena.