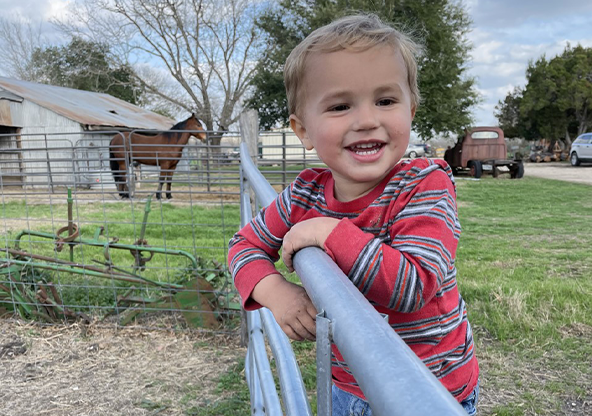 Lane O'Shay is a country boy at heart. At 3 years old, he loves doing chores around the farm. He feeds animals, fills water troughs, helps with manual labor, opens gates and rides on the tractor to help feed cows – he insists on helping. He even has his own little kid tractor to ride around on. Lane enjoys doing everything his daddy does. If he is working on the tractor or vehicle, Lane is right there with him moving the tools around to keep daddy guessing. He is one of the few 3-year-olds you will see carrying logs up from the pasture with a beaming smile of satisfaction on his face. The moment he hears that tractor start up, he's out the door with his boots on. His parents say he is an amazing little ranch hand.
"Lane loves spending time outside," said his mother, Ashley "Nikki" O'Shay. "He loves feeding the horses – but the pigs, not so much. When he's not busy on the farm, he enjoys playing with his three sisters. Lane had been a healthy and physically active toddler until a few months ago, when he started complaining about shoulder pain. The pain began a few days after he had fallen off the couch."
Fighting Against Leukemia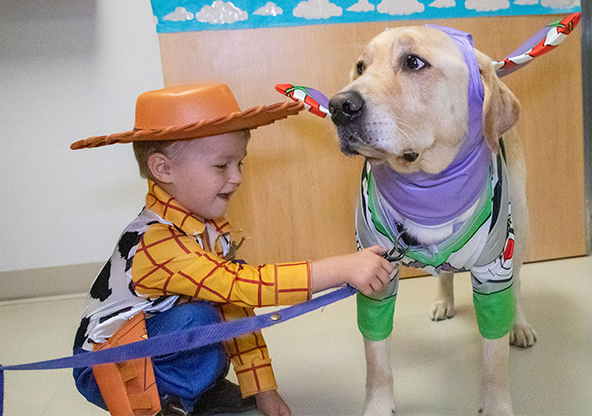 Lane's pediatrician sent Ashley and Lane to get X-rays of his shoulder. When the doctor reviewed the images, he didn't see anything of concern. He thought Lane might have suffered a joint strain which was causing the pain. Then, three weeks later, Lane had another episode of shoulder pain, this time accompanied with swelling after going down a waterslide at his sister's birthday party.
"A child had slid into Lane on the water slide," recalled Ashley. "Immediately, I noticed a big bulging bump coming out of the same spot Lane had been complaining about. That's when I took Lane to the emergency room where we met with our second doctor. After another X-ray, the doctor said Lane had a collarbone fracture and sent us home. He must have fractured the bone when he fell off the couch and we didn't realize it at the time. Our son's injury on the waterslide apparently reopened the fracture, and it started calcifying and growing back thicker. All this time, the doctors who examined Lane were adult specialists. But something in my gut was telling me that I needed to get his growth plates checked, which is why I requested to see a pediatric orthopedic specialist. I reached out to my son's pediatrician who referred us to Dr. Elizabeth Magnabosco from CHRISTUS Children's."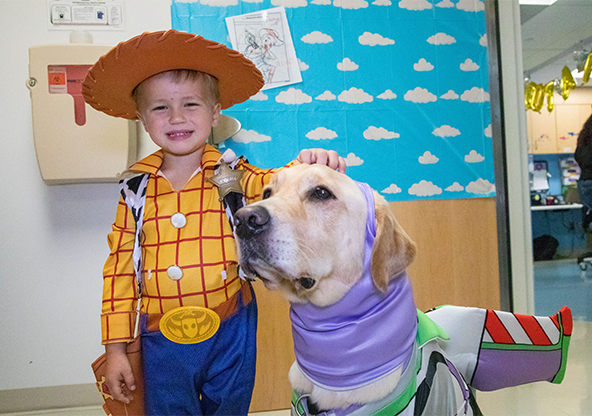 When Ashley and her son met with Dr. Magnabosco, the section chief of pediatric orthopedic surgery at CHRISTUS Children's, she immediately ordered new X-rays. The images showed new bone formation. As she reviewed the images closely, she noticed this was not a typical healing fracture. There was a dark spot (known as luceny) in the middle of the new bone and the new bone was in layers – which was also not typical for an uncomplicated fracture. Dr. Magnabosco suspected this was more than just a collarbone fracture. She felt there was something growing in the bone, that weakened the bone and made it much easier to fracture. She proceeded to send Lane for additional tests, resulting in a diagnosis that neither Ashley nor her husband, Forrest, were prepared to hear – Lane had leukemia.
"I remember that day when I got the call – May 31, 2022," said Ashley. "I was at a dental appointment when the doctor told me about Lane's diagnosis. I walked across the street to a park and just cried. I was devastated as I tried to process everything. It was very tough. The next day, we went to the hospital for Lane's first chemotherapy treatment. We stayed in the hospital for one week. The whole time I was up there, I was lost and confused. While I felt helpless and disconnected to reality, I was glad that we saw Dr. Magnabosco when we did, or else my son's cancer could have been detected at a much later stage."
"I believe that Lane was diagnosed early because he was seen by a pediatric orthopedic surgeon," said Dr. Magnabosco. "Both health care facilities he went to initially were adult oriented. Often times, kids can have small fractures that are hard to see on X-ray especially in this area with many overlying bones. After more than 20 years of treating only children, I understand how much force and what type of activities result in what types of fractures. Lane's story did not fit the picture. That, along with my personal reading of the X-rays led to evaluations that resulted in a very early diagnosis of leukemia. Lane was referred to Dr. Adam Wolfe, a pediatric hematology-oncology specialist at CHRISTUS Children's who took over his care."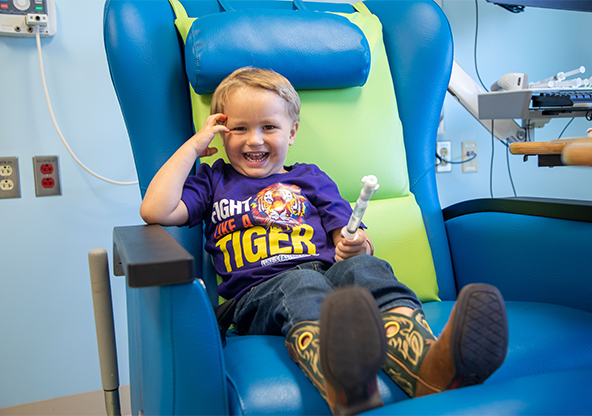 Lane had Acute B Lymphoblastic Leukemia (ALL), the most common type of bone marrow cancer in children. ALL causes bone marrow (spongy tissue in bones) to make too many immature white blood cells (lymphoblasts). These abnormal cells crowd out healthy red and white blood cells and platelets in the blood and bone marrow, making it difficult for the body to fight infection and diseases. ALL can spread quickly to lymph nodes and other parts of the body. If left untreated, it can be life threatening.
"The primary treatment for ALL is chemotherapy," said Dr. Wolfe, who also is associate professor of pediatric hematology and oncology at Baylor College of Medicine. "Chemo medications are used to destroy as many cancer cells as possible to induce remission. For patients with leukemia, we administer different combinations of chemo medicines every one to two months. The first six months of Lane's treatment will consist of rotating cycles of different chemo agents. By doing this, our goal is to catch any escape clones of the leukemia that might be less responsive to one strategy with the hopes that the next strategy (next chemo agent) will be more effective. During the early phases of treatment, patients will have a weakened immune system and will have low blood counts that will come and go periodically.
"A day after his diagnosis, Lane began chemotherapy on June 1, 2022. He spent one week in the hospital followed by weekly visits to the hospital for chemo that was administered through his port or by spinal tap. He took steroids in pill form at home for the first 28 days of treatment while undergoing chemo. During his second month of treatment, Lane took an oral liquid chemo medicine for 28 days at home while going to the hospital to receive his weekly chemo treatments – all of which was hard on Lane.
"The first month of treatment was scary because he wasn't himself," said Ashley. "He has always been extremely active, and for a whole month, he would just sit there and do nothing. The most challenging part of all was when he started taking steroids. He began getting roid rage because the medicine can cause aggressive outbursts. He would get angry all the time and start throwing stuff. He was not a happy camper during the first month of treatment, but he plowed through his treatments like a champ."
Lane's treatment protocol will take two-and-a-half years to complete. Once he finishes six months of chemotherapy, Lane will enter the maintenance phase, which lasts 24 months. During this time, Lane will mostly be on oral chemo at home on a daily or weekly basis. The maintenance phase allows the immune system to recover a little bit but still targets any leukemia that might still be there, and it also gives his immune system a chance to reject any bits of leukemia that tries to return.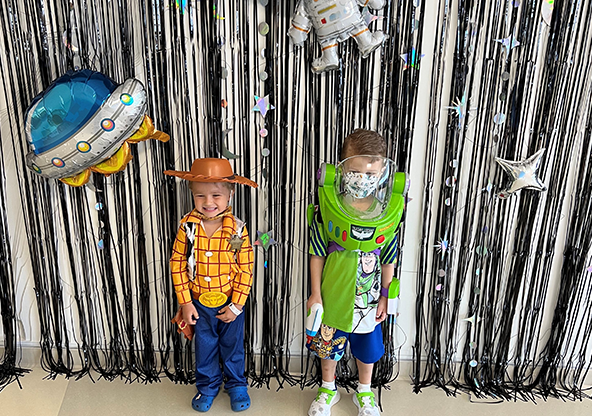 "We still have a long road ahead of us," said Ashley. "But what is reassuring for us right now is that the treatment he is on, is working. Lane reached remission after the first phase which can happen during active treatment. Lane is responding well and he genetically has an extra chromosome that is helping his fight. When we reached remission, the cancer cells were contained and no longer spreading. Dr. Wolfe said Lane's lab work that included a biopsy and aspiration of the bone marrow showed he had less than 5 percent of cancer cells shown. That is reassuring news to hear. We know the first eight months will be the most intensive for Lane, but we are hopeful that our son will beat leukemia. He has a great chance."
Dr. Wolfe says children with the most common type of acute lymphoblastic leukemia have about a 94 percent cure rate. The cure rate continues to improve over time because better treatment strategies are constantly evolving. For the small number of patients who relapse, there are better second line treatments available now than before so these kids also have a better chance of being cured. Dr. Wolfe says he does not expect a relapse for Lane. He says, "the odds are very much in his favor that he will be cured with primary therapy."
The O'Shays are grateful to the many people who have supported and cheered their little guy on. While Lane's two-year cancer journey has just begun, the family knows there is light at the end of the tunnel.
"We would not have gotten through this tough time without the amazing and selfless support from our family and friends (who started a fundraiser to help us with our medical expenses), and to the wonderful team of doctors and nurses who have taken exceptional care of Lane at CHRISTUS Children's. They, along with the Child Life team and our amazing social worker, Clarissa, are like family to us. Everyone has been caring and understanding. The toys, playrooms, activities and events hosted by Child Life (Becky), made a huge difference in our stay at the hospital. It made it more bearable. I also noticed the pediatric team had a lot more patience working with Lane compared to adult physicians. They understood and knew how to handle my son's emotional needs especially when he was scared and he didn't know what was going on around him. We are blessed to have a team, who I know, will be with us for the long haul."
Each year in September, CHRISTUS Children's recognizes National Childhood Cancer Awareness Month. Click here to learn more about our center, and how we are changing lives every day for children and families impacted by pediatric cancers and blood disorders. To follow Lane's leukemia journey, visit this website: Lane O'Shay's Leukemia Battle - Home | Facebook