Andres' Story: Our Son's Amazing Recovery After Congenital Diaphragmatic Hernia Surgery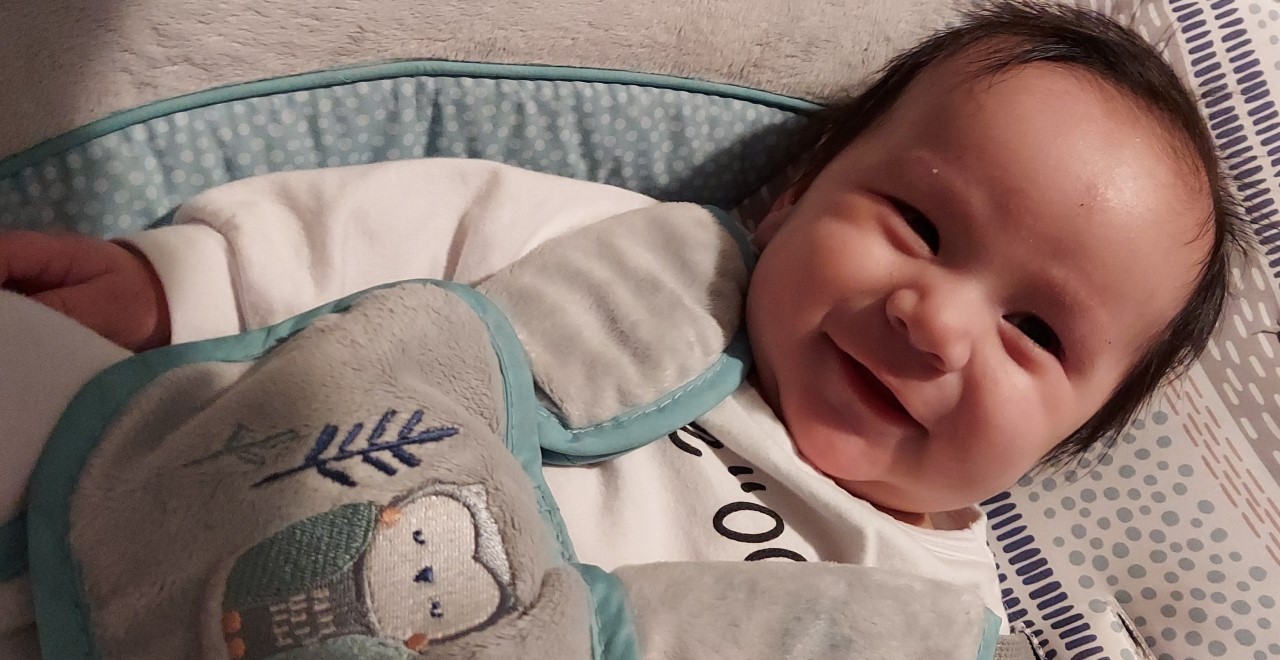 Maricella Huerta always dreamed of one day being called "mommy." After several unsuccessful attempts to get pregnant – and with hope fading away – Maricella's dream finally came true. In November 2021, she and her fiancé, Andres, found out they were going to be parents.
"We were overjoyed," said Maricella. "We tried for several months to get pregnant. I thought it would never happen but when it did, we were over the moon. Honestly, I could not believe it."
Maricella's first trimester was smooth sailing. She didn't have the usual morning sickness or food cravings. As her pregnancy progressed, she had weekly ultrasound appointments with her OB-GYN in Pleasanton, Texas, close to where the couple lived. Both Maricella and her baby were doing well.
"Our son was active during the ultrasounds," said Maricella. "He would hide when the technician tried to find his heartbeat. He was perfect. There were no signs of complications. Every time we came in for routine ultrasounds, our baby was growing bigger and developing like he should."
During the third trimester, Maricella developed swollen feet due to excess fluid retention and the added pressure from her growing uterus. She also began having high blood pressure. At 38 weeks, her blood pressure got worse, and she was admitted to Texas Vista Hospital in San Antonio.
"My BP was getting high," said Maricella. "I was given medication to stabilize my blood pressure. When I was 38 weeks, I was induced, and my contractions progressed quickly. Then, my baby's heart rate started dropping. That's when I was rushed to the OR for an emergency C-section."
Andres Huerta Galvan was born on August 10, 2022. He weighed 6 pounds, 12 ounces. Maricella and her fiancé were thrilled to see their newborn son. But they couldn't hold him right away.
"His breathing wasn't good," said Maricella. "His heart rate was not as strong as it should be."
Baby Andres Had a Life-Threatening Defect Buried Inside His Chest
"When doctors did a chest X-ray on him, they noticed Andres had a small hole in his diaphragm, and one of his lungs was underdeveloped," said Maricella. "He had trouble breathing on his own."
Andres needed surgery to close the hole in his diaphragm. Because the hospital where he was born did not have a pediatric surgeon, he was transported to CHRISTUS Children's on the day he was born.
Andres' Diagnosis
Andres was diagnosed with a congenital diaphragmatic hernia (CDH), a birth defect where a hole permeates the diaphragm, the large muscle that separates the chest from the abdomen. When this opening forms during fetal development, several organs in the abdomen – such as the intestines, stomach and liver – can move through the hole in the diaphragm and into the chest cavity, forcing the lungs to grow in a compressed state. As a result, this life-threatening condition can prevent the baby's lungs from developing completely, which can lead to severe respiratory problems after birth.
Soon after a baby is born, surgery is needed to repair the CDH where surgeons guide the organs in the chest back down into the abdomen and close the opening in the diaphragm completely. There are screening tests that can diagnose CDH before the baby is born. However, in some cases – like in Andres' case – ultrasounds during pregnancy do not always detect this abnormality.
"The hole in my son's diaphragm was small, and that is why my OB-GYN probably didn't catch it early on," said Maricella. "But I was still worried about my baby going into surgery being so little."
After Andres arrived at CHRISTUS Children's, he was admitted to the neonatal intensive care unit (NICU) where a team of doctors and nurses monitored him closely. A few hours later, Maricella was transported via ambulance to CHRISTUS Children's to be closer to her newborn son as he prepared for his surgery. Maricella was admitted to the Mother Baby Unit at CHRISTUS Children's for a few days to resume recovery from her C-section.
"It was difficult to see my baby intubated and hooked up to so many machines," said Maricella. "But at the same time, I knew Andres was at the right place where he'd get the care he needed."
Andres' First Surgery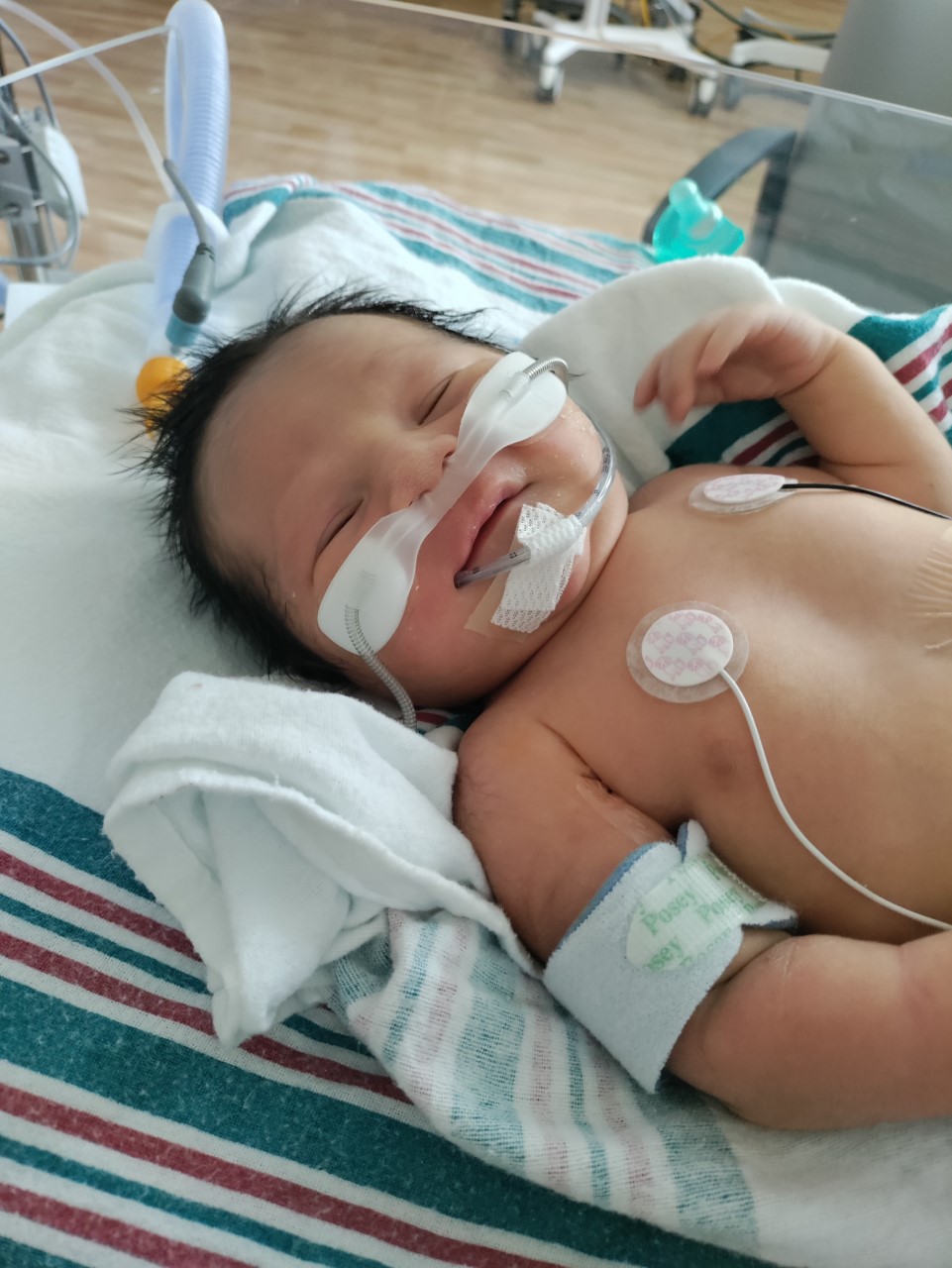 On August 10, Maricella met with two CHRISTUS Children's pediatric surgeons, to discuss Andres' CDH and explain the type of surgery they would perform to repair the defect.
"They told me the hole was small compared to what they normally see," said Maricella. "If there was enough skin to work with, they could easily close the hole in the diaphragm. But if they didn't have enough skin, they would have to do a skin graft to cover the hole in the diaphragm. The doctors answered my questions and concerns and made me feel comfortable about everything."
Andres was just 24 hours old when he underwent surgery in August of 2022.
Luckily, there was enough skin to work with to close the opening in Andres' diaphragm. The procedure involved making an incision just below the rib cage. Following the incision, they noticed a small portion of the intestines poking through the hole in the diaphragm. The surgery team was able to reposition the organs back down into the abdomen before using sutures to close the hole. The extra space created in the chest cavity allowed Andres' immature lungs to grow and develop.
A Remarkable Recovery
After surgery, Andres was closely monitored in the NICU at CHRISTUS Children's where Dr. Maria Pierce, a perinatal-neonatal medicine physician and medical director of the NICU, supervised his care.
The NICU at CHRISTUS Children's is designated by the Texas Department of State Health Services as a Level IV NICU, the highest level of care available for premature and critically ill newborns. The NICU staff comprised of board-certified neonatologists care for a wide range of sick babies who are born prematurely, have low birth weights and have complex conditions requiring extra medical care.
Since Andres was unable to breathe effectively on his own because his lung was underdeveloped, he was placed on a ventilator to facilitate his breathing. Andres was on the ventilator for a few weeks before he transitioned to a high-flow nasal cannula.
"He recovered from his surgery pretty quickly," said Maricella. "Dr. Pierce called me every morning to give me updates on my son, which I appreciated. She was always there when I needed her. The NICU nurses were helpful too. Andres was in the NICU for about one month because he had trouble feeding. It took him awhile, but he grasped the concept of swallowing. Before we were discharged, the surgeon wanted to make sure Andres was breathing well. After surgery, his lungs improved significantly."
Andres today
Today, 3-month-old Andres is a healthy baby. He weighs 10 pounds now and eats like a champ.
"He is breathing normally," said Maricella. "His lung that was underdeveloped has caught up with his other lung. He is also reaching his developmental milestones. I am so grateful to the surgeons for performing this life-saving operation on my son. I am also thankful to Dr. Pierce and all of the nurses who took great care of Andres after his surgery. My son is here because of them."
As part of his follow-up care, Andres meets regularly with a pediatric surgeon to evaluate the condition of his lungs and to monitor and treat any needs related to CDH. Some babies with CDH may require physical and occupational therapy to help them reach their developmental milestones or may need additional treatment down the road. For Andres, he is thriving and hasn't had any complications.
"I am glad my baby is doing well," said Maricella. "My family and fiancé were my rock through this difficult time. I'm just so thankful to be a mother. We are definitely counting our many blessings."
CHRISTUS Children's
CHRISTUS Children's is a leader in providing comprehensive, coordinated care for children from birth to age 18. Our caring teams are committed to providing high-quality service in a comfortable and safe setting.
Visit CHRISTUS Children's