CHRISTUS Children's Advanced Imaging and 3D Printing Capabilities Help Surgeons Prepare for Highly Complex Surgery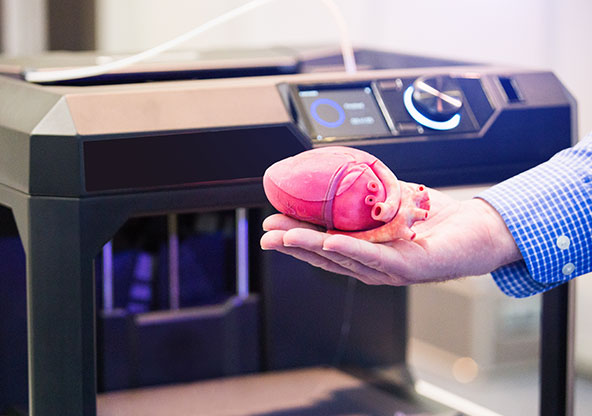 CHRISTUS Children's is already known across the region for its highly specialized services, including the ability to perform complex surgeries to address congenital heart defects and orthopedic conditions in children. As part of its comprehensive program, CHRISTUS Children's is also at the forefront of advanced imaging and pre-surgical 3D modeling, which helps ensure the best possible outcomes for patients. Led by Dr. Arpit Agarwal, MD, the Medical Director of Advanced Cardiac Non-Invasive Imaging and 3D+ Program is one of only a handful of its kind in the U.S.
Hands-on Surgery Preparation
The program, which provides three-dimensional (3D) modeling for complex conditions, helps surgeons better understand each patient's individual anatomy. When these 3D images are then printed, surgeons can hold a reproduction in their hands and better prepare for a procedure.
"This type of cutting-edge imaging and 3D preparation helps specialists by providing them with the clearest possible picture of a patient's condition. It also helps them to create a customized surgical approach best suited for the individual patient," Dr. Agarwal said.
Treating Complex Heart Conditions with Augmented Reality
The imaging program has been especially beneficial for surgeons who treat complex congenital heart conditions, which are often complicated and unique to each patient. In these cases, the center creates a 3D image that is translated into an augmented reality (AR) program.
To create these images, specialists first take two-dimensional (2D) pictures of a patient's heart using a CT scan or MRI. Then, highly trained imaging experts translate these images into a virtual 3D image, which can take hours. Once this 3D image is complete, it is placed into an AR program.
"Once the image is in an AR program, surgeons can examine the heart from all angles while wearing special AR headsets," Dr. Agarwal said. "The 3D images can also then be translated into a physical object through our 3D printing program, which gives our specialists an opportunity to actually hold a replica of the heart in their hands and, if necessary, practice the exact surgical steps they plan to perform during the upcoming procedure."
Through AR imaging and 3D printing of complex congenital heart conditions, surgeons at CHRISTUS Children's can explore geospatial relationships in and around the heart like never before. Because the body itself is a three-dimensional structure, this is the best available representation of a patient's condition.
Decreasing Surgery Duration and Risk
Advanced presurgical preparation through 3D imaging can help cut down on the surgery's overall duration, which can minimize the amount of time a child is placed on the heart-lung bypass machine and ultimately, reduce the risk of complications.
"Having a 3D-printed model is very important, and we make them especially for those patients with very complex cardiac anatomy," said Dr. Daniel Nento, associate professor and section head of Congenital Heart Surgery with The Heart Center at CHRISTUS Children's. "In these cases, we create the exact model of the patient's heart, then open the heart model in the same way we are going to open it in the real surgery. We can then see inside the heart without any hurry and plan the surgery step-by-step. This is especially useful when we need to make structural changes inside the heart."
In addition to aiding in presurgical planning and a reduction in overall operation time, 3D models are a great tool for explaining complex conditions to patients' families.
"These models help the family better understand the cardiac anatomy and the surgery we are going to perform," Dr. Nento said. "Usually, we have pictures of the heart and we explain the surgery to the family using those pictures, but having the 3D models of the patient's heart—having exactly the same cardiac anatomy and being able to open the heart model and show the family inside where we are going to put the stitches, etcetera—it is really useful for them to grasp the magnitude of the surgery we have to perform."
Additional Surgery Preparation
While the Advanced Cardiac Non-Invasive Imaging and 3D+ Program at CHRISTUS Children's focuses primarily on complex congenital heart cases, Dr. Agarwal and his team are also using 3D modeling for nonstandard orthopedic cases, complex neurosurgical procedures, and craniofacial plastic surgery.
"3D models are valuable tools for our orthopedic surgeons, especially those taking care of children with complex hip and spinal deformities," said Dr. Shawn Funk, MD, pediatric orthopedic surgeon and medical director of the Scoliosis and Spinal Deformity Program at CHRISTUS Children's. "To be able to see the geospatial relationship of every component ahead of surgery is a game-changer and it helps us personalize and plan surgery based on our patient's unique differences."
The program is working to advance its technology and capabilities, and further extend its reach to other clinical applications throughout the hospital. CHRISTUS Children's is also in the process of becoming one of few programs in the country with highly specialized 3D imaging technology for the fetal heart, allowing surgeons to prepare for critical, life-saving surgeries prior to birth.
"This program is just one of the many advanced capabilities here at [CHRISTUS Children's], and we're proud to offer this service, which benefits our surgeons in their work and ultimately, helps us provide the best possible care and treatment for our patients," Dr. Agarwal said
CHRISTUS Children's - The Heart Center
CHRISTUS Children's specializes in pediatric care for infants, children and adolescents as well as maternal and fetal care for women with high-risk and routine pregnancies. From birth to age 18, CHRISTUS Children's provides comprehensive, coordinated care from a team of pediatric and maternal experts.
Visit the Heart Center